Vintage, Rare, NOS and Prototype: Mark Agnesi Introduces More Stunning Gibson Certified Vintage Guitars
The second batch from Gibson's groundbreaking program comprises a quintet of vintage beauties from across the decades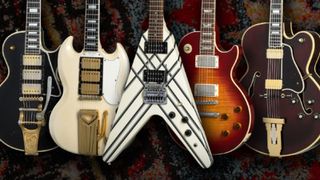 (Image credit: Gibson)
Following up last month's Certified Vintage debut, Gibson has unveiled the second batch of five rare guitars from their groundbreaking program. The firm's latest curation includes instruments from the '50s, '60s, '70s and '80s, highlighting Gibson's decades-long history of building iconic electrics.
Among these are a '58 Les Paul Custom with three PAF humbuckers and a factory-original B7 Bigsby; a '61 Les Paul/SG Custom similarly featuring a trio of PAFs and vibrato unit; a '78 Wine Red L-5 CES (the game-changing L-5 celebrates its 100th anniversary this year!); and an eye-catching '85 Designer Series Custom Graphics Flying V.
Also available is a prototype of Gibson's first 1959 Les Paul Standard recreation – the Heritage Series Les Paul Standard 80 – boasting the serial number A 0001.
To find out more about these stunning six-strings and the Gibson Certified Vintage program, Guitar Player spoke to Mark Agnesi. We asked him how the idea came about and what this unique service offers customers.
"We have so many vintage guitar lovers on staff, including myself, Mat Koehler, Cesar Gueikian and others," Mark told us. "When we started to build the Gibson Garage, we wanted to put some cool stuff on display in the Vault. We're almost two years into that now and everyone's seen that cool stuff. So we thought, Let's let it go and get some new cool stuff in. Also, we get so many calls from people asking us about their vintage guitars that it all just morphed into the idea of selling vintage guitars – our history.
"We knew we had a cool idea that would be groundbreaking for the industry. First off, we're the only company that can say it's Gibson Certified Vintage. But more importantly, we're the only company that can put a lifetime warranty with a vintage guitar, which is a first in the history of the vintage guitar business. You have that dual confidence as a buyer that not only is it coming directly from the source, but you also get a lifetime warranty with it."
Here, Mark tells us about the second batch of five stunning guitars from the Gibson Certified Vintage program…
1958 Gibson Les Paul Custom
"This is an original 1958 Les Paul Custom 'Black Beauty' with a Bigsby. This guitar has lived in the Vault since day one, so anybody who has been in the Vault has likely seen and/or played this guitar. It has three PAFs and is all original aside from a refret. It has medium jumbo frets on it that were put on by our Repair & Restoration team. It also had a new nut cut in the process.
"We're at the point now where some of this stuff is over 60 years old and a refret is probably the best thing that can happen to a lot of these guitars. If it's an absolutely mint, collector grade guitar then the chances are it doesn't need a refret. But it's like a cap job on an old amp, or a neck set on an old acoustic – if you're talking about value, what's it really worth to you if you can't play it? So I don't really look at a refret as a detractor – as long as it's a good refret by someone who knows what they're doing, I see that as adding to value.
"The back of the neck is great. There's all this wear in the cowboy chord area and thumb wear right by the twelfth fret. It's like the original owner played cowboy chords then soloed in E."
---
1961 Gibson Les Paul SG Custom
"It's funny to look back and think about how expensive sunburst Les Pauls from 1958 to 1960 are now. They weren't huge sellers at the time. It wasn't until years later when Keith Richards, Mike Bloomfield, Eric Clapton and Jeff Beck started playing them that they became desirable. The more modern, double-cutaway SG was the silver lining of those poor [single-cutaway/sunburst Les Paul] sales. Thank god that all happened, because the SG was born out of it all, and it's the only Gibson solidbody design not to have gone out of production.
"When the Les Paul Custom switched from single- to double-cutaway, Gibson switched the 'tuxedo' finish from black to white. The gold hardware is such an iconic look on this guitar. It's famously associated with Sister Rosetta Tharpe – she's the first who comes to mind – and Jimi Hendrix later played an SG Custom. It's a classic.
"This one lived in the Gibson Vault, but it's time to let it back out in the world again. It has the original 'Fretless Wonder' frets on it. The Customs were traditionally always 'Fretless Wonder' guitars, even when they were brought back in the late '60s. We didn't start putting bigger fret wire on until the mid '70s. So even the [20th] Anniversary Randy Rhoads-style Customs [from 1974] are still 'Fretless Wonder' guitars. That's what Les liked!"
---
1980 Gibson Heritage Series Les Paul Standard 80 Prototype
"By the early '80s, you start seeing Gibson reissues. The '70s era was over and the vintage guitar market had already started, with '50s and '60s models becoming more valuable. We were getting back to the original designs. Everybody realized there was something there.
"The Heritage 80 was our first attempt at recreating the '59 Les Paul [Standard]. From a spec standpoint it was a nice first attempt, but it's nowhere near as accurate as what we're doing today. But it was the first attempt, and this guitar is serial number A 0001. It's stamped 'prototype,' which to all intents and purposes makes this the very first '59 reissue that was ever made! It's a very cool collector's piece that I'm sure someone will fall in love with.
"For whatever reason this guitar had the pickguard removed at some point, so it's shipping without one. Our current [repro] '59 'guard won't fit (because we make them historically accurate now!)
---
1978 Gibson Custom L-5 CES
"I don't know why, but this guitar got set aside in the Gibson headquarters and it's been sitting here for over 40 years. It's not what I would call NOS (there are some NOS guitars here) but this one shows a little bit of wear. It was played but, for some reason, it was stuck back in the case and put back on the rack where it's lived for 40-something years.
"I started looking through some stuff and opened the case and was surprised to find this really cool Wine Red L-5 CES. We don't have a lot of hollowbody guitars in production currently and we thought this Kalamazoo era guitar would be a cool thing to offer up.
"The Wine Red finish looks great – it really shows off the grain. There's a three-piece maple neck with a lot of figuring on it and the finish makes it all jump. It looks really beautiful. The Wine Red is dark, but you can clearly see the grain through it."
---
1985 Gibson Designer Series Custom Graphics Flying V
"I love these guitars. The first music store I walked into as a kid had these all over the wall. In the mid '80s MTV era, this store looked like a Scorpions music video with all these Designer Series Explorers and Flying Vs on the wall. There's a variety of graphic styles and this is what we call the Style 30.
"This is an NOS guitar. This guitar was never sold. It still has the warranty card, the arm for the Kahler [vibrato] and all the stuff in the pocket of the original case. For whatever reason, this guitar was put aside. I have a few of these that will trickle out over the next several months. I mean it's too much fun to not share these.
"It's NOS, but it's been sat here for almost 40 years now, and there is some lacquer checking on the guitar. But it's an unsold Graphics Flying V from 1985 – I mean, how cool is that? Where else can you buy an unowned 38-year-old guitar? Those things just don't come up."
---
All Gibson Certified Vintage guitars are sold via the Gibson Garage in Nashville, TN. Call (615) 933-6000.
Select models will be available for purchase here.
All the latest guitar news, interviews, lessons, reviews, deals and more, direct to your inbox!
Rod Brakes is a music journalist with an expertise in guitars. Having spent many years at the coalface as a guitar dealer and tech, Rod's more recent work as a writer covering artists, industry pros and gear includes contributions for leading publications and websites such as Guitarist, Total Guitar, Guitar World, Guitar Player and MusicRadar in addition to specialist music books, blogs and social media. He is also a lifelong musician.