"The shot heard around the world": How the Rolling Stones' debut appearance on the Ed Sullivan Show launched not only them but also the Gibson Les Paul Standard
The Stones' first appearance on the Ed Sullivan show shocked parents, thrilled kids, and gave many people their first glimpse of "the most historically important 'Burst" – Keith Richards' 1959 Gibson Les Paul Standard. Guitar dealer Richard Henry retraces its history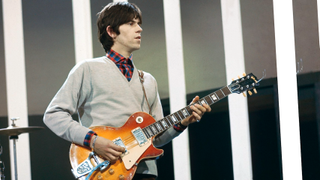 (Image credit: David Redfern/Getty Images)
On this day, in 1964, the Rolling Stones made their historical debut on The Ed Sullivan Show. The band kicked off their appearance on live national television to rapturous applause with a rendition of Chuck Berry's Around and Around (originally the flip side to his 1958 Johnny B. Goode single).
Later in the show, the Stones performed their Time Is On My Side single. It was already creeping up the Billboard Hot 100 charts by the time the band appeared. It eventually peaked at number 6 the following month. It was the Stones' first hit on American soil as the British Invasion got underway following the Beatles' record-breaking appearance on The Ed Sullivan Show earlier in February that year (when an estimated 73 million Americans tuned in to watch).
As is obvious from the video, the audience struggles to contain themselves and Sullivan has to ask for quiet several times when trying to introduce them. In fact, CBS got many complaints after the broadcast and Ed Sullivan is said to have declared: "I promise you they'll never be back on our show. It took me 17 years to build this show and I'm not going to have it destroyed in a matter of weeks."
The Stones' manager tried to change Sullivan's mind, but Ed wrote back before he would even consider booking them again, "I would like to learn from you, whether your young men have reformed in the matter of dress and shampoo."
But for guitar players, The Rolling Stones' appearance is most notable for Keith Richards' use of a 1959 Gibson Les Paul Standard. According to Gibson's Head of Product Development, Mat Koehler, this was "the shot heard around the world," that eventually brought the now iconic 'Burst to the fore of the electric guitar world.
GP spoke to Richard Henry, a UK-based guitar dealer who has traded numerous 'Bursts over the years, including the famous 'Greeny' Les Paul Standard. Now owned by Metallica's Kirk Hammett the same guitar once belonged to guitar heroes Peter Green and Gary Moore.
He has also crossed paths with the infamous 'Keith 'Burst' – a guitar that has passed through the hands of many a guitar legend over the decades…
Speaking of Richards' old axe Henry told us: "The previous owner was a guy called John Bowen, who traded it in at Selmers [music store in London]. Keith bought it from there and famously used it on The Ed Sullivan Show in '64.
"Later [in 1966] Clapton used it at the Windsor Jazz and Blues Festival. Jimmy Page also used it in the studio. Ian Stewart, the Stones' Road Manager, sold it to Mick Taylor who used it with the Bluesbreakers. Taylor brought it back into the Stones' camp when he joined the band. There's footage of him playing it at Hyde Park [in 1969.]
The rumors are it either got stolen at the Marquee [Club in London], or it got stolen in France at Villa Nellcôte. It then eventually ended up in the hands of Cosmo Verrico from the Heavy Metal Kids. He had it for a short while and then sold it to [UFO and Whitesnake guitarist] Bernie Marsden.
"Bernie had it for about a week and flipped it. Later it went to a guy called Mike Jopp who owned it for many years. Dave Brewis at Rock Stars Guitars sold it for Mike to an American investor. I think it currently resides in a private collection in New York.
"Someone asked me what I thought was the most historically important 'Burst. I said it's not Jimmy Page's. It's not Peter Green's [Greeny]. It's not Mike Bloomfield's. It's not Eric Clapton's. And it's not Jeff Beck's. It's Keith Richards' because he was the first pop star to use a 'Burst."
Elsewhere on the show, Brian Jones plays a prototype Vox MK III "Teardrop" guitar and Bill Wyman plays his trusty Framus Star Bass.
Keith Richards is interviewed in the current issue of Guitar Player, onsale now and available to buy here.
All the latest guitar news, interviews, lessons, reviews, deals and more, direct to your inbox!
Rod Brakes is a music journalist with an expertise in guitars. Having spent many years at the coalface as a guitar dealer and tech, Rod's more recent work as a writer covering artists, industry pros and gear includes contributions for leading publications and websites such as Guitarist, Total Guitar, Guitar World, Guitar Player and MusicRadar in addition to specialist music books, blogs and social media. He is also a lifelong musician.