Watch Sister Rosetta Tharpe's Iconic "Didn't It Rain?" Live Performance
The guitar heroine blazed a trail for Chuck Berry and the first wave of rock and roll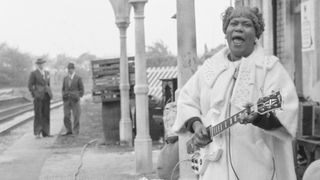 (Image credit: TV Times/TV Times via Getty Images)
The annals of guitar-hero history are dominated by familiar names like Jimi Hendrix, Eric Clapton, Jimmy Page and Chuck Berry, but Sister Rosetta Tharpe – the godmother of rock and roll – was tearing up the live circuit before any of them.
And yet she was scarcely recognized as a guitarist until years after her death, aged 58, from a stroke, in 1973.
Her New York Times obituary called her a "Top Gospel Singer" but the newspaper made scant reference to her guitar playing.
As a gospel singer, Sister Rosetta inspired the virtuoso likes of Aretha Franklin, but as a six-stringer her legacy is just as profound. She was one of the first players to intentionally distort her electric guitar, and Clapton, Beck and Page have all acknowledged the impact of her 1963 performance on Blues and Gospel Train, a 1964 concert presented and broadcast in Britain.
Born in Cotton Plant, Arkansas, in 1915, Tharpe began performing as a four-year-old under the name Little Rosetta Nubin. Her mother, an evangelist preacher and musician, was a great source of encouragement, and by the time Tharpe was six, the two were on the church-based Gospel Highway touring circuit together.
In her 20s, Tharpe moved to New York City and signed to Decca Records, where the increasingly secular nature of her music – and especially her guitar playing – would cause her to fall out of favor with the gospel audience.
Without Sister Rosetta Tharpe, rock music as we know it today may never have happened. Chuck Berry, Elvis Presley, Carl Perkins, Little Richard and other stars of the first wave of rock and roll were all indebted to her.
Those figures were subsequently hero-worshipped by the kids who would go on to form the Beatles, Led Zeppelin, Queen, the Who, the Rolling Stones and basically every major act in 1960s rock and roll.
"It was at the Home of the Blues record shop where I bought my first recording of Sister Rosetta Tharpe singing those great gospel songs," Johnny Cash said when he was inducted into the Rock and Roll Hall of Fame in 1992.
"Some of the earlier songs I wrote were influenced by people like Sister Rosetta Tharpe."
Tharpe herself wouldn't be inducted until 2007, 34 years after her death.
Order Sister Rosetta Tharpe's Shout Sister Shout here.
All the latest guitar news, interviews, lessons, reviews, deals and more, direct to your inbox!
Guitar Player is the world's most comprehensive, trusted and insightful guitar publication for passionate guitarists and active musicians of all ages. Guitar Player magazine is published 13 times a year in print and digital formats. The magazine was established in 1967 and is the world's oldest guitar magazine.
When "Guitar Player Staff" is credited as the author, it's usually because more than one author on the team has created the story.