First Look Review: Positive Grid Spark GO
The practice amp disruptors aren't done innovating – releasing their smallest amp to date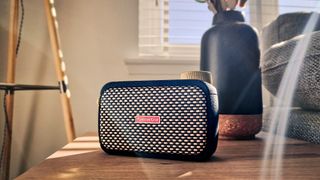 (Image credit: Future/Daryl Robertson)
The original Positive Grid Spark revolutionized the practice amp game upon its release in 2019, giving guitarists an all-in-one device for practicing, as well as the ability to hone their guitar chops and record. A few years later, the incredibly well-received Spark Mini proved that the boffins at Positive Grid HQ could produce an even smaller amp without compromising on tone or features.
Carrying on from where they left off with the Spark Mini comes Positive Grid's smallest amp to date – and dare we say, one of their most technologically impressive feats so far. The brand-new Positive Grid Spark GO is an ultra-portable guitar and bass solution for players on the move, as well as a powerful and superb-sounding Bluetooth speaker.
Of course, as you'd expect, users of the Spark GO will gain access to all the clever features found on the bigger versions, from 10,000+ tones to the celebrated Auto Chords feature – which analyzes songs and displays chords in real-time – as well as Video Capture, which allows you to record high-quality video and audio, perfect for budding influencers.
5 things we love about the Positive Grid Spark GO
We were lucky enough to be sent a pre-production model to check out. So, naturally, we put this petite amp through its paces, and here are five things that stood out to us about Positive Grid's latest addition to the growing Spark family.
1. It's a fantastic guitar and bass amp
First and foremost, the new Spark GO is a dedicated guitar and bass amplifier, and we're happy to report that it performs brilliantly with both instruments. It's hard to believe just how full and clear this little amp sounds. After five minutes of noodling, you quickly forget you're playing through a device that's not much bigger than the phone running the app.
As we alluded to at the beginning of this piece, at the heart of this itty-bitty amp is the Spark app, which runs the whole show. Like its older siblings, the Spark GO benefits from the vast array of amp models and effects available from the free app while also giving users the ability to improve as a guitarist with visionary learning and jamming features.
2. The Spark GO is insanely portable
Now, obviously, the big draw of the new Spark GO is just how portable it is. Weighing in at less than a pound, you'll have no trouble taking this dinky amp anywhere with you. So whether it's a desktop companion for the office, something to keep you entertained on a camping trip, or as a hotel room jam buddy, the Spark Go will happily accompany you, and all without taking up too much space.
Better yet, the 8 hours of battery life – at half volume – is more than enough for most situations and it's easily charged via the included USB cable. The amp also comes with a handy wrist strap so you can carry it around with ease.
3. It's extremely robust and well-designed
Okay, that brings us to the design of Positive Grid's new unit. Now, the Spark line has always had a classy, sleek design that perfectly harkens back to the classic amps that came before while moving forward with modern features. The gold and black aesthetic of the original Spark certainly put us in mind of a rather legendary British amp maker, while its shape and control layout was something modern and exciting.
Luckily, Positive Grid has continued that trend with the Spark GO, with it reminding us of a shrunken-down retro radio and a modern Bluetooth speaker combined. That said, fans for a more contemporary look will be pleased to know that the Spark Go ships with an alternative black hardshell grille, which is easily installed, transforming the product's look.
Overall, the unit feels incredibly robust and well put together. The rubber exterior feels hardwearing, and we imagine it will stand up pretty well to the harsh conditions of a muddy camping trip with the family.
4. It's a stellar Bluetooth speaker in its own right
Now while all the other amps in the Spark line come with Bluetooth technology, the Spark GO seems like the only one that you would actually use as a stand-alone Bluetooth speaker.
As previously mentioned, this pint-size amp is just so easy to pick up and move around, meaning we found ourselves using it as our main music delivery device throughout the day.
It accompanied us in our home office while we worked, to the kitchen while we cooked dinner, to chilling on the sofa listening to our favorite albums. Don't get us wrong, you could do this with the Spark Mini, but it's just not as convenient when compared to the Spark GO.
Now, obviously, the larger amps in the catalog do deliver a deeper, richer sonic experience. Still, you shouldn't write off the GO completely. Thanks to its small passive radiator located on the back of the unit, this miniature Spark produces an impressive amount of low-end thump – especially if you lay the device on its side.
5. It's a must-have for existing Spark owners
As existing Spark owners – Pearl Spark Mini – we actually believe this is a must-have device for current Spark enthusiasts as well as new ones. For us, the ability to take the carefully curated guitar tones we've been using with the larger amp anywhere we please and in a tiny format that won't take up any space in a bag is especially exciting.
Here's hoping Positive Grid offers the level of customization found on the Spark 40 and Spark Mini models, as we'd love to be able to purchase a personalized front for this beautifully petite amplifier.
Positive Grid Spark GO Specifications
Wattage: 5W
Controls: Preset, Music Volume, Input Volume
Battery Life: 8 Hours
Accessories: Carry Strap, alternate hardshell grill
All the latest guitar news, interviews, lessons, reviews, deals and more, direct to your inbox!
First and foremost, I'm a guitar enthusiast – a fanatic, some might say. I'm a firm believer that most of the world's problems can be solved with a Gibson SG and a catastrophically loud amp. Before writing about guitars for a living as a Senior Deals Writer on Guitar Player, I worked in music retail for 7 years, giving advice on guitars, basses, drums, pianos, and PA systems. I also have a passion for live sound; I'm a fully qualified sound engineer with experience working in various venues in Scotland.