This Ultrarare 1963 Reverse Firebird I Could Be the Only One Gibson Ever Made in Kerry Green
The least expensive model in the line, a custom color Firebird I is the rarest of all.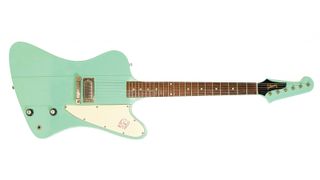 (Image credit: Paige Davidson)
At the moment, we have custom color Firebird I, III, V and VII guitars, along with Thunderbird basses.
This is a 1963 reverse Firebird I in Kerry Green.
The earliest Firebirds from 1963 do not have a Firebird insignia on the pickguard; that starts a little later.
Believe it or not, the Firebird I is one of the rarest models. Because there was a small price difference, the Firebird Is kind of got overlooked.
But I happen to think they are the best out of all of them. I mean Clapton played a Firebird I.
It's simplistic: a single pickup, no fretboard binding and dot inlays. Some have a stud tailpiece and some have a shorty Maestro Vibrola.
[Gibson president] Ted McCarty hired a guy called Ray Dietrich – one of the artists in a Manhattan firm that assisted Chrysler and General Motors with body-design work – to help design the Firebird.
Dietrich was one of the proponents of the tailfin design on classic cars and he incorporated that into the guitar.
Along with that came a neck-through body construction. The first incarnation used a two-piece neck/body lamination with body wings either side.
After Gibson decided the guitars needed more strength and stability, they started using a five-piece neck-through construction. So, plus the two wings, it became a seven-piece [lamination] altogether.
Firebirds don't have many inherent problems. But the case was poor. The banjo tuners would sit right on the inside face of the case, so if it fell over there was a good chance of breaking the headstock.
With the reverse design, the way the strings' length continues after the nut influences the sounds tremendously. And that's something people like about the tone of these guitars.
The mini-humbucker is unique to the Firebird and features blade magnets, rather than polepieces, underneath the solid cover.
The pickup tends to be somewhat midrange-y, but they are really good blues and rock 'n' roll guitars. I've mostly heard them sounding their best through Marshall tube amps. I don't really love them through Fender amps, but I do like them through a Marshall.
A lot of metal guys will play them through a Mesa/Boogie or something like that. If you overdrive them, they're super co-operative, and the playability is great.
All the reverse guitars [manufactured from 1963 to 1965] have the wider neck width of 1 11/16-inch, and also a very full-depth profile.
A lot of people prefer that. In fact, it's about as close as you can get to the neck profile of a 1959 Les Paul Standard.
Reverse Firebirds were very costly for Gibson to make. And they needed to be a lot more competitive with the cheaper Stratocaster, which forced them to go with the non-reverse design in mid-1965.
The non-reverses were like the new Coke design; it was not a very good idea.
Instead of a neck-through construction, the non-reverse Firebirds have a glued-in neck, and Gibson threw P-90 pickups into the mix.
They still used mini-humbuckers for the V and VII models. But the reverse Firebird I has a single mini-humbucker, while a non-reverse model has two P-90s.
The reverse Firebird III has two mini-humbuckers, while a non-reverse one has three P-90s.
They continued in the catalogue until 1970, but very few were sold after 1967.
People get more excited about Gibson custom colors on something like an SG or Les Paul, but a Firebird I in a custom color is very rare.
It's the equivalent of a custom color Fender Esquire. They didn't make a lot of custom color Esquires because it was the cheaper guitar. Same with the Firebird I.
I've seen a Firebird I in Kerry Green (this one), a see-through Cherry, and a couple of Cardinal Reds. But that's all. I've seen every color on Firebird III, V and VII guitars.
This could be the only Kerry Green Firebird I Gibson ever made. I also have a III, a V and a VII in Kerry.
But the Firebird I is the rare one. Which makes sense. People wouldn't normally spend the cash on a custom color finish on a cheaper guitar. For that money, they're more likely to order a more upmarket model instead.
Same with the Esquire; you could pay $15 for the extra pickup, or you could pay $15 and get it in a [custom] color.
Gibson offered a chart featuring 10 colors. But they also did some that weren't on the chart. Cherry, Cherry Sunburst and Black, for example, aren't on the chart. And we have all of those.
The chart listed available colors, but not the special orders. It was standardized, just like Fender's early '60s chart. And it took some inspiration from that.
I guess the Fender equivalent of Kerry Green would be Surf Green.
Vintage guitar veteran David Davidson owns Well Strung Guitars in Farmingdale, New York.
info@ wellstrungguitars.com / 001 (516) 221-0563
All the latest guitar news, interviews, lessons, reviews, deals and more, direct to your inbox!
Rod Brakes is a music journalist with an expertise in guitars. Having spent many years at the coalface as a guitar dealer and tech, Rod's more recent work as a writer covering artists, industry pros and gear includes contributions for leading publications and websites such as Guitarist, Total Guitar, Guitar World, Guitar Player and MusicRadar in addition to specialist music books, blogs and social media. He is also a lifelong musician.