This 'Time Capsule' 1958 Fender Precision Bass is a Holy Grail Vintage Guitar
Between Telecaster- and Stratocaster-style P-Basses with rosewood 'boards was this rare beast.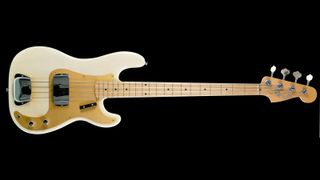 (Image credit: Paige Davidson/Well Strung Guitars)
This is a 1958 Fender Precision Bass. It has a white transparent blond finish over an ash body with a solid maple neck. It comes with its original tweed case and a matching 1958 Fender Bassman amplifier – both in impeccable condition.
This bass has a gold anodized pickguard, which Leo Fender started using in 1954 on special orders. They thought a metallic pickguard had good shielding properties, but the 60-cycle hum continued to be a problem.
In '59, the [gold anodized] pickguard was replaced by the more familiar tortoiseshell [cellulose nitrate] 'guard and rosewood 'boards became standard.
In the late '50s, a variety of custom colors were available, but the regular Precision Bass finish was sunburst, moving from a two- to three-tone sunburst in February 1958.
This beautiful guitar has had two owners before me, both of whom are still alive. The instrument was originally purchased in Vermont. And it has virtually no wear at all. The case and the amp, too – they have barely a scuff.
The headstock and neck are completely straight, and it's never needed any fret-dressing or filing. A lot of the time on these instruments the headstock will lean [forwards] because of the tension on the neck over the years. But this P-Bass has been stored properly.
It even has the original Fender flat-wound strings that it was shipped with. Suffice to say it's in virtually 'as new' condition.
The original receipt shows it was bought along with the [narrow panel 50-watt/4x10 tweed] '58 Bassman from the same store. It was a 'swimming supply and music store'. Back in the day, travelling salesmen would walk into stores and ask, 'Would you be interested in selling Fender instruments?' That's kind of how things happened back then.
I'm not really old enough to remember stores like that, but I've seen many receipts over the years that had a mixture of different types of businesses under one roof, like furniture stores that also sold Gibson instruments, for example.
The blond/ash body, maple neck and gold anodized 'guard spec P-Basses are kind of the Holy Grail pieces for some people. As are the Stratocasters. In fact, I recently sold a blond '56 with a black anodized pickguard.
The [1957] prototype Jazzmaster was a Desert Sand finish with a black anodized pickguard. And I personally own an early '59 Stratocaster with an anodized 'guard and Fullerton Red finish – the predecessor to Fiesta Red.
It's very Pee Wee Crayton-looking. His was also Fullerton Red, although people often call it Fiesta Red. '59 was the year Fender transitioned to Fiesta Red.
This P-Bass is one of the scarce colored ones you'll see from the era. Blond Fender guitars have an ash body, even after they switched to using alder in '56, because the grain just looks so much better.
And with the gold 'guard it's a super, super look, although I love them with tortoiseshell 'guards, too.
Blond is such a great color. There's something specific about '57 and early '58 blond finishes; it's a very white blond and very translucent looking.
If you look at, say, an earlier Blackguard, it'll probably have much more of a honeyed color, and if you look at a '59, they have much more white in the color and are less translucent. On this guitar, you can see the ash grain as if you're looking through a slightly foggy window.
It made sense for Fender to move the P-Bass design away from the original slab-body 'Telecaster' bass to the Stratocaster-style contoured body [in 1954].
The Stratocaster was very popular in the late 50s – way more popular than the Tele. When the P-Bass changed again in '57 [to also include a Strat-style headstock] it was because of the Stratocaster.
Similarly, the Jazz Bass [released in 1960] exists because the Jazzmaster's offset body design was such a huge hit after it came out in '58. By 1960, that was their number one-selling electric guitar, so they figured their next bass should mimic the look of the Jazzmaster.
Fender basses kind of followed that logic. Then, of course, the offset VI came out in '61, followed by the Jaguar in '62.
I think the P-Bass is the quintessential rock 'n' roll bass. The split-pickup design was a really interesting thing to do at the time [from 1957]: the location of the pickup on the body and the way it accentuates the bass in the lower two strings, while the coil for the higher two strings that sits further back towards the bridge gives it its unique voicing.
They even carried that split-pickup design on to the Electric XII model [released in 1965].
The Jazz Bass pickups maybe do more tricks, but the P-Bass is often the instrument of choice for the person who wants that real thump and bottom-end.
That's what makes the Precision Bass special for so many.
Vintage guitar veteran David Davidson owns Well Strung Guitars in Farmingdale, New York.
info@wellstrungguitars.com / 001 (516) 221- 0563
All the latest guitar news, interviews, lessons, reviews, deals and more, direct to your inbox!
Rod Brakes is a music journalist with an expertise in guitars. Having spent many years at the coalface as a guitar dealer and tech, Rod's more recent work as a writer covering artists, industry pros and gear includes contributions for leading publications and websites such as Guitarist, Total Guitar, Guitar World, Guitar Player and MusicRadar in addition to specialist music books, blogs and social media. He is also a lifelong musician.