This Experimental Stratocaster was Made and Owned by Co-Designer Bill Carson
An early Fiesta Red Fender with gold hardware from the very first batch of rosewood 'board Strats.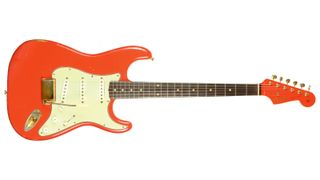 (Image credit: Paige Davidson/Well Strung Guitars)
Bill Carson [1926-2007] was a well-renowned guitarist who helped design the Stratocaster alongside Leo Fender. He was particularly involved with the guitar's body contouring.
And this is a very special electric guitar. It's one of the first slab- 'boards and one of the first Fiesta Red Strats Fender produced. It also has gold hardware and comes with handwritten letters from Bill Carson. He hand-shaped the neck himself and his name is written in block letters on the heel – they didn't want it to get mixed up with the other necks in the factory.
Fiesta Red was a big color in the U.K. because of the Hank Marvin connection, and this is one of the early salmon-y looking Fiesta Red guitars.
Before Fiesta Red, red Fender custom color guitars were generally Fullerton Red, which is a different color. Unfortunately, Bill didn't really take to the color as he thought it was too feminine for his liking.
This guitar was fitted with gold hardware throughout, including the truss rod nut and backplate screws. The gold ashtray bridge cover is in the original 'burnt orange'-lined brown Fender case along with the two letters written by Bill Carson on Fender-headed paper dated February 1996.
The first letter reads: "Per our conversation, my inspection of the Fiesta Red Strat during the January '96 NAMM show, this assembly definitely proved to me it was originally an instrument I put together for myself… The extra-skinny neck was from my own hand-sanding to fit my particular playing style… I believe the instrument was given to Neil Levang for TV reasons and TV exposure." (Neil Levang [1932-2015] was a Fender endorsee and famously played guitar on The Lawrence Welk Show.)
The follow-up letter reads: "I thought you might find it interesting to know that this one was in a batch of our first attempt to do rosewood fretboards. That was another reason I didn't particularly like the guitar. I've always preferred maple necks with a lacquer finish."
The neck is exceptionally thin. I spent a bit of time playing it and I thought I'd hate it, but after the first few minutes I said, "Wow! This is really quite comfortable."
You get to play some intricate chords that way. Because it's a '59 it doesn't have a neck date, but if it was a later heel-stamped guitar [from '62 onwards] I would think it would have been marked as an 'A' neck. The nut is very narrow. 'B' is the common [1 5/8 inch] nut width.
I've had about half a dozen wider [1 ¾ inch] 'C' necks in my life, and I've seen thinner [1 ½ inch] 'A' necks on a couple of Stratocasters before. They did offer an 'A' neck in the catalogue with a smaller nut width, but barely anyone ordered it.
Red Fender guitars from the '50s are probably not Fiesta Red; Fullerton Red was the color before [it]. It was named Fullerton Red because of George Fullerton and is more orange-looking than Fiesta Red.
When I met Bill Carson years ago, he told me [Fender] mixed every batch of Fiesta Red in-house. It was basically white paint with red added, but only half a drop would make a tremendous difference to the end result. It varied greatly, as we all know.
Fiesta can be all over the place. Eventually, they added more red to the mix. From '59 to '63, Fiesta Red was a pinker, more salmon-like color. By '64 it's a completely different color to how it looked between '59 and '63.
Before Fiesta Red, Fender had the Fullerton Red and they also used Roman Red, which is a little deeper looking. There is some overlap as they occasionally used Roman Red up until at least '62 on guitars they sent out as Dakota Red. But it's plain as day which one's which because there's a huge difference between Roman Red and Dakota Red. Roman is lighter and brighter.
Most of the time, Fiesta Red was shot over a Desert Sand-type of color or white primer. There are also Fiesta Red guitars painted over sunburst finishes – both in the U.S. and the U.K., like the Selmer guitars.
Sometimes, Fiesta Red is shot right over the Fullerplast [grain filler]. I think when production was high, they eliminated a step in order to get the guitars out as quickly as possible. They didn't always have time to undercoat custom colors.
Occasionally, they didn't have time to clearcoat the top, either. That's why you sometimes see Olympic White guitars with no fade to yellow; the clearcoat is what turns yellow, not the color coat.
So not only is this guitar one of the first Fiesta Reds but it's also one of the very first rosewood-'board Strats. This is truly an amazing guitar with some cool experimental features.
Vintage guitar veteran David Davidson is the owner of Well Strung Guitars in Farmingdale, New York.
All the latest guitar news, interviews, lessons, reviews, deals and more, direct to your inbox!
Rod Brakes is a music journalist with an expertise in guitars. Having spent many years at the coalface as a guitar dealer and tech, Rod's more recent work as a writer covering artists, industry pros and gear includes contributions for leading publications and websites such as Guitarist, Total Guitar, Guitar World, Guitar Player and MusicRadar in addition to specialist music books, blogs and social media. He is also a lifelong musician.