The Incredible Tale of Randy Bachman's Long-Lost Gretsch
After a 46-year search, the Guess Who and Bachman-Turner Overdrive founder was reunited with the guitar that made him a star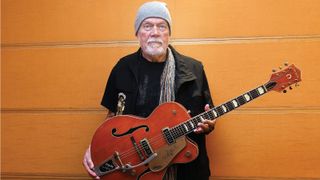 (Image credit: JUN SATO/WIREIMAGE/GETTY IMAGES)
Randy Bachman shuffled across a Tokyo concert stage and quietly embraced his long-lost girlfriend for the first time in 46 years. It was a quiet, somewhat awkward moment, and the aging Canadian rocker, perhaps overcome by emotion, said little.
He was finally holding his hit-making Gretsch guitar, an instrument he'd once compared to a lover. After decades of fruitless searching, the guitar had been located and would at last be going home.
Bachman's July 1 reunion with his Gretsch 6120 Chet Atkins model brought one of the guitar world's greatest mysteries to an end.
In 1976, the guitarist was on top of the world. His band Bachman-Turner Overdrive (BTO) had topped the U.S. and Canadian charts the year before with Not Fragile and followed it up with the successful jazz-influenced single "Lookin' Out for #1."
He built a mansion with its own recording studio and bowling alley. Then came the a gut punch: In a hotel outside Toronto, a thief stole his treasured Gretsch guitar.
Bachman was devastated.
The Gretsch had made him a star. He looked everywhere for it, enlisting the Royal Canadian Mounted Police and searching through guitar and pawnshops across North America for years. But the guitar was gone without a trace.
Bachman grew up in Winnipeg. He played classical violin until one day in 1956, when he saw Elvis Presley gyrating and strumming his Martin D-28 on The Ed Sullivan Show. His parents told him it was rock and roll. Bachman borrowed a cousin's guitar and was hooked.
"I found out the guitar is the most intimate instrument there is," Bachman says from his home in British Columbia. "It's the only one you hold next to you, with both arms around it, like a person. Your whole body resonates with what you're playing, and it's very special."
Bachman learned guitar from jazz player Lenny Breau and developed a crush on guitars made by Gretsch. He and fellow rock icon Neil Young would ogle the models in the window of a Winnipeg music store.
Bachman saved up his earnings from babysitting and other odd jobs until he was able to buy the perfect Gretsch, a 1957 6120 Chet Atkins Hollow Body, in Western Orange.
Endorsed by the country music legend, the 6120 has a rosewood fingerboard with hump-style inlays, single-coil DeArmond pickups and a Bigsby tailpiece. It also has a big, punchy tone as heard on Eddie Cochran's 1958 hit "Summertime Blues."
Vintage examples regularly sell for more than $10,000.
"The 6120 represented everything that Gretsch had learned about making guitars since the introduction of the Electromatic in 1939," says Aaron Philips, curator of the Fred & Dinah Gretsch Artifacts Collection at Georgia Southern University.
"In the 1950s, Gretsch usually produced instruments in batches of 50 or 100, but only 35 of the 1957 6120s were produced, increasing its popularity among collectors."
In the early '60s, Bachman co-founded the band that became the Guess Who, where he and singer Burton Cummings proved a powerful songwriting team.
Their tune "These Eyes" broke into international markets in 1969, and "American Woman" became the first single by a Canadian band to top the U.S. Billboard Hot 100 chart. Along with another Guess Who hit, "No Sugar Tonight," it was recorded with the Gretsch 6120.
By 1970, however, tensions with Cummings led Bachman to quit the group. In 1973, he and his brothers formed BTO and crafted classic-rock staples, including "Let It Ride" and "You Ain't Seen Nothing Yet."
Once again, the Chet Atkins powered the band's most iconic single, "Takin' Care of Business."
When the guitar was stolen in 1976, it preceded another period of change for Bachman. Cranking out five albums in three years had taken its toll on BTO, and after they released Freeways in 1977, Bachman left.
Over the next few years, he released another solo album and formed the short-lived bands Ironhorse and Union. He reportedly lost millions in a bitter divorce and custody battle. It seemed as if he'd lost his mojo along with the guitar.
"It was like Dumbo's magic feather," Bachman says. "When that guitar was stolen, my magic feather was gone. I had a No. 1 album and single with the Guess Who and BTO, and that has never repeated since 1976."
In the years that followed, Bachman picked up vintage Gretsch guitars for a few hundred dollars or less. He ended up accumulating 350.
Having lost its original templates, Gretsch turned to Bachman when it wanted to relaunch manufacturing. The company studied his collection and eventually purchased it. But Bachman could never forget the Chet Atkins.
Fast-forward to 2021, when he took to YouTube to jam with his son Tal, known for his 1999 hit "She's So High." The two were playing live when a viewer sent them a message saying he had found the lost Gretsch.
Intrigued, Bachman reached out.
The sender, William Long, is an amateur sleuth from White Rock, British Columbia, who had seen online videos of the 6120. A fan of mysteries like the 1971 D.B. Cooper hijacking, Long was intrigued. He enhanced a frame in an old video that showed three distinctive marks on the guitar's finish.
He then scrutinized more than 300 images of similar Gretsches around the world. It took about a week to find a match in a 6120 that a Tokyo guitar shop had sold before 2016.
After another week of using search terms translated into Japanese, he spotted the instrument being strummed to Johnny Marks' "Rockin' Around the Christmas Tree" in a video recorded in a bar in Japan.
"I knew instantly that was Randy's guitar," Long says. "The woodgrain fingerprint was a perfect match that no other guitar could have."
The performer of Marks' song was songwriter and lyricist Takeshi, who has penned songs for J-pop acts like Arashi. He'd found Bachman's Gretsch in a Tokyo guitar shop eight years earlier.
"When I played it and compared it to some 1959 Gretches in the shop, the 1957 just had the perfect fit," Takeshi says. "The thing that makes vintage guitars so attractive is you can dream that they were once owned by a superstar. That dream came true."
Takeshi agreed to give Bachman his Gretsch if he could find its "sister" – the same model, unmodified.
Bachman rose to the challenge.
The pair finally met onstage at the Canadian Embassy in Japan. The event was held on July 1, Canada Day, but it turned into a virtual Gretsch fest, with anecdotes about the 6120, and a video message from Gretsch president Fred W. Gretsch.
Host Marty Friedman, the former Megadeth guitarist, who is now a TV personality in Japan, enthused that Gretsch is "the holy grail of guitars. When I first was able to buy one, I felt like I finally made it in the music business."
After exchanging the 6120s, as well as a few hugs, Bachman and Takeshi performed "Takin' Care of Business" and other hits.
The older guitarist kept scrutinizing the six-string from his youth, as if he couldn't believe it was real.
Takeshi was all smiles despite giving up a piece of history.
"I appreciate this honorable man giving me the opportunity to get it back," Bachman said. "I've had such a worldwide response to this feelgood story. It's a random act of kindness that a lot of people contributed to."
Bachman seems to have recovered his mojo.
In addition to launching a reunion tour with Cummings, as well as a new album, he and Tal have written a song about the 6120 called "Lost and Found" that will feature in a forthcoming documentary about the guitar.
Needless to say, he's not letting it out of his sight.
"I imagine we're going to have a hit documentary or movie, and a number one record with Bachman and Bachman," he says. "That's what I expect, and nothing less!"
Check out Gretsch's current range of 6120s here.
All the latest guitar news, interviews, lessons, reviews, deals and more, direct to your inbox!