The Good, the Bad and the Ugly Guitar Amps of the 1970s
Take a trip down memory lane with the decade's brightest (and dullest) hopefuls.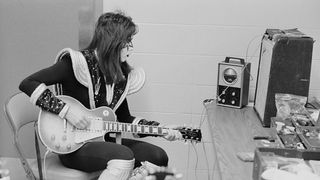 (Image credit: Michael Putland/Getty Images)
The '70s weren't only heavy, they were big.
As ties and lapels got wider, amps got larger.
Thus, the stack steadily continued to replace the combo, as epitomized by one of Black Oak Arkansas' roadies in this Ampeg ad that appeared in October '76:
"You'll never see Black Oak with one amp here and one amp there. Black Oak is a big stack of Ampegs sitting on the stage."
So don a purple pimp hat, slip on some mustard bellbottoms, slide into a sensible pair of Earth shoes and join us for a stroll down memory lane as we revisit some of the 1970s' best-loved hits and ill-conceived misses…
Stage
The ad says it all: "It's that special feeling you get at the end of the night. A night when the band is breezin' and every note has the sting of Clapton."
The grim reality: The sting was actually rampant feedback and nasty clipping.
Though Unicord also brought us Marshall, they sunk a lot of promotional bucks into Stage. Thank God Unicord withstood that blow!
We've never actually seen a Stage amp in the flesh, so we have to assume that the evidence was destroyed.
Music Man
Okay, so Leo's first post-Fender venture didn't produce as many classics as his previous gig.
Though they weren't designed by Leo, Music Man amps provided good clean tone for country buckaroos, casual jazzers and mellow hippie rockers.
But if you were looking for crunch to drive your four-guitar army into assault formation, the solid-state preamp section was about as useful as a water pistol during the fall of Saigon.
SG Systems
One thing is certain: SG didn't mean "sounds good."
These solid-state dogs were housed in rugged, roadcase-looking cabinets, but if you were too cool for that, you could order optional blue denim covering and matching grillecloth.
Distributed by Norlin and manufactured by the same company that made Standell's solid-state disasters, SG amps featured a built-in phase shifter, a notch shift control, and a "wave" control that "adds a funky 'tube type' distortion at any level."
Mesa/Boogie
First you had natural wood electric guitars, then along came Boogie with their exotic wood cabs and basketweave grilles.
These high-gain hippie amps were louder than hell, had godly sustain and were small enough to fit on a Pinto's front seat.
Boogies and Carlos Santana were a match made in nirvana.
Randall Amps
You wouldn't think that Canned Heat would be caught dead with solid-state gear, but Randalls sounded good and were rugged.
As Big Bear said, "Randall gives good boogie." Isn't that what the '70s were all about?
Besides, there were much worse choices in '70s transistorized amps.
Practice Amps
The micro amp concept exploded in the '70s. It seemed like anyone who could burn his or her fingers with a soldering gun was making one.
Brands included Rock, Pignose, Mike Marshall's Freedom, Dynamite, Ampeg's Peter Portable, the Dwarf and PAIA's do-it-yourself kit, the Pygmy.
With its hog-snout volume control, the Pignose was by far the coolest.
Ampeg
There's no doubt that Ampeg made great gear, but they ran some of the silliest ads around, like their period piece featuring a mad space biker humping a V-4 amp.
Nonetheless, '70s Ampeg tube amps are now considered classics, and the SVT became the bass player's equivalent of the Marshall stack.
Acoustic
Acoustic amps took solid-state to a whole new level with graphic EQs and horn-loaded speaker cabs.
A lot of big acts on Don Kirshner's Rock Concert used Acoustic backlines.
Some very well-known guitarists were keen on Acoustic amps at one point or another, including Frank Zappa and the Doors' Robby Krieger.
Some bona fide bass legends such as John Paul Jones of Led Zeppelin and Jaco Pastorius were also avid users.
All the latest guitar news, interviews, lessons, reviews, deals and more, direct to your inbox!