The Curious Tale of the Talk Box: Where Man and Woman Meets Machine.
From the pioneers of electric jazz to classic rock we take a look at one of the guitar world's oldest effects.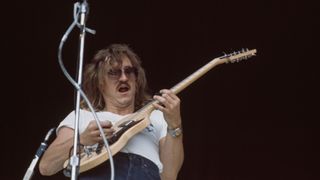 (Image credit: Michael Putland/Getty Images)
We've all heard of guitar players "making the instrument talk," but the unique effect known as a 'talk box' actually combines the sound of the human voice with a guitar signal.
One of the earliest forms of electric guitar effects, the genesis of this sound can be traced back to the 1930s when jazz guitarist Alvino Rey combined his electric steel guitar with his wife Luise's voice using a military throat mic.
As eloquently explained here by Stringy the Talking Guitar...
Amazing, considering LSD had only just been invented.
In more recent times, well-known examples of the talk box effect include Richie Sambora's electric guitar hooks on the Bon Jovi anthem "Livin' On a Prayer" and Joe Walsh's Heil Talk Box licks on "Rocky Mountain Way" from 1973.
Peter Frampton is also famous for using a Heil Talk Box in the 1970s. In fact, the guitarist became so closely associated with the effect he later launched his own brand, the Framptone Talkbox.
Some of Frampton's best-known songs where the Heil Talk Box can be heard include the tracks "Do You Feel Like We Do" and "Show Me the Way" from his classic 1976 album Frampton Comes Alive!
But where did Frampton get the idea from? It seems the British guitarist first came across this unique sound in 1970 at Abbey Road Studios during a recording session for George Harrison's All Things Must Pass album.
The session was attended by Nashville A-Team steel guitar player Pete Drake who showed Frampton the device that he used to outstanding effect (literally) on his 1964 Pete Drake And His Talking Steel Guitar hit, "Forever."
Recounting a scene that sounds like something straight out of Alice in Wonderland Frampton told the Musicians Hall of Fame & Museum in 2007: "In some moment when nothing was going on [Drake] plugged up his little talk box... He put the little, tiny pipe in his mouth and all of a sudden he started singing to me (or the pedal steel did!)"
The novel tones of Drake's 'singing guitar' brought to mind a sound that Frampton had previously heard on Radio Luxembourg. "It was like so many bells went off in my head," he recalled. "My jaw dropped to the floor."
"I invented this thing in 1959," claimed Drake during an interview in 1982 (though the device he used in 1964 to record "Forever" with has also been credited to pedal steel player Bill West.) "I made a station break for WSM [Radio station in Nashville] and then every radio station in the world called me the next day. I've done over 3,000 radio stations.
"Peter Frampton: when he was 18 years old, I was in England and he says, "How do you make the guitar talk?" I showed him, and he said, "Boy, I wish I could do that," so I gave him one of my talk boxes. And he got rich off of it." [laughs]
Frampton denies he ever took possession of Drake's talk box. However, it wasn't very long after his initial encounter with Drake that Humble Pie engineer and creator of the Heil Talk Box – Bob Heil – gave him one.
Though the Dunlop HT1 Heil Talk Box is no longer in production, similar results can be achieved using the MXR Talk Box and Boss VO-1 Vocoder.
All the latest guitar news, interviews, lessons, reviews, deals and more, direct to your inbox!
Rod Brakes is a music journalist with an expertise in guitars. Having spent many years at the coalface as a guitar dealer and tech, Rod's more recent work as a writer covering artists, industry pros and gear includes contributions for leading publications and websites such as Guitarist, Total Guitar, Guitar World, Guitar Player and MusicRadar in addition to specialist music books, blogs and social media. He is also a lifelong musician.