Just Look at All the Dang Buttons on This Vintage Goya! Houston? We Have a Problem
Featuring nine push buttons, this 1967 Goya Rangemaster Model 109 sports a beautiful German carve and Brazilian rosewood 'board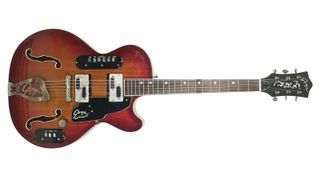 (Image credit: May Yam)
I love push buttons. Back in the 1960s, they were everywhere – on radios, dashboards, blenders, mixing consoles and especially jukeboxes, where the satisfying "click" of the button anticipated the playing of the record you'd just selected.
Maybe that's why I love this 1967 Goya Rangemaster Model 109 semi-hollowbody guitar. It has nine push buttons!
In the days before pedalboards and rack systems, the more buttons, knobs and switches a guitar featured, the more potential it had to help you find a unique voice.
While the designers of Vox, Wandrè, Goya and other Italian-made guitars of the '60s took chances with new materials, shapes and electronic designs, they never lost sight of the fact that a guitar still had to play well.
Designed for Goya by the Polverini brothers, the Model 109 is no exception to that wonderful marriage of ambitious design and superb playability.
I bought it from Tom Ayres, composer, multi-instrumentalist and guitarist for the Oakland, California–based band Persephone's Bees. Along with his stalwart Fenders, Tom has been known to sling a number of Silvertone, Coral, Kay, Harmony and other makes of guitar that we lovingly refer to as whack jobs.
WEIRDO FACTOR
Just look at all the dang buttons! Houston? We have a problem.
PLAYABILITY & SOUND
Don't assume those nine buttons are mere nods to the space age era. They serve a purpose.
The six pickup buttons near the upper left bout let the player select any combination of the four pickups: bridge treble (1), bridge bass (2), neck treble (3) and neck bass (4). (Look closely and you'll see those identifying numbers on the plastic pieces to which the pickups are mounted.)
With this arrangement, you could, for example, select the bridge pickup for the bass strings and the neck pickup for the treble strings (buttons 2 and 3), which sounds loud and rich.
Image 1 of 3
Some of the other choices are phasey and good for articulated strumming, while the others work great for soloing.
There's also a handy "off" button that cancels the pickups and doubles as a kill switch. I found I could even "trill" on it in combination with the other selectors.
The last three buttons, located on the lower right bout near the master volume control, are nicely voiced EQ presets.
And in case you're wondering, those 52 year-old push buttons are still solid and glitch-free!
The Rangemaster Model 109 is made entirely out of mahogany, and the top and back have a beautiful German carve.
The neck is made from three pieces of mahogany and has a Brazilian rosewood fingerboard with 20 small, low frets.
The guitar plays fast and easy, and while the neck has a wider vintage feel with smooth binding, it's still friendly to my little paws.
The Goya's usefulness as a jazz guitar is obvious and inviting – you can really hear that it's a hollowbody instrument – but if you want to use distortion, go ahead. The pickups sound gnarly and aggressive, but they're never microphonic.
WHY IT RULES
The Rangemaster Model 109 is delicious to look at, with its book-matched f-holes and beautiful orange-burst finish that, after all these years, is still lustrous and shiny.
The headstock logo and tree of life inlays are set into the black lacquer with colorful mother-of-pearl.
The guitar weighs just under six pounds, and its sounds are full and authoritative. Oh, and did I mention that Jimi Hendrix played a psychedelic-painted version of this guitar? What's not to love?
VALUE
At auction, the Rangemaster Model 109 is fetching between $1,000 and $1,500 (but I paid significantly less).
Thanks to Tom and Angelina for inviting me into their home and giving me a "bro deal" on the Goya. Please look up Persephone's Bees on Facebook and YouTube so you can hear some of these guitars make great music.
Got a whack job of your own? Get in touch with me at rtcarleton@ gmail.com. Who knows? Maybe I'll write about it.
All the latest guitar news, interviews, lessons, reviews, deals and more, direct to your inbox!