"It's Hard to Tell the Difference": Get a Close Look at Rich Robinson's Intricately Aged Signature Martin D-28
Mirroring the Black Crowes guitarist's treasured 1954 Dreadnought, this heavenly re-creation is "the first model that Martin has ever made as a visual and sonic representation of an artist's personal instrument"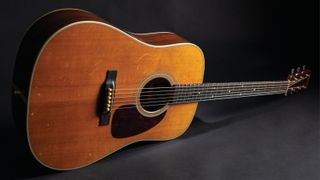 (Image credit: Martin Guitars)
Signature model electric guitars with aged finishes have been around for a while, but I had not encountered a relic'ed signature acoustic until Martin announced the D-28 Rich Robinson at the 2022 NAMM Show.
The model designed to capture every nuance of the 1954 D-28 handed down to the guitarist by his father, Stanley Robinson, a working musician during the '50s and '60s who played it at the Grand Ole Opry as well as on tour in the folk outfit the Appalachians.
When he was a teenager, Robinson used the instrument to conjure the Black Crowes' signature acoustic guitar tune, "She Talks to Angels," and he went on to write scores of classic Crowes, Magpie Salute and solo tunes on the historic dreadnought.
Robinson has dubbed its re-creation the Appalachian. "If you get one good guitar you need two or more of the same," he tells Guitar Player.
"I wasn't going to tour with my dad's guitar because it holds too much weight for me. Martin was interested in re-creating it exactly, which piqued my interest. I was amazed when I put the prototype next to my father's guitar. It looks exactly like his."
Seeing the guitar for the first time, my immediate impression was, "Wow, they really did relic the hell out of it." If the devil is in the details, this guitar is downright satanic!
Examples include the chewed spruce on the lower lip of the sound hole, cracks in the Sitka top's thin vintage gloss finish and belt buckle divots on the back's aged satin finish. These are tactile elements you can feel with your fingers, and not mere cosmetic touches.
My second thought was one of relief, because this was the first Martin review guitar I wasn't worried about scratching. Little nicks and scratches are literally everywhere that they appear on Robinson's original.
The back of the neck has lighter-colored areas where it's been "played" most, and the bindings and bridge pins are slightly yellowed, more in some spots than others.
There is no visible fancy signature inlay or any sort of modern appointment. Everything from the headstock to the hardware with aged nickel tuners is simply period correct.
The primary difference from Robinson's vintage D-28 is that the back and sides aren't made of Brazilian rosewood – which is essentially not available anymore – but rather East Indian rosewood, the next closest thing.
"It's hard to tell the difference other than that this wood is so much younger," Robinson says. "There's a lot of potential for the sound to open up. It's still a new guitar, so the worst it's going to sound is the first day you play it.
"This guitar sounds great now, but it's only going to get better 10 years down the road from the vibrations of playing it all that time."
Holding the guitar in Robinson's presence at the NAMM show, I first noticed its chunky neck. Having played so many modern necks, I find it easy to forget what a real vintage profile feels like. This one's not in Louisville Slugger territory, but it's a voluptuous C-shaper, with a standard taper from the first position to the 12th.
The nut measures 1 11/16 inches, slightly smaller than the 1 ¾ inches that has become the modern standard.
The action is pretty low and easy, and unlike a '54, this guitar has an easily adjustable truss rod. I didn't need to touch it though. Although my hands are not large, I found barre chords surprisingly manageable and had no problem executing pretty much anything I felt like playing, up and down the ebony fretboard.
The D-28 Rich Robinson's signature sound is lively and loud!
According to Martin, it features "rearward-shifted non-scalloped bracing, which offers added volume and a very balanced tone."
That all makes sense because while this D-28 is a sonic boomer, it's not all about the bass like some dreads. The focus is more in the middle range, balanced nicely with a present top and a snappy low end.
Give it a strong strum and the whole guitar resonates, with sweet, enduring sustain. Its body feels alive vibrating against your own.
And there's no need for kid gloves: This is a terrific troubadour strummer that invites a strong attack. Play it hard and the tone hits you right back, practically smiling, with no compression.
The Robinson signature is fantastic for sounding off huge, open chords, and it holds open tunings like a boa constrictor. One can see how Robinson was drawn to create so many classic tunes in alternate tunings, as that's when this lively guitar sounds most vivacious.
I had to put the RR D-28 in open E and give the "She Talks to Angels" intro a go. The resonance was absolutely radiant!
Any die-hard Robinson fan will appreciate the lengths Martin has gone to create this impossibly specific instrument. I'll admit to being one who has never missed a Crowes tour or album. Shoot, I've got one of Robinson's actual picks, as well as his signature brass D'Addario slide, and I can attest to the fact that putting those tools into play with this ultimate acoustic Robinson replica produces tones remarkably like his.
Not everyone is going to want a relic'ed acoustic (my wife couldn't understand why anybody would), but Martin did a remarkable job creating a kick-ass new guitar that looks like a road-worn 70-year-old.
Interestingly, this D-28 is particularly slide-friendly, considering its easy low action.
The fact that it looks exactly like his heirloom is cool, even if one never sees the original artifact. The Rich Robinson Custom Signature Edition D-28 welcomes further scratches and dings to accumulate over time, resulting in a combination of original birthmarks and one's own love scars.
Play hard, work hard, and take it on the road with no worries. What a fun way to start a relationship with an "old" friend.
Robinson says he's looking forward to writing fresh songs on the Appalachian. We're enthusiastic about those, and the inspirations carried with each painstakingly crafted Custom Signature Edition.
Visit Martin for more information.
All the latest guitar news, interviews, lessons, reviews, deals and more, direct to your inbox!
Jimmy Leslie has been Frets editor since 2016. See many Guitar Player- and Frets-related videos on his YouTube channel, and learn about his acoustic/electric rock group at spirithustler.com.