Three different pedals with three different gain styles, the Cleo, Dynaplex and Gold Mine have something for everyone. The Cleo's natural overdrive is super-clear and perfect for low-gain crunch. The Dynaplex is a British voiced hard-rocker while the Gold Mine nails high-gain flexibility.
Pros
+

Each pedal has its own distinct tone profile.

+

Marshall fans will love the Dynaplex.

+

The Gold Mine has that Recto/Mark IV mojo.

+

Cleo is more transparent alternative to TS-style pedals.
You can trust Guitar Player. Our expert reviewers spend hours testing and comparing guitar products so you can choose the best for you. Find out more about how we test.
Mesa/Boogie Cleo, Dynaplex and Gold Mine Review
This trio of new overdrive pedals designed for low-, medium- and high-gain applications is intended to let players get the tones needed for everything from blues to hard rock and metal.
The Cleo, Dynaplex and Gold Mine are made in Mesa's Petaluma, California factory and feature die-cast aluminum housings, true-bypass switching and low-current-draw circuitry that can be powered by a nine-volt battery or external power.
We tested the boxes with a selection of guitars that included a Gibson '59 Historic Les Paul, a Reverend Gristlemaster and a Hamer Newport, along with a Fender Deluxe Reverb and Boogie's latest 1x10 combo version of the Mark 5:25.
Cleo
As the lowest gain of the three, the Cleo could be thought of as Mesa's spin on a Tube Screamer, and, as such, it works great as a clean booster or lower-gain overdriver.
But there's a difference here, as the Cleo is so transparent in comparison to the green classic from Japan. It has a bouncy, easy-to-play feel, yet doesn't compress the dynamic content, remaining open on top and very fast on your picking attack.
The balanced response is evident from the get-go, as the Cleo delivered sweet and touch-responsive tones that in no way impeded hearing the distinct sonic qualities of guitars, and the presence and punch factor of the tones didn't require any preset midrange enhancement.
With the gain set low and the level turned up, the Cleo added heft to the sound and could easily drive the Deluxe (with its volume around four) into grinding distortion – loud and cool, and so dynamically responsive when riding the guitar volume for cleaner and dirtier textures.
Conversely, with the level turned down and the gain turned up to two o'clock or higher, the Cleo delivered sweet-sounding distortion and nice sustain at very controllable volumes.
This is one of the most natural-sounding and non-compressed-feeling overdrives I've heard, and it's well suited to blues, rock and roll, and other applications where you want the sound of the guitar and amp to stand out without a lot of extra, and perhaps unneeded, gain and EQ shaping from the pedal itself.
Specifications
CONTROLS: Level, gain, tone
I/O: Input, output, 2.1 mm external adapter jack
EXTRAS: True-bypass switching
BUILT: USA
Dynaplex
With its purple paint and the "plex" in the name, it's pretty obvious where the Dynaplex is coming from, and this British-voiced pedal is an aggressive little beast, with a ballsy, mids-forward distortion tone that carries a cutting edge on top and plenty of low-end thrust.
You could plug in and be quickly enamored with how vibey and amp-like it sounds for hard rock and old-school metal, but wait – there's more. You can also change the response quite dramatically via a two-position internal voicing switch (accessible by undoing four screws and removing the back plate), which can select a more "modern" scooped tone, if that's your preference.
The Dynaplex's gain range is huge, so there's no problem getting a ton of grind and sustain from single-coils, and the tone knob is musically voiced and rolls off the highs and softens the tone without losing any definition.
It also adds volume as you turn it clockwise, making things not only brighter but more boosted. The presence knob doesn't noticeably increase sustain even when dimed, but it puts a cool sheen on the sound and allows the upper-midrange sparkle to really stand out in a blizzard of distortion.
A superb pedal for heavier styles, the Dynaplex is a great choice if you're a fan of that classic modded-Marshall sound.
Specifications
CONTROLS: Level, gain, tone, presence
I/O: Input, output, 2.1 mm external adapter jack
EXTRAS: Internal EQ voicing switch, truebypass switching
BUILT: USA
Gold Mine
At the top of the gain range is the Gold Mine, which is designed to deliver the soaring sustain associated with Mesa's Mark series amplifiers, while offering a great deal of tonal flexibility courtesy of a three-band EQ with bass, mid and treble controls.
This is a massive-sounding pedal with gobs of output and grind. Here too, the overall response can be optimized further via an internal two-position tight switch that, in the stock setting, keeps the low end more controlled and, well, tighter for focused high-gain solos and rhythm playing.
Alternatively, you can select a looser response curve with increased low-end girth and a more scooped midrange. I had a hard time deciding which I preferred, but the looser version seemed to really groove with single-coils, while the stock (tight) position gave humbuckers a tauter dynamic feel that's pretty cool.
It all adds up to make the Gold Mine a flexible pedal that can elicit distortion tones with the raw muscularity of an EL34-powered British amp, the thick and juicy overdrive of a Mark IV, or the machine-like chug of a Recto.
It also works delightfully for lower-gain tones – even clean boosting – so one could make a case that it's the best all-rounder of the bunch, although I certainly wouldn't mind having the Cleo, Dynaplex and Gold Mine on a board to allow for instant switching between these great flavors of grind.
Specifications
CONTROLS: Level, gain, bass, mid, treble
I/O: Input, output, 2.1 mm external adapter jack
EXTRAS: Internal tight switch, true-bypass switching
BUILT: USA
CONTACT: Mesa/Boogie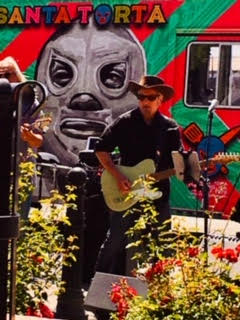 Art Thompson is Senior Editor of Guitar Player magazine. He has authored stories with numerous guitar greats including B.B. King, Prince and Scotty Moore and interviewed gear innovators such as Paul Reed Smith, Randall Smith and Gary Kramer. He also wrote the first book on vintage effects pedals, Stompbox. Art's busy performance schedule with three stylistically diverse groups provides ample opportunity to test-drive new guitars, amps and effects, many of which are featured in the pages of GP.