"Be the Guy Who Shows up on Time and Has a Good Attitude": Whitesnake's Joel Hoekstra and Reb Beach Reveal the Habits of the Successful Guitarist
From session work to Broadway to the band's latest album, 'Flesh & Blood,' the Whitesnake axemen explain what's needed to make it in show business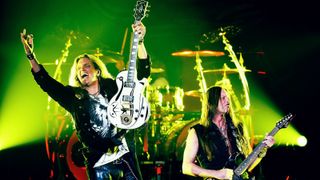 (Image credit: Ethan Miller/Getty Images)
The following appeared in the September 2019 issue of Guitar Player
They have included blues rockers Micky Moody and Bernie Marsden in the early years, and John Sykes, Adrian Vandenberg and Vivian Campbell starting in the mid '80s. Later iterations featured Steve Vai, Warren DeMartini and Doug Aldrich. So it's no small compliment, nor is it an overstatement, to say that the band's current guitar team of Reb Beach and Joel Hoekstra can stand toe-to-toe with any of their predecessors.
Indeed, both players came to Whitesnake with distinguished pedigrees. Beach, who joined in 2002, first made his name as a hotshot guitar slinger with Winger, and has played with acts like Alice Cooper, Night Ranger and Dokken, as well as performed session work for artists ranging from the Bee Gees to Chaka Khan to Howard Jones.
Hoekstra, meanwhile, is quite possibly one of the busiest players in the guitar universe today. A fellow former Night Ranger member, he's racked up thousands of performances as a musician in Broadway shows like Rock of Ages and Love, Janis. Concurrent with his Whitesnake duties, he has also performed with the Trans-Siberian Orchestra and Cher.
Both Beach and Hoekstra can be heard on Whitesnake's latest studio album, Flesh & Blood (Frontiers Music Srl). Though they recorded together for 2015's The Purple Album, a reimagining of songs from Coverdale's tenure in Deep Purple, Flesh & Blood is the first time the two have collaborated on a Whitesnake record of original material. And judging by the album's 13 tracks, they had a hell of a good time.
In true Whitesnake tradition, Flesh & Blood is a veritable guitar orgy, with nonstop riffs, licks and ridiculously flashy solos bursting forth at seemingly every second of the record's roughly hour-long running time. There's no shortage of head-spinning, ear-wrangling six-string wizardry to be found on the album, whether it's the high-energy riff-rock like album opener, "Good to See You Again," or the first single, "Shut Up & Kiss Me."
The record also includes epic midtempo stompers like the title track and "Sands of Time," and classic Whitesnake-style ballads such as the bluesy "Heart of Stone" and the acoustic "After All." As Beach puts it, "It's a pretty good gig for a guy like me." As well it is for Hoekstra.
But maybe the luckiest of all is Coverdale, who gets to play with both guitarists. As he tells Guitar Player, "I couldn't ask for a better pair. You've got Reb, who's a balls-to-the-wall but also incredibly melodic guitarist, and then Joel, who brings in a whole spectrum of incredible colors with his arsenal of musicality. They bring it all, and they fire on all six. They're both scorching-hot guitar players."
In the following interview, Beach and Hoekstra discuss the writing and recording of Flesh & Blood, the gear they used on the album and what they love most about playing in Whitesnake. Additionally, both open up about their session and stage work, and go deep into what it takes to be a successful, well-rounded and – it's worth noting – continually employed guitarist.
Whitesnake has a long legacy of featuring great guitarists. What do you think David Coverdale looks for in his players?
Reb Beach He looks for a star, dahling! [laughs] One thing I would say is he doesn't like two guitar players that are exactly the same. He likes having one bluesier guy, which in this case would be me, and one super-flash guy. And that's definitely Joel.
Joel Hoekstra David's really great at honing the Whitesnake sound, and so he looks for things that obviously fit in the blues-driven, hard-rock realm. But there are also other sides to Whitesnake. For instance, a lot of David's ballads are rooted in Motown, believe it or not. So he has that sensibility, too. But I think the most important thing with David is to have a positive, agreeable personality. He's been around long enough that he just looks for people who are going to be good teammates.
How did the two of you work together on Flesh & Blood?
Hoekstra That's complicated to answer, because in terms of songwriting, we worked on songs with David separately, and then we worked together for a period of time. But for the most part, it's about making sure David is cool with it all. Neither Reb nor I are the type who wants every solo. We're both more than happy to share the wealth. In terms of who gets what solo, it usually just takes care of itself. Neither one of us is fighting for scraps of meat. As a guitarist in Whitesnake, you get plenty of opportunities to be showcased.
Beach I was there [in the studio] a lot more than Joel. I basically lived with David. So when it came time for leads, I just picked up a guitar and played over every solo section and picked the ones I wanted to do. I need to be kind of inspired. There's some stuff that, for me, sucks to play over. There are just some chords that I'm terrible at.
Joel doesn't have that problem. He can play over everything, and everything he does is perfect the first time. It's like nothing I've ever seen before. He came in to do this one solo, and he played something off the top of his head that was perfect from front to back. And I said, "That's perfect. You're done." He said, "No, let me try it again." And he did it again, exactly the same way!
That sounds like a really annoying person to be around.
Beach Well, I'm not going to comment on that! [laughs] No, no, no. He's great. And he's a genius when it comes to, you know, just music. No matter what key something is in, he can play over it, whereas I don't want to ever play anything in, like, A flat, ever! There has to be dots on the fretboard, or forget it.
Joel, what would you say are Reb's strengths as a guitarist?
Hoekstra Reb has a real identifiable style, and it's something that fans have been exposed to for a long time. It's established. And I think everybody knows he's a great lead player. But one thing I really learned when I joined Whitesnake is what a great rhythm player he is. He's really tight. So I would say it's the fluidness of his lead playing, the accuracy and tightness of his rhythms, and also the fact that he's just a great riff writer.
You each have a diverse resume. What led you down such varied paths?
Hoekstra My parents are classical musicians, so out of the gate I think I understood the importance of not turning my nose up at learning classical and jazz and other styles besides rock. Also, I grew up in the '80s, which was an era where everybody was really openminded about guitar playing.
But an interesting thing is, I graduated from GIT [Guitar Institute of Technology] basically right when "Smells Like Teen Spirit" came out, and it was the beginning of that time of, "That guy's a shredder, don't hire him." Initially, that was a huge bummer for me, but it turned out to be one of the best things that ever happened, because from '92 all the way to about 2008, I couldn't just fall back on chops as the thing that made me valuable. I had to turn myself into a much better musician.
To that end, you've done a lot of work on Broadway, and you've played with Cher.
Hoekstra The first theater gig I did in New York was a show about Janis Joplin – Love, Janice – in which I played '60s-style rock. Then I toured with a show called It Ain't Nothin' but the Blues. Then I subbed in the pit for Tarzan, which Phil Collins wrote the music for. And from that I got Rock of Ages, which was great because I had just joined Night Ranger not long before, and there's a Night Ranger song in the show. It was '80s rock, so they figured I was perfect.
The Cher gig – that's not something that I would have envisioned doing when I was a 13-year-old boy with my guitar. But I'm having a blast doing it. You play, like, a million styles on that gig, and it's obviously a totally different crowd than you'll get in a Whitesnake show.
Reb, you've worked outside of rock as well. Early in your career you did session work for the Bee Gees, Chaka Khan and Howard Jones, among others.
Beach I went to Berklee for a couple semesters, and I hated it. But what got my foot in the door was I did a session for [singer] Fiona, who was on Atlantic Records, and Beau Hill was the producer. I did the whole album, and at the end of it, he said, "Listen, it's time to pay you. I don't want to insult you, but how does five-hundred dollars sound?" And I was like, "Five-hundred dollars? That's incredible!" [laughs]
So Beau started telling people, "I've got this kid, he's great to work with, he's a great player, and he does it all for five-hundred bucks!" And I became the go-to rock guy at Atlantic Records. I didn't have to play other styles. You know, whether it was Chaka Khan or the Bee Gees, I just came in to play the stock "'80s rock solo." And my whole life, that's kind of the style I've been playing.
Outside of being a great player, what are important attributes to help a guitarist get a gig?
Hoekstra You need to do all the simple things, like be the guy who shows up on time and has a good attitude. Be detailed-oriented and be the consummate professional. And stay busy, even if sometimes that means just doing work and not getting paid, because I've found that work creates work. If you're out there networking and interacting with people, that tends to lead to opportunities.
Beach For me, I just happen to be a happy guy. I laugh a lot and I have a good sense of humor, and I think that's really helped me. Another thing is I think it's important to be comfortable as a performer. I had a stage mom who would push me to be in Pippin and Oliver! and things like that when I was a kid, so I've always been onstage. I'm very comfortable up there.
Also, I have a strong voice, and that's rare for a guitar player. That's probably the only reason I got the Alice Cooper gig, because you need background vocals, and it's hard to find a guitar player who can do that.
Do you change up your gear depending on the gig?
Hoekstra Definitely. Whitesnake is still old-school amps, so I'm using Friedman BE-100s onstage and in the studio, and then for the recording I also had a Mezzabarba and a Victory and a Marshall. My main guitar on the record is a [Gibson] '57 Les Paul Reissue Goldtop.
With Cher, its interesting, because I first filled in for a guy who was using an amp and a big pedalboard, and they loved his sounds. So when the gig became mine, I had to take a Fractal Axe-Fx and use an A/B switch and program his sounds into it, which was kind of a cool task.
And the guitars are all over the place, because there are all these different styles. I play a Tele, a Strat, a Jazzmaster, a Les Paul…a bunch of stuff. And for Cher's '80s material, like "If I Could Turn Back Time," I use a Jackson PC1. That's sort of my superstrat of choice.
Reb, how about you?
Beach I'm just so basic. I always play through the same amp and the same guitar, and maybe I'll throw a distortion pedal in there if I need it for soloing. But for the most part it's pretty boring – just direct into the amp, meat-and-potatoes stuff. Any effects you want to add, you add them later.
So for Whitesnake, it's my Suhr guitar through a Suhr head, and maybe with a Suhr Shiba Drive pedal if I need more overdrive for a solo. Back when I was doing a lot of sessions, it was Atlantic Studios and they had all the rack gear and effects, so you could add that stuff if you wanted it. But I never was a big pedalboard guy.
How do you balance having more than one gig going at the same time?
Beach It can be problematic. Winger waits to see what Whitesnake is going to do, and Whitesnake typically waits until the last minute to book stuff. Kip [Winger] gets pissed off at me sometimes, because we need to write a new record at some point, and it just seems like David is never going to stop.
But also, all the Winger guys are super busy with other stuff, too. I mean, Kip is off the charts. He was nominated for a Grammy for his orchestral record [Conversations with Nijinsky], and now he's doing a Broadway show called Get Jack that he wrote all the music for. But Winger will basically take this year off because Whitesnake is out touring.
Hoekstra It's difficult to balance everything. Cher is doing arenas during Whitesnake dates, so I'm subbed out of her shows during that time. She kind of lets me come and go, which has been really nice. So within reason I'm there whenever I can make it. And then the Trans-Siberian Orchestra have their holiday stuff consistently set in stone for November and December, and that causes anyone else I'm playing with to either avoid that time or figure out a plan around it. That led to things like me subbing out of Night Ranger basically every year during those months.
So it's always a challenge. Scheduling is a stressful thing, and it's never fun, because it makes people think that you don't appreciate having all the gigs. But having the gigs is definitely something I appreciate and value highly.
That said, what do you each love most about being in Whitesnake?
Beach I would have to say playing on these giant stages, and playing with David. Sometimes when he hits that note in "Still of the Night," he'll be standing right next to me and the hairs on my arms will be standing up.
Hoekstra The songs would have to be the answer. That, and the guys in the band. There's a lot of humor in Whitesnake. Reb's a really funny guy. Our bass player, Michael Devin, is probably the funniest bandmate I've ever had in my life. And David's so great. So we have a lot of good times. But playing great music is just so important. Because you see the audience enjoying what you're doing, and that kinda just makes your job easy.
Beach There's just so many good things about Whitesnake. You know, you play these songs, and you feel like a star up there on the stage. And you get a spotlight and everything! And I love the spotlight. [laughs] I eat that stuff up!
Order Whitesnake's Flesh & Blood here.
All the latest guitar news, interviews, lessons, reviews, deals and more, direct to your inbox!
Rich is the co-author of the best-selling Nöthin' But a Good Time: The Uncensored History of the '80s Hard Rock Explosion. He is also a recording and performing musician, and a former editor of Guitar World magazine and executive editor of Guitar Aficionado magazine. He has authored several additional books, among them Kurt Cobain: Montage of Heck, the companion to the documentary of the same name.