"This Album Is a Side of Vai That You're Never Going to Hear Any Other Way": Steve Vai Talks New Gash Record
After sitting on a shelf for 30 years, Vai's balls-out ode to the joys of riding is finally out. But the real surprise is the guy behind the mic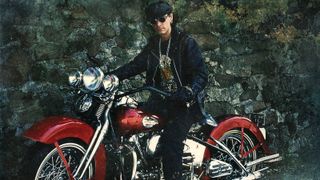 (Image credit: JOHN HAREL)
For anyone who came to Steve Vai through his work with Alcatrazz, Whitesnake and David Lee Roth in particular, his new album, Vai/Gash will feel like a homecoming to the glory days of metal, when the song was king.
Every track boasts an anthemic chorus, numerous memorable melodic hooks and short, shred-laced solos. Recorded by Vai in 1991, the album sat on his shelf for more than 30 years. At the time that he recorded the songs, Vai was immersed in the world of biker culture, enjoying the freedom and adrenaline rush of riding powerful bikes with a bunch of like-minded pals.
One of those friends was Johnny "Gash" Sombrotto, a unique character with strong opinions, a devil-may-care approach to life and, as it turned out, a truly exceptional voice. At times reminiscent of the best singers Vai had worked with – particularly Roth and Graham Bonnett – Gash's voice had something extra that took things to a whole other level. Vai had wanted to create music he could listen to on long rides with his biker cohorts, and to that end he wrote and recorded eight songs over a couple of weeks. But when he tried to sing them, he quickly realized he couldn't give the songs the something special he was hearing in his head.
Gash, on the other hand, could. By chance, Vai heard a tape of his friend singing an imitation of Frank Sinatra. "Although I don't believe he sang rock and roll before, and I had never heard him try, something in me wanted to get him in the studio," Vai explains.
Once behind the microphone, Gash exceeded Vai's expectations, delivering a vocal performance that, in the guitarist's estimation, was on par with some of the greatest rock voices. They worked on the tracks together, but with sessions booked for his 1993 album, Sex & Religion, Vai shelved the project with a plan to write more songs to round out the disc. He never got around to it before Gash was killed in a 1998 bike accident.
Unable to listen to the album for many years, Vai eventually began to revisit it before finally deciding that the world had to hear just what it had missed with the untimely demise of Sombrotto. The result is one of the most upbeat, powerful and flat-out rocking albums of 2023.
As the lyric states on "Let's Jam" – "Get ready to crank it up."
Vai/Gash is a really joyful, positive and uplifting record.
Absolutely. I've listened to it a lot and always asked myself why I liked it so much. It's just a straight-ahead rock and roll record, and I put it together really quickly. I think the songs are totally authentic, and you're right, it is really uplifting music. And, of course, Gash's vocal is just perfect.
Given how much the world has changed in 30 years, do you think you'd write the same kind of album in 2023? Is it a reflection of what now seems like simpler times?
It's true that things seem very different, but I still feel the way I felt when I wrote it, because I was trying to capture a mental state of freedom. Ever since I was young, I was into the whole biker culture, and one of the things that I discovered was that when you talk to people who ride, they can get very passionate about explaining that feeling of freedom that they experience when they're on a motorcycle. That particular feeling resonated with me.
When I got older and was able to afford a Harley, I was able to experience for myself those feelings of riding in the wind. It's so uplifting, and I know that all of my biker friends experienced it too. So I wanted to make some music that we could listen to that really captured that sense of abandonment, and I decided to just go into the studio and create something that really fit the vision that I had.
The songs are very much in the tradition of the big, collaborative rock records and bands that you've been associated with.
They are, but I guess the difference between my work with those artists and what I did with this album is that they were very co-creative; there are a lot of people involved in the creation of a song when you're working with those kinds of acts. And while I enjoyed that, it's almost like you have to run things by committees, discussing the shape of the song, how it should sound, how it will play on radio, who the target audience is et cetera, you know?
But for this Gash record, I wrote it all, aside from "New Generation," which Nikki Sixx co-wrote with me many years ago. I also engineered it, produced it and played everything on it except the drums, which were done by Tiffanie Smith. Everything was done so fast. I would just lay down a bass line before I even knew what the song was going to be, then I would come up with the guitar parts. My work with Roth and Whitesnake shows authenticity in my playing, but this album is entirely my authentic vision.
Gash's voice is so great that it's amazing that he'd never done anything before.
That's the extraordinary thing. I knew I had to get his voice on these tracks, but I wasn't ready for what would happen when I got him in the studio. He just nailed his shit. Every song was cut in one or two takes. We had our record, and it served its purpose – we'd all listen to it when we were out on our bike rides. I always had the intention to cut some more songs with Gash, but when he was tragically killed in a bike accident in 1998, I was so disheartened that I couldn't even listen to the album for 10 years.
However, for the last 20 years, I've been listening to it fairly regularly and really enjoying it. I just began to think that maybe now's the time to release it. For any artist, there's a contingency of fans that enjoy hearing or collecting anything that you do that is of quality, so I was sure there'd be an interest in the record.
If he'd lived and the album had been released back then, I'm sure he'd have been hailed as one of the truly great rock singers.
No question. I really believe so. This guy had such charisma. He was an amazing character. He'd suffered terrible burns over 60 percent of his body in an accident in 1977, at the age of 21. I guess, to look at him, people might have initially found him a bit intimidating until they got to know him. He had a fantastic ability to get on with anybody, and he had such a daredevil attitude to riding.
There's a picture of him on the back of the record sleeve where he's sitting backward, facing the wrong way, while riding his bike. He did that kind of thing all the time. He was a complete extrovert, with all the qualities of every lead singer I've ever met, that absolute comfort with being the center of attention and the way that they ooze charisma. Let me tell you, I'm qualified to talk about lead singers, so I know what I'm talking about. He had lead singer DNA.
It's striking that this album was recorded between Passion and Warfare and Sex & Religion, as it has very little in common with those albums, as if you were operating from a different side of your brain. It's almost schizophrenic.
I guess you would think that a schizophrenic wrote Flex-Able, Passion and Warfare, Sex & Religion, Alien Love Secrets and Gash. [laughs] It is quasi-schizophrenic. My musical aspirations have a huge compositional element. You can see that in my music, and sometimes it can get very dense and complicated. I'm attracted to brutal creativity, where you see how far you can take something. I get forensic with production. Sometimes I over-produce, but there's a great reward in creating and exploring wherever your compositional spirit takes you.
When I was a teenager in rock bands, it was all about Led Zeppelin, Kiss, Deep Purple, Queen, Aerosmith. I loved and lived that stuff. There's a palpable energy in rock and roll that's free and vibrant. That was infused in me at a very early age. How can it not be when you've got bands like that influencing you? So the Gash record was sort of a return to that freedom of expression: one take, no thinking and going after that raw feeling. The feeling was the goal. It was great to go into the studio and blow something out with no excuses.
Did you ever record anything with your teenage band, Rayge, when you were playing a ton of classic rock covers? I'm sure there'd be a similar appetite for fans to check that stuff out.
One of the guys in the band had a reel-to-reel tape recorder, and there are recordings from that period, but you'll never hear them coming from me. [laughs] Trust me, right now I don't know if my fans could stomach hearing 13-year-old Steve Vai playing guitar.
The opening track, "In the Wind," has one of your most minimal solos ever. It's interesting to read comments about the song on YouTube and see how enthusiastic people are about that solo, which is very much the antithesis of your typical approach.
Yeah, it's really nice to see how well my fans have been embracing this record. I guess it's a small peek into a side of me that is, perhaps, a little unexpected. I do really love to try to do something unexpected whenever I can though.
The feel on a handful of the songs is like what could have been the third Roth album, after your work together on Eat 'Em and Smile and Just Like Paradise.
The similarity is that with Dave we were trying to capture that rock and roll energy and freedom where music affects us and makes us feel good. But this Gash record could never have been a third Roth record, because of the whole committee approach, with Dave's approval, the record company's input and the management input.
This album is a side of Vai that you're never going to hear any other way, because I was totally alone when I built this record, and it happened in a week. It takes months and months, even years, to make those kind of Roth and Whitesnake records.
You had several shoulder surgeries in 2021 and 2022. Is everything back on track for you now?
Just about. My shoulder's doing great. It healed pretty well, and I have almost full range of motion. I'm going through some challenges with my fingers. I had a trigger finger in my thumb which I got fixed a couple of years ago at the same time as one of my shoulder surgeries, and another finger is triggering now which I'm just about to get fixed in a minor procedure.
You've been touring on the back of Inviolate in 2022, where you've been playing the three-necked beast that is the Hydra guitar live for the first time. Has it presented you with any challenges?
When I was making the album, it took me about six weeks to write and record "Teeth of the Hydra" using the guitar, and I had it on a stand, as it was so heavy. When I was shooting the video, I had it on a strap, but there's a lot of forgiveness when you're playing to a track, so it wasn't so hard to play it standing up.
When I went out on tour, soon after my last shoulder surgery – which I think, in hindsight, might have been too soon – I realized that it would be too difficult to try to strap the Hydra on.
I was using a stand, but my goal for my next run of dates will be to try to re-work being able to play it on a strap again.
What else is coming up for you in 2023? Last time we spoke, around the time of the release of Inviolate, you hinted that there may be a chance that you'd be releasing an acoustic album with you singing all the songs, in light of the really strong response to "The Moon And I," which you posted on YouTube in 2021.
I'm still working on what I'm calling volume three of the Real Illusions records. That was something I was doing during lockdown, but I couldn't work with other musicians at that time, so I had to put it on the shelf.
That was when I started coming up with other things, like the Inviolate album. The solo acoustic album is definitely on the way now as well. I'd gotten halfway through it, but then I tore my shoulder again, so I had to temporarily shelve it.
I've also spent a few weeks in Holland recording with the Metropole Orchestra playing a whole bunch of my orchestral music, and been with the Tampere Philharmonic Orchestra in Finland, so I'd like to try to get those records released. There are a lot of different things there, but I've always strived for diversity throughout my whole catalog.
Finally, after all that, I'll hunker down to see what kind of new guitar extravaganza my fingers are capable of producing.
Order Vai/Gash here.
All the latest guitar news, interviews, lessons, reviews, deals and more, direct to your inbox!
Mark is a freelance writer with particular expertise in the fields of '70s glam, punk, rockabilly and classic '50s rock and roll. He sings and plays guitar in his own musical project, Star Studded Sham, which has been described as sounding like the hits of T. Rex and Slade as played by Johnny Thunders. He had several indie hits with his band, Private Sector and has worked with a host of UK punk luminaries. Mark also presents themed radio shows for Generating Steam Heat. He has just completed his first novel, The Bulletproof Truth, and is currently working on the sequel.