Vivian Campbell: My Career in Five Songs
The shredder from Dio, Def Leppard, and Last in Line names his top five career-defining cuts.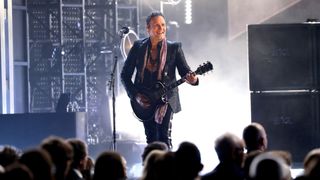 (Image credit: Kevin Kane/Getty Images)
"I consider myself to be in a very unique and privileged position," Vivian Campbell says. "I can't imagine there are too many people who have had as colorful and as varied a career as I've had."
Campbell has been on quite the journey since he formed his first group, Sweet Savage, in Belfast, Ireland, at just 15 years old. From there, he achieved international prominence in the early 1980s as the hotshot young shredder in Ronnie James Dio's band before going on to play with everyone from Whitesnake to Thin Lizzy to the Riverdogs.
These days, Campbell is the guitarist in Def Leppard, which he joined in 1992 following the death of original member Steve Clark. In 2019, he also released his sophomore effort with Last in Line, II, a project that was first conceived as a tribute to the early days of the Dio band, and which initially featured former Dio drummer Vinny Appice and Dio bassist Jimmy Bain, alongside singer Andrew Freeman. Since Bain's death in 2016, his slot has been filled by former Ozzy Osbourne bassist Phil Soussan.
Named after the 1984 Dio album The Last In Line, Campbell's group focused almost exclusively on playing old Dio songs. Since then, they've become a force in their own right, as heard on II, their second album of original material. The record draws on the riffy, lead-guitar-heavy style of classic Dio while forgoing the mystical metal overtones of that band in favor of a more straightforward and aggressive hard-rock attack.
"It's a great pleasure to reconnect to that part of myself – keep that fire burning and that passion going," Campbell says. "Because all I ever wanted to do when I was a teenager was just play angry guitar. And with Last in Line, I'm incredibly fortunate that I still get to actually do it."
Here are five standout songs from the musician's extensive and illustrious career…
1. "Killing Time" (Sweet Savage, Single Release, 1981)
When I was about 15, I formed Sweet Savage in Belfast with Trevor Flemming, who unfortunately passed away some years ago. The "Killing Time" single was actually a double-A side with another song called "Take No Prisoners."
Ironically, the single was inspired by Def Leppard, because they had just done The Def Leppard E.P. independent release, and we were reading a lot at the time about how this band from Sheffield [England] had gone the independent route. So we thought, Okay, that's what we've gotta do too.
We were young and nervous when we recorded this one. It was our first time in a studio and we had no idea what we were really doing, but I think the energy still manages to come across. At the time, we were inspired by the New Wave of British Heavy Metal and Thin Lizzy and Motörhead, but there was also a real punk element to the band and to the actual recording.
Of course, I just wanted to play as many notes as I could possibly fit in! Even though Sweet Savage never scored an actual record deal, we obviously had some sort of influence, because in years to come Metallica recorded their own version of "Killing Time." So it's very flattering.
2. "Rainbow in the Dark" (Dio 'Holy Diver,' 1983)
The "Rainbow in the Dark" solo was the first solo I did on the Holy Diver album, and I had no idea what I was doing. I didn't rehearse any of it. I had no real studio experience other than the couple sessions I had done with Sweet Savage.
And so Ronnie [James Dio] said to me the night before we did it, "Okay, tomorrow evening we'll come in and we'll do solos. Pick a song to start with." And I said, "Well, let's start with 'Rainbow in the Dark.'" The song is in A minor, so I came into the studio early the next day, sat down and played in A minor.
Now, it might have been more logical to sit down and actually construct a solo. [laughs] And I certainly would approach it that way nowadays, with the benefit of 30, almost 40 years of experience in hindsight. But back then I just played all day in A minor, just widdily widdily widdily.
Then Ronnie came in with Angelo Arcuri, the engineer, and we set up an electric guitar sound, and Ronnie said, "Okay, let's try one." They rolled the tape and I played in A minor, and at the end Ronnie goes, "Wow! That was incredible. Let's try another one." But then the mental process started to take over and the second solo was nowhere near as good as the first. So Ronnie said, "All right, well, let's just keep the first one." [laughs]
I'd like to say that all the solos were that easy, but they definitely weren't.
3. "Straight Through the Heart" (Dio, 'Holy Diver,' 1983)
This is an epic song. I did some writing on it, though I didn't get credited on the record because at the time I was too stupid to realize my name wasn't included. I was also too young and naive to say anything about it when I finally did notice.
The main riff is by Jimmy Bain. He loved to write songs in F# because he loved that open-E-to-F# thing and the power it brings. And then the bridge, or middle-eight part, is something that kind of takes the song in a whole different direction. Jimmy and I were roommates at the time and we'd jam a lot on ideas and then bring them into the rehearsal room for Ronnie.
As far as the guitar solo, at the time I didn't think it was one of my best. It wasn't impressive enough or technical enough or whatever. But when we started doing Last in Line a few years ago, I went back and relearned all the early Dio solos so I could play them note-for-note, because that's what people want to hear. And when I went back to this song I said, "You know, this is a really well-constructed solo!" The passage of time gave me a new perspective on it.
4. "Cruise Control" (Def Leppard, 'Songs from the Sparkle Lounge,' 2008)
It's about a suicide bomber. To my mind, you'd literally have to put your mind on cruise control to do something like that. So that's what prompted the title, and the guitar solo reflects the angst of what I imagine that situation would be like.
The interesting thing about the solo is I literally had about 15 minutes to record it. I did it with Amp Farm in Pro Tools. I tweaked the tone for about a minute and a half and then recorded it – I had to go pick up my kids from school and couldn't be late. I thought we were going to redo the solo, but everyone in the band heard it and loved it, and it ended up on the record.
Sometimes, when you don't have the luxury of time to obsess over tones and equipment and whatever, you get the best results from having your back against the wall and needing to do something right there and then.
5. "Year of the Gun" (Last in Line, 'II,' 2019)
There's some appropriately angry guitar on this song. In general, II is a dark album. Andrew [Freeman] writes about what's going on around him. He's lived in Las Vegas for years, and this song is reflective of what went on there with the massacre. [On October 1, 2017, a gunman fired into the crowd at the Route 91 Harvest music festival on the Las Vegas Strip, killing 58 people and injuring more than 850.]
I think the energy of the song reflects the anxiety and the uncertainty of that episode. Musically, we put more guitars on this album than we did on Heavy Crown. On that one, I hearkened back to Holy Diver, which didn't have a lot of guitar overdubs. But with this new album, I was willing to put as many guitar parts as I felt were appropriate on each and every song.
With that said, I'd love to play "Year of the Gun" live, but I have no idea how I'm going to do it! Because from the solo onward, it becomes all about lead guitar. And then there's an aggressive wah-wah part that plays over the riff, which I think is equally as important. I'm a little bit concerned about how to cover all that territory, but it's possible that between Phil [Soussan] and myself we'll be able to make this one work live.
Buy Last in Line's debut album Heavy Crown and their latest long-player, II, here.
All the latest guitar news, interviews, lessons, reviews, deals and more, direct to your inbox!
Rich is the co-author of the best-selling Nöthin' But a Good Time: The Uncensored History of the '80s Hard Rock Explosion. He is also a recording and performing musician, and a former editor of Guitar World magazine and executive editor of Guitar Aficionado magazine. He has authored several additional books, among them Kurt Cobain: Montage of Heck, the companion to the documentary of the same name.