Watch Led Zeppelin and Aerosmith's Epic Live Performance at the Rock & Roll Hall of Fame
The hard rock titans unite on stage for a knockout show at the 1995 Induction Ceremony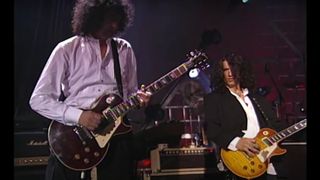 (Image credit: Rock Hall)
It's not often you get two of the world's biggest bands on stage at the same time. But at the 1995 Rock & Roll Hall of Fame Induction Ceremony, members of Led Zeppelin and Aerosmith joined forces for a spectacular live performance of six songs including "Train Kept a Rollin'," "For Your Love," "Bring It On Home," "Reefer Headed Woman," "Boogie Chillen" and "Baby Please Don't Go."
That year, Aerosmith vocalist Steven Tyler and guitarist Joe Perry had the honor of inducting fellow hard rock veterans Led Zeppelin into the esteemed ranks of the Rock Hall.
During the ceremony, the pair shared some thoughts on the group Rolling Stone called "the biggest band of the Seventies."
"I love this band because they had no limits," said Perry. "They weren't musical snobs and never held on to any one style. Zeppelin would change gear six times on one album; they played blues, funk, rock, reggae and ballads with equal ease.
"I think it's laughable that some people still consider them just a heavy metal band, since at least half of their best songs are acoustic. They were doing Unplugged long before it was a hip thing to do."
Meanwhile, Tyler recalled some poignant memories of the early days.
"In 1969, I saw Led Zeppelin perform at the Boston Tea Party," said the Aerosmith frontman. "They ran out of songs after they played their whole first album, so they had to do a bunch of Elvis tunes because they wouldn't let them get off stage.
"I just sat cross-legged in the back of the room while they played the middle section of 'Dazed and Confused,' and it was so fucking heavy that it made me cry.
"Another time I cried over Led Zeppelin was an hour later when Jimmy Page emerged from the dressing room with a beautiful girl on his arm. I would have been very impressed except it was the girl I'd been living with (up until that moment.)"
Interestingly, Led Zeppelin's John Paul Jones recounted his own memories of performing at the Boston Tea Party in 1969 to NME .
"As far as I'm concerned, the key Zeppelin gig, the one that put everything into focus, was one that we played on our first American tour at the Boston Tea Party," said the legendary bassist.
"We'd played our usual one-hour set, using all the material for the first album and Page's 'White Summer' guitar piece and by the end, the audience just wouldn't let us off stage…
"I've never seen that at a gig before or since, and when we finally left the stage, we'd played for four plus hours.
"Peter [Grant, Led Zeppelin's manager] was absolutely ecstatic. He was crying, if you can imagine that, and hugging us all."
Browse the Led Zeppelin catalog here.
Browse the Aerosmith catalog here.
Visit the Rock & Roll Hall of Fame online here.
All the latest guitar news, interviews, lessons, reviews, deals and more, direct to your inbox!
Rod Brakes is a music journalist with an expertise in guitars. Having spent many years at the coalface as a guitar dealer and tech, Rod's more recent work as a writer covering artists, industry pros and gear includes contributions for leading publications and websites such as Guitarist, Total Guitar, Guitar World, Guitar Player and MusicRadar in addition to specialist music books, blogs and social media. He is also a lifelong musician.