"You Come to the Shows and You See Kids, Older People, Young Girls, Guitar Nerds": Tyler Bryant and Graham Whitford on the Universal Appeal of Rock and Roll
The Tyler Bryant & the Shakedown guitarists are working to bring riffy, guitar-centric blues-oriented rock back into the mainstream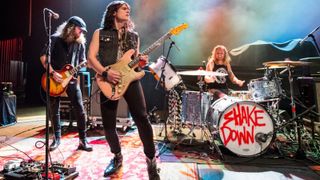 (Image credit: Scott Legato/Getty Images)
The following appeared in the November 2019 issue of Guitar Player…
"People used to come up to me and say, 'Oh, you're really good for your age,'" Tyler Bryant recalls of his days as a teenage blues guitar prodigy. "And I would almost get offended by it. What I wanted them to say was just, 'You're really good.'"
Indeed, Bryant's exceptional talent won him a spot performing at Eric Clapton's Crossroads Guitar Festival when he was just 16. Now that he's reached the ripe age of 32, let it be said: Tyler Bryant, guitar slinger from the town of Honey Grove, Texas, is really good.
His band, Tyler Bryant & the Shakedown, ain't too shabby, either. In the Shakedown, he's aided by co-guitarist Graham Whitford, who comes to the band with his own pedigree (he's the son of Aerosmith axeman Brad Whitford).
Together, they're working to bring riffy, guitar-centric blues-oriented rock back into the mainstream.
"People might say we're in the wrong era, but I'm excited for where rock is heading right now," Whitford says. "I think people are ready for it."
"We just have to keep pushing it forward, because that's what all the greats did," Bryant adds. "I think it's important for every rock and roll band to come up with something new and create their own sound. We're just going to continue making the most honest records we can and putting on the best live shows we can. And we'll build it one brick at a time."
How do the two of you work together as guitarists?
Bryant I know what he's good at, and he knows what I'm good at, and we just try to stay out of each other's way. Graham takes the reins when it comes to the chunky guitars and the rhythms and the big riffs, because he plays with so much attitude. It sounds a little bit more dangerous than when I try to do it.
I tend to take the majority of the solos and the slide stuff. But it really depends on what the song calls for and who is best suited to which part.
Whitford I love to play lead as well, but Tyler's just great at crafting guitar solos. I tend to focus more on the writing aspect and trying to guide the sound as a whole.
Tyler, how did you come to the blues at such a young age?
Bryant There was a man named Roosevelt Twitty, who I met at a guitar shop in Paris, Texas, when I was 11. He was singing and playing in the style of Lightnin' Hopkins. He asked me if I liked the blues and I said, "I don't know what the blues is." So he said, "Well, I'll show you." And he became my best friend.
I started going over to his house pretty much every day, and we listened to records and jammed. He would give me John Lee Hooker cassettes and Freddie King videos, and by the time it was all said and done, we had a band together: the Blues Buddies.
Since then, you've played gigs with AC/DC, Guns N' Roses, Aerosmith and Jeff Beck. What's it been like to perform on the same stages as your heroes?
Bryant It's been unbelievable. A lot of it still doesn't even feel real. We came off tour after doing 33 shows with AC/DC, and I was reading back through some of my journal entries going, "What just happened?" You know: Did we actually just play at Madison Square Garden? It's crazy. But it's been a great learning experience, especially when it comes to how to work a crowd.
And I think it's also influenced the band as far as songwriting, in terms of leaning on simplicity and space rather than overcomplicating things a lot of times.
Whitford Another thing is that it's a big challenge to have to warm up a crowd that's come to see, you know, AC/DC, and that probably couldn't care less about who the opener is. You have to go out and do your best to win these people over.
We got warned before we went to Europe: "You guys might get booed." But we never did. I feel like that's an accomplishment! [laughs]
There's a certain amount of tradition and history that comes into play when you're creating music that's strongly influenced by blues and classic rock. Do you ever worry about getting pigeonholed as a throwback band?
Bryant I know what you mean. But I think we probably have lost fans because a lot of our stuff isn't throwback enough. Of course we're influenced by all of these acts, like Tom Petty and the Heartbreakers, and Hendrix, Muddy Waters, Jeff Beck and Soundgarden. But it's important to us to do our own thing and find our own sound.
The artists that had an influence on you and countless other guitar players came up in a time when rock and roll was a dominant cultural force. Do you feel like the climate is starting to change in favor of that musical style?
Whitford Yeah, it feels like that's happening a little. You have bands like Greta Van Fleet that are getting attention from younger people. And even at an AC/DC or Guns N' Roses show, I'll see kids with their parents. They're six, seven years old, and they have the rock horns up. Sometimes when I'm onstage and I see that, I'm like, Wow!
People love rock and roll, and they love guitars, and they love to watch bands perform this kind of music.
Bryant That's why I want this band to keep building a community of people. Because you come to the shows and you see kids, older people, young girls, guitar nerds. There's not one specific audience.
Rock and roll transcends all that. There's something really powerful about it.
Shake the Roots by Tyler Bryant & the Shakedown is out now on Rattle Shake Records.
All the latest guitar news, interviews, lessons, reviews, deals and more, direct to your inbox!
Rich is the co-author of the best-selling Nöthin' But a Good Time: The Uncensored History of the '80s Hard Rock Explosion. He is also a recording and performing musician, and a former editor of Guitar World magazine and executive editor of Guitar Aficionado magazine. He has authored several additional books, among them Kurt Cobain: Montage of Heck, the companion to the documentary of the same name.