"I Once Did a Solo on a David Crosby Record Without Ever Hearing the Song": Steve Lukather Reveals His Most Shocking Studio Sessions
"He said, 'You bastard! You never even heard the song!'" recalls Luke in this hilarious interview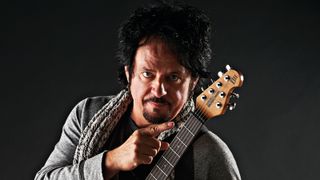 (Image credit: Getty Images)
When it comes to session guitarists, Steve Lukather is at the top of the list. Wikipedia claims he has recorded tracks on more than 1,500 albums, and while the web encyclopedia is known to get a thing or two wrong, we're not about to dispute that fact.
Though he's known best for his work with Toto, Lukather has played on countless hit records for artists that include Aretha Franklin, Elton John, Quincy Jones, Peter Frampton, Joni Mitchell, Paul McCartney, Eric Clapton, Michael Jackson… The list goes on. He's also enjoyed an acclaimed solo career for over 30 years.
GP's Matt Blackett sat down with Luke for an interview several years back, and in this excerpt, Lukather talks about four of the most surprising moments he's ever had in his life as a session guitarist – which just goes to show that even a seasoned pro like Steve can be in for a shock once in a while.
Let's talk about Lionel Richie's "Running with the Night."
He called me and said, "I want you to play a solo on this song of mine." It was right after "Beat It," and everybody wanted to get a rock guy to solo on pop/R&B stuff. I show up with my 'Burst and Rivera-modded Deluxe Reverb, and I cranked it all the way up.
He plays me the song, and I just started noodling through the whole thing. I said, "I think I've got it. Let's do it." He said, "You just did." I said, "Come on! I was just kind of wanking my way through." He goes, "I love it. It's fantastic! You don't need to do it again." That was a 10-minute session.
There was no chart or anything?
I showed up blind, man. We never got demos. We never got to rehearse. I think James Carmichael, his producer, had a road map, but it was all A minor. I said, "Let me fuck around with it," and they rolled the tape.
GP's Jude Gold called your "Running with the Night" performance a "zero-take solo." Do you have any other zero-take sessions?
I once did a solo on a David Crosby record without ever hearing the song. We had done one song and Crosby said, "Luke, do a solo on this other track." I love Croz, but I was trying to finish up because I wanted to go hang with Danny Kortchmar – he was the other guitar player. We'd been there all day.
Crosby said, "Let me play you the song." I said, "No, man. What key is it in? Roll the tape." With all due respect, I knew it wasn't going to be "Giant Steps" or anything like that. I just reacted to what I was listening to. I played the solo in one take and it was done. He said, "You bastard! You never even heard the song!"
You've told the "Beat It" story a million times [Lukather played guitar and bass on the 1982 Michael Jackson track, which features an Eddie Van Halen solo]. What's another Thriller story?
"Human Nature" had no guitar part on it. The running joke was that Steve Porcaro wrote the song, so it's really a Toto song with Michael Jackson singing [Porcaro played keyboards in Toto].
I had been working with Quincy Jones since his The Dude record, and I came up with a lot of parts for that. I'd get a chord sheet and come up with these quirky little muted parts. So Quincy knew I did that, and he called me and said, "Look, this is a great pop song, but it's not funky. I need you to funk it up."
I started noodling around, and I came up with the entire guitar part. It was all me. I wrote that part on the spot, to the point where he gave me arranging credit on the record, and we got nominated for a Grammy. We didn't win, but it was nice for him to give us the credit.
We were all over that Thriller record – me, Steve Porcaro, [Toto keyboardist] David Paich and [Toto drummer] Jeff Porcaro.
What about the Tubes' "Talk to Ya Later"?
David Foster was producing the record, and he said, "I need you to co-write a song with Fee [Waybill, Tubes singer]." I had never met Fee, and some of the other guys in the band were pissed off that they brought in a ringer. I didn't know until I got there that there was any bad vibe at all.
So it was me, [drummer] Prairie Prince, Foster and Fee. I came up with the opening riff, and we ran with it and came up with the song. It was written and recorded in less than an hour. I overdubbed a bunch of guitars on it, and I also played bass, because the Tubes' bass player refused to play on the track. He said, "It's not a Tubes song. It wasn't written by us." And it was their first hit!
For the solo at the end, there was one track left, and I had to do the thing in one pass. At the very end of it, it's a little flat, but they wouldn't let me fix it. There were certain imperfections on records back then.
All the records of my childhood have things like the tambourine being way on top of the beat or something. But there's a charm to the strings being out of tune, or the horns being a little off. It's a vibe. Nobody cares. The standard for that is a lot different now.
All the latest guitar news, interviews, lessons, reviews, deals and more, direct to your inbox!