"We Were Tired of Playing the Required Music You'd Play in a Bar": Rich Williams Reveals His Top Five Quintessential Kansas Songs
Dubbed "Mr. One-Take" by Steve Morse, the Kansas founding guitarist picks his greatest cuts from the group's epic 50-year history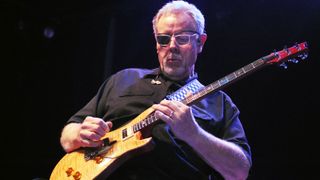 (Image credit: Chris McKay/WireImage)
"Kansas has a knack for distributing parts where they're needed," guitarist Rich Williams notes proudly, "rather than saying, 'We've got to find something for everybody to do here!' It's just a process of getting everybody involved the right way, not stepping on toes, and serving the songs with only what they need."
Of course, you'd expect that to be the case after 50 years, but Kansas had their game plan in good shape largely from the get-go. The group was forged in Topeka by what Williams calls "the last man standing of our peer group that wanted to continue on with a musical life rather than get a straight job."
The original six members – Williams, guitarist-keyboardist Kerry Livgren, singer-keyboardist Steve Walsh, singer-violinist Robbie Steinhardt, bassist Dave Hope and drummer Phil Ehart – had played in a variety of groups, including White Clover and the Reasons Why.
After a few false starts, this lineup formed Kansas in earnest in 1973, forging a unique blend of heavy blues-based rock and complex, progressive opuses. According to Williams, "Everybody had different influences" that included Mitch Ryder & the Detroit Wheels, the Rolling Stones (for whom Kansas opened during the summer of 1978) and the classical music of Steinhardt's formal training.
"We were tired of playing the required music you'd play in a bar. We were trying to remove the box of, 'This is what a band does. This is what rock music is today.' We were very inspired by what became called 'progressive music.' That taught us there is no box; there are no parameters. You can sing about anything you want to. You can use any time signature, any approach you can think of, any instrumentation that appealed to us.
"We just wanted to do something that came naturally to us, not emulate anything we'd been doing previously or copy the trend of radio. We wanted to do things our way. We were very stubborn in that want and need. What drew the six of us together was to do something special."
The inaugural, self-titled Kansas album of 1974 was certainly that, an amalgamation that started with the gritty gut-punches of "Can I Tell You" and a cover of J.J. Cale's "Bringing It Back" and moved into soaring pieces such as "Journey from Mariabronn," "Apercu" and "Death of Mother Nature Suite."
A pattern was established that would be maintained on subsequent albums, finally breaking big with the multi-Platinum one-two punch of 1976's Leftoverture and the following year's Point of Know Return, and hit singles such as "Carry On Wayward Son" and "Dust in the Wind."
Along the way, Williams became a player of the moment in the studio. "Many times, I don't know what I'm going to do until I hear, 'Roll it,'" he explains. "I don't like going in too rehearsed because I like the panic of not knowing where I'm going." He recalls that Steve Morse, a member of Kansas from 1985 to 1991, dubbed him "Mr. One-Take." "I've been very fortunate at creating in the moment."
Williams and Ehart have been Kansas's stalwarts throughout the group's history, having seen 22 other members play on the group's 15 studio albums. The current lineup, which is responsible for 2016's The Prelude Implicit and 2020's The Absence of Presence, is one of the group's strongest yet and is on the road this year to celebrate the 50th anniversary of the band's formation.
The band is also working on new material for an album to be released in 2024, and the 73-year-old Williams – who moved to North Carolina during the pandemic following a long tenure in Atlanta – doesn't see himself getting out of the act any time soon.
"I kind of grasped the concept early on, actually before I even started taking guitar lessons, that I wanted to be part of something like this," he notes. "I'm just fortunate that it worked out. There have been some rough moments – usually they're travel-related – but I've been through so many weird times that we just laugh at it now. It's a complete surrender to and acceptance of whatever all of this is.
"We just roll with it and keep taking the next step forward, and suddenly 50 years is here. It's a wonderful life."
1. "Can I Tell You" from 'Kansas' (1974)
"We had started the band and were more concerned about original music, so we started writing the song 'Can I Tell You.' I wrote this little chord pattern that's basically the beginning of the song and brought it to rehearsal. Steve Walsh took it home and came back with the chorus and the three verses, and I came up with the middle section while Robbie added all the violin parts and stuff, and a song was born.
"We made a demo tape, 'cause we thought, Wouldn't it be cool if we could actually make an album? It wound up on [producer/manager] Don Kirshner's desk, and he liked that song. There were six songs on the demo tape, three on each side, and I don't think he ever heard the second side. He really liked 'Can I Tell You,' and that got us our record deal.
"In 2022, we did [the compilation] Another Fork in the Road, and record companies traditionally want something new in a package like that. While we do have a few songs in the can, since we're working toward releasing a new record in 2024, we thought, What if we remade 'Can I Tell You' with the current lineup, since that was the song that brought us to the table. We thought it was a way to bookend our career and to see if we could do that song in a modern way.
"So Phil went to the studio in Georgia where he always does his drum tracks, and I did my guitar tracks here where I'm sitting at home. Everything went through [keyboardist] Tom Brislin, who was assembling all the parts at home. Ronnie [Platt] sang his parts in Chicago, [David] Ragsdale did his violin parts in his bedroom, and Chad Singer – who's our front-of-house sound man and knows what we sound like more than we do – produced the project and did all the mixing.
"We'd never really tried something like this before, and I'm really happy with the outcome. We were attempting to recreate the vibe as much as we could and just freshen it up. It's funny: [Amazon's virtual assistant] Alexa plays stuff randomly around our house, and I was up early this morning to make coffee, and in the background 'Can I Tell You' came on. It was at a low enough volume that I couldn't tell if it was the new or old recording until my guitar solo came along. I play something different on the new one, and it wasn't until it got to that spot that I could tell it was the new recording."
2. "Carry On Wayward Son" from 'Leftoverture' (1976)
"We were in our rehearsal room in Topeka and had been working on material for the album. It was the last day. We were gonna pack up the gear and head to Bogalusa, Louisiana, where we had done the third album, Masque. Then Kerry comes in and says, 'I've gone one more song.' There was a lot of moaning and groaning, 'cause we were tired of the process and ready to get in the studio and start recording. He started showing us the song, and the general consensus was, 'There's a lot here. This could be a really good song.'
"We went down to the studio and worked out an arrangement – a rough one; we hadn't really learned the song yet. The tape was rolling and we were playing the song until, finally, [co-producer] Jeff Glixman said, 'I think we've got one.' The version on the recording is probably the first time we got it correct.
"At the time I was using my red 100-watt Marshall Lead amp, which was the only amp I had, and my Gibson L6s, which I'd used on the three previous records. But from traveling on the road, the amp got a little beat up, and there was another musician who worked out of that studio who said, 'Just use my Marshall head.' It had Gretsch tubes in it. So I did.
"Me and Kerry double the riff at the song's beginning. For the verses, Kerry was on piano and Steve Walsh played background organ. It didn't need electric guitar during that part, so I played acoustic, mimicking the piano part.
"When it advanced into the chorus, we didn't want to go full balls-out yet, so I just added a clean electric behind the chorus. That way, when the main riff kicked back in, it had more oomph to it. It was just a process of leaving room for each other, not stepping on each other's toes but giving everybody something to do.
"We felt really good about it. Don Kirshner kept calling in, and we were holding the phone up to the speakers so he could hear it. Everybody in New York was excited. When we rolled the mix, that's when it hit all of us: This is something different. That's when we were high-fiving. We knew we had delivered something that was a game-changer for us."
3. "The Wall" from 'Leftoverture' (1976)
"Kerry was on this weird, miraculous writing streak during Leftoverture. He comes in one day and says, 'I got a song I wrote last night,' just on an upright piano he had. And he starts playing all these parts and changes, and shows us the lyrics. We were like, 'You wrote this last night? Where did that come from?!' There are songs that for me are quintessential Kansas songs, and that is definitely in the top five.
"I can remember there was a sound that I really wanted to try for this song, one that I hadn't previously used much. Once again, it was my trusty Marshall 100-watt Lead – the bass channel, with everything on 10, with my Les Paul, bass pickup, treble off, volume stopped. It creates such a cool lower overtone, with really good sustain but not an in-your-face kind of feel. That was the approach I took on this song for the solo part at the beginning. Since it re-occurs before the final verse, I did something a bit different.
"The rest of the song is basically keyboard-driven, so I'm playing a clean guitar and arpeggios through the chorus. I wasn't sure what to play there, and Steve suggested that, and it was a good idea, so that's what I added at that point.
"I remember I was sitting outside at the studio, which was in the country in Louisiana, and I could hear that opening being played through the door of the studio. It was my opportunity to really listen to it. Phil Ehart's first wife was listening to it, too, and she said, 'God, Rich, that's beautiful!' And that reaffirmed to me that I had created something there."
"As I was saying about 'Wayward Son,' our approach here, once again, was to serve the song and just give it what it needs. We had the basic tracks done, with the violin, the heavy organ parts and stuff, and I thought, Do I really need to play here? As a result, I didn't play in the opening – there just wasn't room for it. For me, it was a very simple process of elimination: This sounds really solid with the Hammond organ and violin. I don't need to be here, and we don't need to keep me busy by creating a part, so let's leave it alone.
"And I have to say, that's hard. It's really fear-based, like, 'I can't think of anything to do that would add anything. What's wrong with me? I think I'm a professional guitar player, but I can't think of anything!' But you just have to accept that your instincts are right. So while I was scared that I sucked for a minute, in the end I did the right thing.
"For the verses, I played single notes, outlining a triad. We'd take the third up and play the corresponding part, and then play the fifth, and we created this triad with a very clear-stringed guitar sound and mixed that in with the piano. You really have to listen closely to hear that it's there, and even then, you probably wouldn't know it was a guitar. So that's what I added to the verses. Then in the B section – 'Your mother…' – that seemed like a good spot to add a new Martin acoustic that I had. We were looking for a change in texture before it goes back into the 'How long' part, where I'm gone again."
"Kerry had written the song, but it wasn't really a song when it was being written. He brought in a really rough recording with an acoustic guitar, kind of mumbling the words. Me and Phil are going, 'Whoa, this is a cool song!' It was put on the back burner, and eventually we got to it. I played the basic tracks. I had never done much acoustic guitar finger-picking at all. I had once borrowed a banjo from a friend of mine and taken some banjo lessons, so I was used to playing with metal picks, which is what I used on this.
"Now, back then, on those old tape machines, you couldn't even punch in a part; you had to record it in its entirety. So it took all day to record, just me alone with a naked, acoustic guitar. It was double-tracked on a Martin, and then I added a nylon-string guitar and double-tracked that with a high-strung guitar. I'd get to the end and hit a clam, and then it was, 'Damn, now I've got to start over again!' After a while, ear fatigue was really wearing on me, but I got it done.
"I came in the next day, and everyone was hanging their heads, saying, 'We've got to re-do it. Listen to this.' It all sounded great, except in the background you could hear this noise from all the layering of the guitars. Those metal picks sounded like a team of horses running through the song. So we couldn't use it, and I started all over again. My fingers were bleeding by the time we were done with it. And, obviously, I got to know the song very well. [laughs] I knew it inside and out by the time we were done."
All the latest guitar news, interviews, lessons, reviews, deals and more, direct to your inbox!