Marcus King's Top Five Life-Changing Riffs
The singer, songwriter and guitarist reveals the music that inspired his southern fusion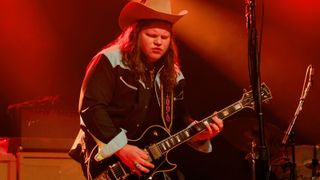 (Image credit: Frank Hoensch/Redferns)
Growing up in South Carolina, Marcus King found the guitar early in childhood and dug in deep.
Sitting in at gigs with his father, blues guitarist Marvin King, taking jazz lessons from session player Steve Watson and absorbing music from hometown heroes the Marshall Tucker Band prepared him to release his debut album while still a teenager, thanks to another mentor, namely Warren Haynes.
King's top five riffs reflect his blend of southern soul, blues, rock and jazz.
1. "Don't Want You No More" by the Allman Brothers Band
"This record was in my dad's collection, and I would listen to it constantly. I would slow it down and try to get all the parts and subtleties that Dickey Betts and Duane Allman were doing.
"That was the first time I was introduced to tri-tones. Later on, when I started studying jazz with my instructor Steve Watson, I learned more about tri-tones, but that was my first experience with them, and it blew my mind as a young kid.
"That track is still one of my favorites, just the tone and the stylistic choices they made with their playing."
2. "Oh, Pretty Woman" by Roy Orbison
"I think this is one of the greatest rock and roll riffs of the 20th century. It changed rock and roll forever, and it opened my eyes to see that there could be riffs in popular music.
"I had the pleasure of working with Billy Sanford, who played the part on the session. He's a sweetheart of a guy, and he's still at it. I worked with him in Nashville."
3. "Gimme Three Steps" by Lynyrd Skynyrd
"There were a few guitar players that really got the message across to me and every other young guitar player in the South, guys like Duane and Dickey and Toy Caldwell (Marshall Tucker Band).
"Lynyrd Skynyrd had three of them – four if you count Steve Gaines: Ed King, Gary Rossington and Allen Collins.
"This is the first tune I remember sitting down and learning by myself. My folks had gone off to work, and the guitar was my babysitter a lot of the time."
4. "Donna Lee" by Charlie Parker
"I went to the Fine Arts Center in Greenville, South Carolina, and that's where I was given an outlet to study something I dug and wanted to learn more about. That's when I started studying jazz theory and jazz performance, and I started reading music.
"Studying with [Director of Jazz Studies] Steve Watson over there was a real kick. This tune was my final exam at the end of my first semester there. I have underestimated it for years since I left that school."
5. "Eat That Question" by Frank Zappa and the Mothers of Invention
"I started getting into Frank Zappa around the time I met my drummer, Jack Ryan, but I never really dug into the earlier instrumental stuff, so The Grand Wazoo was a record that really drew me in.
"That was a time when we were exchanging a lot of records, living in Greenville, South Carolina, together and listening to music constantly, and this was one record we just about wore out to the nub.
"This particular riff is a tune that we still play today every now and then."
Order Marcus King's Young Blood here.
All the latest guitar news, interviews, lessons, reviews, deals and more, direct to your inbox!
Jim Beaugez has written about music for Rolling Stone, Smithsonian, Guitar World, Guitar Player and many other publications. He created My Life in Five Riffs, a multimedia documentary series for Guitar Player that traces contemporary artists back to their sources of inspiration, and previously spent a decade in the musical instruments industry.