Frank Zappa's Favorite Guitars and Amps
"Frank rarely used anything stock": Dweezil Zappa reveals the custom gear behind some of his late father's greatest recordings in this essential read from the 'GP' vault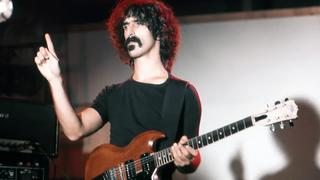 (Image credit: Getty/Ginny Winn)
In celebration of Frank Zappa's birthday this week, we take a look back at some of the guitarist's choice amps and axes, courtesy of Dweezil Zappa.
The following is taken from the GP archives...
"Considering Frank rarely used anything stock, it's difficult to ape his tones," says Dweezil Zappa, who tries the best he can to get close to his old man's sonic deviancy on the Zappa Plays Zappa Tour.
"For the most part, it's really about having the right midrange, and being able to get controllable feedback at will. Frank devised a way to make that happen by fitting his guitars with onboard preamps that put drastic EQ control at his fingertips, and kicked out a ridiculous amount of boost – up to 18dB.
"Frank really loved screwing around with stuff, and making it work for him and the way he played."
Dweezil kindly gave us access to several of his father's guitars and amps – which we've presented here with as much detail as possible, given the fact that mysteries still remain about some aspects of these instruments.
Pignose Amp
This is the Pignose amplifier that was responsible for the bulk of the nasty guitar tones found on the Apostrophe(') and Over-Nite Sensation albums.
This little piggy couldn't escape modification, as evidenced by the two XLR jacks on the back.
Zappa appeared on The Mike Douglas Show in 1976, where he can be seen walking onstage to perform "Black Napkins" with this Pignose in one hand and the "Baby Snakes" SG in the other.
"Baby Snakes" Gibson SG
The "Baby Snakes" SG was Zappa's main guitar for the latter part of the Seventies. The guitar is not actually a Gibson but rather the creation of "a guy in Phoenix," who made his way backstage and sold the guitar to Zappa for $500.
Though its feel is a lot like that of a Gibson SG, closer inspection reveals such non-Gibson details as a 23rd fret and some nifty inlays and ornamental woodwork.
Luthier/electronics maker Rex Bogue – the man who Zappa also tasked to bring Hendrix's charred Miami Pop Festival Strat back to life – added various delights to this guitar, such as phase switches and an onboard preamp (Bogue passed away in 1996).
Mid-Seventies 100-watt Marshall JMP
This stock, mid-Seventies 100-watt Marshall JMP head was a mainstay in Zappa's setup from 1974 on through the 1979-84 tours.
Gibson ES-5 Switchmaster
This ES-5 Switchmaster was used on the first three Mothers of Invention records. We also know that Frank plugged it into a Fender Deluxe for the album Freak Out!
He had the portly, knob-festooned jazz box later outfitted with Barcus Berry pickups and even more switches and knobs that, according to Dweezil, are no longer functioning.
Gibson Les Paul Custom
Pictured on the Shut Up 'n Play Yer Guitar cover, this Les Paul Custom is loaded with Seymour Duncan humbuckers and has been outfitted with a Dan Armstrong Green Ringer circuit (which was installed in the control cavity) and an XLR output jack.
An extra knob located in the midst of the stock controls is a nine-position rotary switch that allows for single-coil/humbucker and out-of-phase options. The mini-toggle switch selects between series and parallel operation.
"Roxy" SG
This is the same guitar used and pictured on the 1974 Roxy & Elsewhere album.
Though the two non-stock switches on the guitar's lower horn were present in the Roxy era, the guitar has been augmented since those days with a mirrored top and various preamps, phasing switches, and active-filter circuits.
Martin D-18S 12-fret "Standard" Dreadnought
Martin's Dick Boak helped us identify this acoustic guitar, which is a D-18S 12-fret "standard" Dreadnought with a slotted headstock, Brazilian rosewood fretboard, headplate, and bridge, and mahogany back and sides.
It was used on the 1974 recording of "Sleep Dirt" and the tune "Blessed Relief" from The Grand Wazoo.
Zappa traded a Telecaster to get the Martin from its owner, Mark Volman (a.k.a "Flo"), from Zappa's early Seventies "Flo and Eddie" lineup.
Performance Guitar
Used on Frank's last tour, in 1988, this custom-made Performance solidbody sports concentric knobs along with tiny screwdriver-adjustable trimpots to accommodate the tone tweaking Zappa was so fond of.
"The trimpots are identical parametric filter circuits," Zappa's tech, Midget Sloatman, told GP in 1995. "One trimpot is dedicated to bass frequencies from about 50Hz to 2kHz, and the other one affects the top-end frequencies from about 500Hz up to 20kHz.
"The filters also featured a variable resonant frequency [or 'Q'] knob that allowed Frank to control the feedback characteristics of his rig in any hall. He could basically tune his guitar to the room, determine how the room responded to the amplifier, and then use the Q control to elicit the feedback he wanted.
"Frank also used the active filters to emphasize the highs in the 4k-to-8k range in order to bring out the nuances of the strings."
Jimi Hendrix Sunburst Fender Stratocaster
Given to Zappa by a Hendrix roadie, this formerly sunburst Stratocaster was mutilated by Hendrix at the 1968 Miami Pop Festival.
Zappa had it hanging on a wall in his basement for years until Rex Bogue put it back together with Zappa-approved electronic delights, such as a Dan Armstrong Green Ringer and a Barcus-Berry contact pickup buried in its original replacement neck! This neck, however, is a fairly new addition, as is the tortoise-shell pickguard.
Dweezil shows the guitar and talks about it in the video below provided by Norman's Rare Guitars.
All the latest guitar news, interviews, lessons, reviews, deals and more, direct to your inbox!