Joe Bonamassa Shares His Pick of His Rare Les Pauls and Other Guitars
See—and get the stories behind—three of Joe's Les Paul "bursts" and other rare and valuable guitars.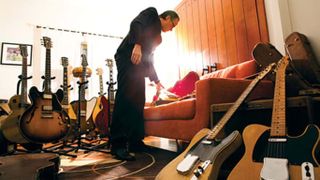 (Image credit: Jeremy Danger / Future)
Joe Bonamassa isn't a man of leisure, but when he's not touring as a solo artist, he can usually be found recharging his batteries at his oceanfront condominium in the idyllic beach town of Malibu, California.
At 35, the guitarist is already a seasoned veteran, having traded licks onstage with B.B. King at the tender age of 12 and made his solo debut a decade later with the blues album A New Day Yesterday.
Bonamassa's sonic calling card, a deft compendium of blues and blues-rock guitar styles from the Forties to the present, can be heard to excellent effect on his 13th album as a leader, Driving Towards the Daylight. On it, he presents some new original compositions and revisits classics by Willie Dixon, Tom Waits, and Bill Withers. "I'm really going back to the basics with this record and playing the music I've loved since I was a kid," he says.
Bonamassa was destined to be a guitar aficionado, growing up as he did behind the counter of his parents' music shop in upstate New York, Bank Place Guitars (now named, appropriately enough, Bonamassa Guitars). At 14, he received a $5,500 inheritance from his great-grandmother and used the windfall to acquire his first vintage instrument, a 1954 hard-tail Stratocaster, from a local seller. "It had a few issues as a collector's piece but certainly wasn't a bad beginner guitar. But I wasn't satisfied with just one old guitar. By my late teens I had vintage examples of all the classics: a 335, a Tele, and others," Bonamassa says, before leading us into the condo's sunny interior courtyard.
As he situates himself on an outdoor couch, Bonamassa reflects on a period in the mid 2000s when his guitar buying became so frenetic that he often found himself purchasing an instrument, only to remember later that he already had one—or three—almost identical examples. "It got to be so gluttonous," he says. "I'd be on tour in a place like Japan, jet-lagged and ready to start my day at four in the morning. No Starbucks would be open, so I'd just go to the web site Gbase and throw something on the credit card. I ended up with all these guitars I didn't even play—a bunch of old Switchmasters and ES-350s and even four Trini Lopezes—guitars that were killer to look at but not useful to me on the stage or in the studio. Finally, I just said, 'Garage sale!' and got rid of a ton of stuff."
Bonamassa has pruned his collection to a mere 90 guitars, half vintage instruments and half recent models, mostly Gibson Custom Shop guitars that "sound and play killer and look just like the originals, if you saw them from row G." At the heart of the collection is a trio of that most desirable of solidbodies, the sunburst Les Paul Standard, comprising two 1959s and a 1960 with a 1959 neck profile. But the stable also includes less coveted pieces, such as a 1969 Grammer Johnny Cash flattop acoustic. "You've got to see this special guitar," Bonamassa says as he bolts from the couch and disappears into a laundry room. He returns with an old, heavily stickered case. "This one is so rare I just had to have it, even though I'm not much of an acoustic guy," he says, nimbly fingerpicking a series of ninth and 13th chords. "Now everyone who plays it wants it. It sounds incredible and just seems to have a lot of songs in it."
Another unobvious collector's piece is Bonamassa's 1972 Gibson ES-355TDC, its twin humbuckers bearing the embossed Gibson logo on their covers. The guitar hails from what many consider to be a dark period in the company's design and quality control, but Bonamassa sought it out because of its similarity to the ax played by blues legend Freddie King. "This was my first and only eBay purchase," he says. "I ended up in a pitched battle to win it for $2,900—a steal considering that these are harder to find than a '59 Les Paul or even an original korina Flying V."

Bonamassa directs us out of the courtyard and upstairs to a small room where he displays a nice cross-section of his collection: the ES-355, along with a 1961 ES-335, a 1963 Gibson Firebird I, 1953 and 1954 blackguard Fender Telecasters, a 1955 hardtail Stratocaster, a 1932 Martin 0-17, and a 1970 Martin D-41. A trio of brown cases—two Liftons and a Stone—lie on the floor, each holding one of Bonamassa's three Bursts. The guitarist tenderly unlatches each case and reveals the guitars. Their gorgeous maple tops have faded into varying shades of scarlet and amber, and they glow, as does their owner as he gazes upon them. "I could've bought a house or these three-quarter-million-dollar guitars. I chose the guitars in a heartbeat. I love them. They're like my children," he says, with emotion.
His Bursts at his feet, Bonamassa holds forth on the subject of originality and his overall philosophy as a collector. "Refrets don't bother me, but the pickup rings have gotta be right, the pickguard has gotta be right, and I've gotta open up that electronics cavity and see some vibrant original solder. I've seen some really good fakes out there, and it really bothers me. People are getting scammed for real money by guys who steal original parts to put on fake guitars.
"I'm not a spiritual guy," he continues, "but if you buy a guitar with a scratched-out serial number, chances are it was stolen at some point, and therefore it's not good karma to play it. I find, on the other hand, that guitars with good histories don't fight you. Somehow, they tend to stay in tune and play better. So all my guitars have got to be clean and honest. Playing wear is just fine, though. Check out the worming on the back of Principal Skinner," he says, lifting his favorite Burst from its case to show where the finish has succumbed to an oversized Seventies-era belt buckle. "Honest playing wear."
The Burst triplets make an appearance on Driving Towards the Daylight, along with a handful of Bonamassa's other vintage guitars. A collector in the best possible sense, he sees his axes not as investments but as musical tools. "I really pared things down for the recording sessions. I only used about 20 guitars, but they were the best guitars in the world—all the best examples for sure. At one point, I looked at them and thought, If I can't get the job done with this, then I really need to stop buying guitars and just go home and practice."
1959 Gibson Les Paul Standard (Serial #9-0829)
"This one's called Magellan, because it's been around the globe with me—at least where it's safe to travel with such an expensive instrument. Airline rule has it that if you want to carry onboard an expensive guitar, you must buy a seat for it. The good news is that they will serve both a Burst and its owner a gin and tonic."
1960 Gibson Les Paul Standard (Serial #0-0137)
"I'm the third owner of this truly special Burst, which was ordered in June of 1959 and delivered in August of that year. Although the stamp indicates that it was made in 1960, it's obviously got all 1959 features. I sometimes call it Batman because of the weird winged bridge, a one-off. And I'm honored that Gibson Custom recently recreated the guitar in exacting detail as Collector's Choice #3."
1959 Gibson Les Paul Standard (Serial #9-1951)
"This guitar was originally known to the general public as the Skinner Burst [after the auction house that sold it in 2006], but I have renamed it Principal Skinner. Killer in every way. This is the most rock Les Paul I own. Big flame equals big tone."
1969 Grammer Johnny Cash
"This guitar has an unusual look—a grey-burst finish—which was apparently designed to look good with Johnny Cash's black attire. It's a rare bird with an incredible tone. Everyone who plays this guitar is surprised by the sound and wants to take it home."
1972 Gibson ES-355TDC
"This isn't much of a collector's piece, but Freddie King played one, and so I had to have one too. It's all original, down to the embossed covers on the pickups, and extremely rare. Just try to find another from the same year."
1932 Martin 0-17
"This 0-17 came from my repair guy in L.A. Someone who had inherited it from her grandmother had left it in the shop and forgotten about it, so I offered to give it a second life. It's a really sweet-sounding little guitar."
Reprinted from Guitar Aficionado, August/September 2012.
All the latest guitar news, interviews, lessons, reviews, deals and more, direct to your inbox!
Guitar Player is the world's most comprehensive, trusted and insightful guitar publication for passionate guitarists and active musicians of all ages. Guitar Player magazine is published 13 times a year in print and digital formats. The magazine was established in 1967 and is the world's oldest guitar magazine.
When "Guitar Player Staff" is credited as the author, it's usually because more than one author on the team has created the story.