"I Want All My Songs to Work Acoustically": Robert De Leo Takes His First Solo Journey on the Lush Acoustic LP 'Lessons Learned'
"When it comes to songwriting, that's essentially where everything starts out for me," says the Stone Temple Pilots tunesmith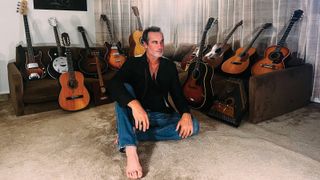 (Image credit: Robert De Leo)
As bassist, co-founder and primary songwriter with Stone Temple Pilots, Robert De Leo is responsible for penning some of the most rhapsodic modern-rock anthems of the past few decades including "Plush," "Interstate Love Song," "Down," and "Between the Lines."
But behind the driving rhythms and pulsing guitar riffs, the band always displayed a keen sense of melody and sophisticated harmonic and sonic twists that distinguished them from most of their peers.
Other songs such as "Wonderful," "Hello It's Late," "Cinnamon" and "Glide" showed De Leo to be a learned student of '60s and '70s psychedelic pop, country and folk rock.
Now on his first solo album, Lessons Learned, De Leo proves himself a crafty and accomplished fingerstyle guitarist as well as a brilliant tunesmith, trading distortion for Dobro and delivering 10 sublime and introspective tracks whose mellow grandeur comes from lush acoustic layering.
Alongside De Leo – who contributes electric guitars, steel and nylon string acoustic guitars, bass, guitarrón, cigfiddle, acoustic lap steel, Marxophone, tabla drums and backing vocals – Lessons Learned boasts many distinguished guests, including vocalists Jimmy Gnecco (from Ours), Pete Shoulder (Winterville and Sloper) and Kara Britz (Blake Shelton), as well as cellist/arranger Dave Eggar (FLUX Quartet/American Modern Ensemble) and De Leo's Stone Temple Pilots bandmate Eric Kretz on drums.
Those unfamiliar with De Leo beyond his band's mainstream radio hits may be surprised to find an offering that comfortably shares artistic space with the solo works of artists like Kris Kristofferson, Leonard Cohen, Glen Campbell and Van Morrison.
You play a lot of fingerstyle guitar on Lessons Learned. Did you start out as a fingerstyle guitarist?
Yes. I actually played guitar before I ever picked up a bass. I was about 15 years old when I got my first. From the start I never felt comfortable with a pick in my hand, so I was always picking out chord progressions with my fingers, and many of the songs I wrote for Stone Temple Pilots started out with me just plucking a nylon-string.
Growing up, I always was fascinated by rock players like Steve Howe and country players like Glen Campbell, who could do these amazing things with their fingers. About 10 years ago, I finally sat down and really forced myself to get Travis picking together, but even now I feel like I still have so much to learn and explore with it.
The songs on Lessons Learned are very cohesive. Did you write most of them specifically for the album or were these songs and musical ideas that had been kicking around for a while?
Most things were written fairly recently. The world allowed us all a lot of time when it essentially shut down for the pandemic. Like many people, I was sitting around wondering what to do. I began pulling out some of my acoustic instruments just to become reacquainted with them.
I wanted to get back in touch with my guitar playing, and that really was the creative spark that led to the writing and recording of the album.
Are you playing a nylon-string on "She Brings the Rain"?
Yeah, it's a three-quarter scale that was made in the '50s. I'm not sure what brand it is, but it's really become my go-to guitar that I keep sitting out in my living room and pick up whenever I feel inspired.
I bought it at the instrument shop of the Folk Music Center, which is a wonderful place in Claremont, California, started by Ben Harper's grandparents Dorothy and Charles Chase.
I also bought a unique four-stringed fretted guitarrón, which I tuned like a regular bass. This was perfect for me because I wanted an acoustic bass sound, but I can't really play upright. I'm playing the guitarrón on "Is This Goodbye" as well.
"Put Aside Your Sorrows" sounds like it could fit right in on side two of Led Zeppelin III. You tracked it with some unusual stringed instruments.
The Travis-picked main riff is played on a four-string cigfiddle which is essentially a guitar fashioned with a cigar box-shaped body. This particular one was made by Matty Baratto and is tuned to an open C# [low to high, C#, E#, G#, C#].
I also used it on "Is This Goodbye" but tuned a half-step higher, to open D. It's a cool little instrument, and when I picked it up, all these interesting ideas just came out of it.
For this record, I brought in a bunch of other unique instruments that nicely complement the acoustic guitars. For example, on this song, "She Brings the Rain," and "Is this Goodbye," you can hear a Marxophone, which is like a zither that's played with metal hammers and sounds like a dulcimer or mandolin.
On the title track I'm using a mahogany 1937 Oahu acoustic lap steel in open E tuning [low to high, E, B, E, G#, B, E] in certain parts.
It sounds like you're using non-standard tunings throughout the album.
I've fallen in love with Nashville tuning and I used that for layering throughout the album. On "Love Is Not Made of Gold", I tuned the high-E string down a whole step, to D, then capoed on the sixth fret and played a descending riff on the lower strings against the three open high strings.
The licks you hear during the verses are also the Gretsch Country Gentleman with the same tuning and capoing, and the beautiful melodic solo break is Matt Pynn on Dobro. When I first heard it mixed together with Dave Eggar's string arrangements, it literally brought me to tears.
With all the layered instruments, how did you manage to get so much clarity and separation?
Well, I have to give a ton of thanks and credit to Ryan Williams, who did a wonderful job engineering and mixing Lessons Learned. We were really careful to always choose the right instrument and the right microphone.
I went between using the rich fullness an old 1950's RCA 77-DX ribbon mic for the main tracks, and the pluck and clarity of either a vintage Neumann KM 86 or U 67 for the overdubs and complementary parts.
To me, part of the arrangement process is choosing the right instrument and the right microphone to capture its sound.
How did you track that beautiful shimmery reverb sound for the guitar break in "What Will Be"?
I love the way acoustic and electric sound layered together when playing a unison part. That's a 1955 Gibson J-45 on the left and the Gretsch Country Gentleman on the right.
The pickups on the Gretsch in combination with amp reverb and a slight modulation from the tremolo bar create an instant vibe. That sound was printed directly and not processed during the mixing phase.
I was inspired to write the song when I landed on this unusual chord voicing – a Bb on the A string, an A on the G string, a D on the B string and a G on the high E. I guess you could call it Bbmaj13.
You write songs with uncommon and intricate chord progressions. Did you ever study harmony formally?
No, not really. Harmony and melody are just things I've always been obsessed with. I grew up listening to a ton of great music of all different styles, and whenever I hear something I'm actively listening to pick stuff up.
Even when I was young, I was very focused on the entirety of the music-making process though. I'd want to find out who played on the records I loved, who produced them and where they recorded, so I guess that was my formal education in a way.
It's both the curse and gift of being a musician – your musical mind never completely shuts off because you're always analyzing what you hear.
Order Lessons Learned here.
All the latest guitar news, interviews, lessons, reviews, deals and more, direct to your inbox!