"I Said I Would Like to, Effectively, Sing a Verse On The Guitar": Brian May Reveals the Studio Secrets of His Legendary "Bohemian Rhapsody" Solo
The Queen guitarist explains how he made the melody fit so perfectly with Mercury's masterpiece.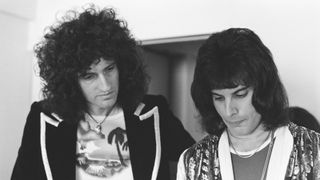 (Image credit: Koh Hasebe/Shinko Music/Getty Images)
"Bohemian Rhapsody" is Queen's best-known song, and its brief nine-bar electric guitar solo is a short and sweet musical interlude, bridging the verses to lead into what's become known as the song's "operatic section."
Those two words alone should warn you that this song shouldn't work. There's no chorus and, aside from two verses, no repetition. But of course it does work, and Brian May's solo is the perfect melodic break.
His phrasing is loose and natural, moving across the backbeat rather than sticking to a rigidly timed grid. The fastest licks are expressive bursts, rather than repetitive noodling, and his articulate pre-bend and vibrato technique demonstrates his beautiful touch. Somehow, within the confines of the complex structure of "Bohemian Rhapsody," this solo is made to order.
Here, we catch up with May to talk about the writing process and how he made the melody fit so perfectly with Mercury's masterpiece.
What do you remember about the recording of "Bohemian Rhapsody" and how you created the solo for it?
This track had been evolving for a while. It was very much the product of the fevered brow of Freddie. We knew it was something very special. It was recorded in pieces, as I think everybody knows. We would rehearse and record. We'd do it until we got it right. The various bits were put together. Freddie put a guide vocal on, and then we started doing all the multitracked vocal harmonies.
There was already a rhythm guitar on there, of course. And somewhere during that process we talked about where there would be a solo, and that part of it Freddie hadn't mapped out. He said he wanted a solo in there, and I said I would like to, effectively, sing a verse on the guitar. I would like to take it somewhere else. I would inject a different melody. There was already a lot of color in there, but I would like to have a free hand. And I could hear something in my head at that point, long before I went in there and played it.
As you're remembering this, can you picture you all in the studio?
It's funny, because you see this in the Bohemian Rhapsody film. It's quite faithfully reproduced, the way the Brian May character says, "Okay, how about this?" And Freddie's going, "Oh, lovely. But can you try a bit more of this?"
And the idea you had in your head, was that exactly how the solo came out?
Yeah. I basically sang it. I regard the guitar in that situation as a voice. I could hear this melody and I had no idea where it came from. That melody isn't anywhere else in the song, but it's on a familiar chord sequence, so it dovetails in quite nicely. And of course the job of the guitar solo is to bring that extra voice in, but then it's a link into what everybody now calls "the operatic section." You know you're into something very different.
Did the solo require multiple takes?
It came out very easily. I didn't do many takes. It was one of those occasions where you do a few takes, and then you go back and listen to the first one, and the first one is almost exactly what you want. You just need to trim it a little bit and polish it up.
And the climax of the song is very heavy on guitar.
The bit where everybody does the head-banging? That's just riffing, and that was much more Freddie's idea than mine. He had that riff in his head and I just played what he wanted there. I think he just sang it to me, what he wanted. We went for it live in the studio.
The different tones in that song, from the clean sounds in the solo to the distortion in the heavy part – how did that work?
It's all about Vox AC30s and the [Dallas Rangemaster] treble booster, which was all inspired by Rory Gallagher. There's really very little else on my guitar. There are no effects boxes as a rule. I used delays and stuff, but the fundamental tone that you hear is the guitar and the treble booster and the AC30.
And the AC30 gives it that incredible throat, which is variable. The more you turn it up, the more it goes into saturation. It doesn't distort that much, and you're still in the position at about nine and a half, where you can still play chords and they still sound like chords. It doesn't sound like a big fart. [laughs]
So it's a unique thing and we know why that is now, because the AC30 is fundamentally a Class A amplifier, and because of the way the valves are used. They're biased halfway up, so they don't distort until you drive them very, very hard, and then they go smoothly into that distortion. So that's the whole thing. I get so used to that being the way that the guitar speaks, I take it for granted.
There's something about the tone of that solo. Maybe the way you pick, or the metal picks you use?
The pick has a little bit to do with it, definitely. It all adds up to that incisive tone. These days I'm using the pick less and less, and I find that I can get all of that range of sound using the fingers. It's odd. I don't know why that is. Maybe because I play more and more at home, and there isn't always a pick at hand, I just end up using fingers. But I also find I get more expression out of the fingers these days, and I like it that way. Probably live I'll never do that, because live, people want to hear it the way it was on the record. But it's always slightly different every night. Although I'm playing that solo almost note for note, it always comes out differently, because of the different feelings going through my head or the fingers falling in different places. But that's the closest to a set piece that I have, I suppose.
"Bohemian Rhapsody" was Freddie's masterpiece. Did that make it more of a challenge for you to create that solo?
There was a lot of interaction, and I think that was part of the magic that we had. We gave each other a lot of stick, really, but in a very positive way. We were always pushing each other to try things. You know, one day Freddie had a big smile on his face when I came into the studio, and he popped a cassette into the player and said, "Listen to this, darling. This is going to surprise you."
And what he'd done was spend the whole morning putting together all the guitar solos that he could find in the work that we'd done, and he'd strung them all together. It was quite amazing. And one of my big regrets is I can't find that cassette! I never throw anything away. I'm a bit of a hoarder. So it ought to be somewhere. But Freddie was very proud of the stuff that I'd done and that we'd done together.
Pick up a copy A Night At the Opera here.
All the latest guitar news, interviews, lessons, reviews, deals and more, direct to your inbox!
Guitar Player is the world's most comprehensive, trusted and insightful guitar publication for passionate guitarists and active musicians of all ages. Guitar Player magazine is published 13 times a year in print and digital formats. The magazine was established in 1967 and is the world's oldest guitar magazine.
When "Guitar Player Staff" is credited as the author, it's usually because more than one author on the team has created the story.