How Compositional Curiosity and the Theater Led Kaki King to Acoustic Invention and an Evocative New Album
The acoustic trailblazer talks her new album, 'Modern Yesterdays,' sound design, developing the Passerelle, and more.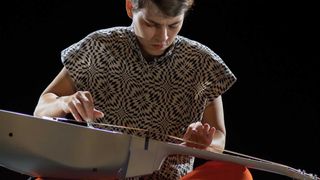 (Image credit: Kevin Y Atarolaand Lincoln Center)
Kaki King continues to chart new sonic territory, using unique methods to create electrifying acoustic music and transfer theatrical stage concepts to the studio.
Guitar Player's December 2017 cover story about King reflected the future-cool aesthetic from The Neck Is a Bridge to the Body, her groundbreaking multimedia show in which visuals, triggered by her guitar playing, were projected onto a white custom version of her signature Ovation Adamas.
Guitar Player Presents helped promote her performance at the fabulous Freight & Salvage in Berkeley, California, and it was truly mind-blowing to witness the manifestation of King's sonic vision.
After touring the show, she went back to the drawing board to come up with Data Not Found, an even more ambitious production that once again starred the guitar. Data Not Found debuted in November 2019 and was scheduled for a huge run in 2020, so King went into the studio to record a complementary album.
Then, just as she and her team finished tracking it in late February/early March, they all caught coronavirus. Fortunately, everyone recovered, and King's 10th album, Modern Yesterdays (Cantaloupe Music), was in the can.
A video for the off-kilter single "Teek" surfaced in May, and, in true Covid-era fashion, the footage is homespun, with a GoPro camera attached to her child's train as it cruises around the King crib.
Occasional glimpses of King in the video reveal the Adamas in her lap and fitted with an invention she helped design: the Passerelle, a metal bridge that sits on the fretboard near where it ends over the body (passerelle is French for bridge). The device is available via her website, and has become a cottage industry for the acoustic guitar master.
King has also developed another stage show called Sei (Italian for six), in which several guitars are on stands spread out onstage, where King and her companions perform in choreographed fashion, like a musical dance with and among the instruments.
Throughout her theatrical metamorphosis, King has become increasingly fascinated with sound design, and her musical tapestry has become increasingly textured. Guitar instrumentals that could stand alone are surrounded and extended by all nature of computer-generated effects. The end results are recognizable as pieces in King's signature solo style, but are also tonally innovative and, at times, sound almost alien.
How has working in the theatrical realm inspired and informed your music?
I had so much success going down the rabbit hole of what the guitar can do on The Neck Is a Bridge to the Body. I will always love playing bars and clubs, but the presentation was far more accurate in the theater world, and I wanted to experiment with projection mapping onto the guitar while it's moving, which we successfully figured out and implemented into Data Not Found.
Once you've got the technology and infrastructure set up for a show, it's a matter of content. When I play a note and the visual changes, does it move anybody? That said, I felt all the material was strong as solo guitar songs. They don't deviate in any huge way from what I did when I was starting off.
Making a record out of songs from the show was a way of demonstrating that I'm actually not reinventing the wheel in terms of my guitar playing right now. In fact, I'm being almost conservative. And while the visual component informs my creativity, I still have a very traditional view of composition.
My songs are between three and five minutes long, parts repeat, and there is usually a tempo. For the show I collaborated with sound, lighting, and video designers. The only thing left solely in my hands was how to write the tunes and play the guitar. I wasn't interested in getting so far away that we lost the thread on what it is for me to be a guitarist.
What's the story behind the unusual-sounding single, "Teek"?
At the end of a session demoing songs slated for Modern Yesterdays, we had a little extra time, so I decided to lay down something totally new. I grabbed my Passerelle, placed it under the strings at the 16th fret and tuned up to something by ear. I wrote 90 percent of "Teek" during the six minutes when I just sat there and played.
Perhaps it was the guitar playing its little sneaky tricks, or the muse inspiring an act of creation. Suddenly, the entire tune appeared as if it were there the whole damn time. The phrasing, middle section, and tempo – everything just came out. I don't think I've ever played it the same way twice, so it's a bit of an improvisation, but all of those original elements are pretty much there in every single iteration.
What was the original inspiration for the Passerelle?
I'd seen people create a second bridge by placing all sorts of different things on the fretboard from pencils to slides. The first time I remember it registering was when I was a teenager watching Badi Assad.
The first time I tried it on an album was my second one [2004's Legs to Make Us Longer], which was produced by David Torn. I started out using household stuff like salting tools or a spatula handle. "Bowen Island" from Glow [2012] is another example.
Andrew White was the first luthier to create one for me, and he had the wisdom to make it with wings, so it was wider than the neck. In 2014, I met a luthier from Rhode Island. Rachel Rosenkrantz and I eventually figured out that casting it out of metal would make it last forever.
We honed in on the exact height, spacing, and how to reduce buzz by having a little groove on the bottom where it sits on top of the fret. Finally, we very quietly started selling the Passerelle. It became a tiny enterprise, so I did some promotional videos, and it's become a real thing. The plan is for it to become even more of a thing and do a Passerelle EP by the end of the year.
The bigger picture is that I'd only seen people using a second bridge type of technique like a noisemaker, and I wanted to turn it into a tool for composition. That led to being very specific about what needed to be in place for this to be a new kind of instrument. Suddenly, you've got six notes on one side, and usually a different six notes on the other.
So it splits the guitar into two different instruments in a way?
Correct, but they do influence each other. There's a ton of overtones and a lot of string vibration going on. If I pluck on one side, the other side will vibrate a little bit, so those notes also ring out subtly.
According to online instructions, setting the Passerelle on top of the 16th fret yields an intervallic relationship between the two sides of a perfect fifth. Does that mean you can pluck both sides simultaneously and hear a power chord?
There you go.
Can you detail the basic technique for playing "Teek"?
I basically play the Adamas lap style and pluck the strings on either side of the Passerelle. I can press down on them to create a boing sound, kind of like a Japanese koto. It's also important to understand that, at anytime, I might push down on a string to create a tiny bend as I'm plucking.
Essentially, if I pluck more aggressively, I'm boinging the other side. That's where the magic starts to happen with this instrument. The reason "Teek" sounds a little weird at the outset is because I'm doing just that with both hands. I'm pushing before I pluck, and that's affecting the sound of the string on the other side. It might only register as one cent on a tuner, but that push adds color to the sound.
"Rhythmic Tiny Sand Ball Patterns" is full of wild plinking and plucking sounds. Is that more of the Passerelle in action?
No. I'm doing virtually nothing but playing a few notes on a cavaquinho, which is like a steel-stringed ukulele that's used a lot in samba music. All the cool stuff is coming from the secret human noise machine that is Chloe Alexandra Thompson.
Whenever you hear a crazy weird jitter, or a glitch reverb or any of the beautifully exciting sounds, that's Chloe. She was the sound designer on Data Not Found, so we were already collaborating on how to open the guitar up, do some of the same things differently and how to apply some different kinds of effects to this experience.
You've got a human pedalboard?
That's what she calls herself, but it doesn't give her enough credit because she's not simply turning things on and off or making small tweaks. She uses Ableton Live and all sorts of other very customized software to do things only she can do in Apple MainStage, so it's more like having a sound design mastermind run your pedalboard.
We'll be able to recreate much of it live because some of the sounds were in the banks for Data Not Found. Working with her will open up a whole new realm of what live sound and live guitar processing can look like when you don't need it all set up in advance to do it all with your feet.
Are there any other unique instruments creating futuristic acoustic sounds on Modern Yesterdays?
I've got a Takamine with a Vo-96 [acoustic synthesis pickup and preamp] system installed in the sound hole creating the crazy tone on "Sanitized, Alone." What sounds like some sort of weird, beautiful organ is all happening live in the guitar itself.
Paul Vo worked at Moog for a long time and created the Moog Guitar. He also invented the Vo-96. It's designed to be temporarily installed in the sound hole, but I had it permanently installed because it's so cool.
It looks like a giant pickup covered in LED lights. The Vo-96 creates magnetic fields telling the strings how to vibrate, and it's controllable. You can literally mute the strings if you want by telling them not to vibrate.
Is "Sei, Sei" a reference to your Sei project involving guitar choreography?
Yes. The movement is created from the music, and then you exaggerate that movement. I developed it mainly with my friend Tamar Eisenman. We were excited when we debuted Sei on February 29, because it was just the beginning, but now who knows?
We didn't want her to travel to the studio, because she was pregnant, so for this recording we set up five guitars around the space for me to play, which I felt was way too many for me to control, but I basically went in there and did some things I thought were good.
Then we started recording and I played something else. I came into the control room afterward to tell them I didn't feel it was working, and they said, "That's our take. It's perfect." Again, it was one of those things where you get the right conditions and the guitars just work for you.
What's the show plan now that most theaters are closed indefinitely?
My team and I came up with a plan for a show that reflects the music on Modern Yesterdays as well as some older tunes and other things I've done.
The idea was to do something more lightweight and not defined or scripted in any way, just use some of the things that I can do now and make it nimble. I recorded a performance at Georgia Tech, and we used that footage for a livestream event last weekend to coincide with the release of the album.
You ditched your pedalboard for The Neck Is a Bridge to the Body. Are you still using your computer to generate effects instead?
Yes. I'm using Apple MainStage with a little foot controller. It's much more versatile and easy to carry, plus it makes a huge difference not to be clicking pedals on and off during the show. I am very heavily into using plug-ins as my main source for sound effects, and you can come and pry my laptop from my cold, dead hands. I'm never going back.
Kaki King's new album, Modern Yesterdays, is out now via Cantaloupe.
All the latest guitar news, interviews, lessons, reviews, deals and more, direct to your inbox!
Jimmy Leslie has been Frets editor since 2016. See many Guitar Player- and Frets-related videos on his YouTube channel, and learn about his acoustic/electric rock group at spirithustler.com.