"Finding the Right Lineup Is the Single Most Important Thing in a Band": Goose Guitarists Rick Mitarotonda and Peter Anspach Talk Band Chemistry as They Evolve From Underground Darlings to Major Venue Headliners
On 'Dripfield,' the jam-band breakouts let their muse lead them outside their comfort zone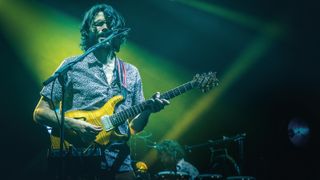 (Image credit: ADAM BERTA)
A funny thing happened to Goose over the past two years. Following the release of their second album, 2021's Shenanigan's Nite Club, the Connecticut-based quintet transitioned from underground darlings to something close to mainstream stars, headlining major venues like Red Rocks and Radio City Music Hall while appearing on network shows such as Jimmy Kimmel Live and The Tonight Show With Jimmy Fallon.
Since their formation in 2014, Goose have described themselves as an "indie-groove" outfit, but to their loyal – and rapidly growing – legion of fans, the group's inventive mix of folk, jazz, trance and progressive rock has placed them firmly in the lineage of premier jam bands like Umphrey's McGee and Phish.
So which is it? Are Goose a jam band, or are they something else? Guitarist-singer and founding member Rick Mitarotonda is of two minds. "I don't try to hold any idea that we're not a jam band," he says. "We are most certainly a jam band. We improvise a whole lot, so yeah, we're a jam band. On the other hand, I don't feel qualified to render an opinion, because when you make something, your perspective is skewed."
He pauses and laughs. "We're just doing what we do, and we chase what we hear."
If playing long songs with lots of solos was the only qualifier for jam-band status, then Goose – which includes bassist Trevor Weeks, drummer Ben Atkind, percussionist Jeff Arevalo, and guitarist-keyboardist Peter Anspach – have all the right stuff. From the start, however, they made it clear that they were interested in something more. As an instrumentalist, Mitarotonda can spin a sprawling yarn like nobody's business, but his solos – lyrical, emotive, fleet without being mathy – have an accessible flair. And the band also has a distinctive and welcome knack for writing strong, hook-filled songs carried by Mitarotonda's hearty vocals.
On their third studio album, Dripfield (No Coincidence Records), Goose bring all of these elements into clear focus. Some of the songs have been road tested for a few years: "The Whales" is a rousing, country-soaked gem with luxurious slide textures and spunky chicken-pickin' runs, while "Hot Tea" is a spacey, smooth funk epic that casts a magical spell.
Another live mainstay, the dreamy, Pink Floyd-like "726," is a poignant ballad highlighted by Mitarotonda's elegant, legato soloing. Two of the more recent cuts – the vibey, pop-tinged "Hungersite" and the transfixing, Afrobeat-flavored title cut – are the album's first two singles, and in their own disparate ways, they lodge themselves into the thicket of your senses and don't let go.
As their fame continues to grow – and it's only a matter of time before Goose are fully fledged arena headliners – the band members could see themselves facing some tough questions, namely, how to maintain their original fan base while appealing to a wider, more general audience?
"Quite honestly, it's something I haven't really thought about yet," says Anspach, who joined the fold in 2017. "It might sound simplistic, but we're just making the music that we want to make, and hopefully people are down, the old fans and the new ones."
Picking up on that thought, Mitarotonda adds, "We've just been rolling with what's been going on. When we got started and began to home in on how we wanted to make our music and the criteria we wanted to reach for, those things were all intentional. But the way things have progressed from an external point of view, that's just the way things have developed. It's all part of our evolution. We're big believers in evolution." He laughs. "From a musical standpoint, that is."
A lot of jam bands use vocals to break up the instrumental tunes, and to my ears, oftentimes songs and vocals are the weakest link. Not true with you guys.
RICK MITAROTONDA I like singing. I like songs. It's similar to the Grateful Dead: They'd play a song that they really loved, and they didn't want it to be over, so they kept playing. That concept always stuck with me. We improvise in the context of a song. It's meant to be an accompaniment to something of substance.
Let's go through your guitar influences, starting with you, Rick.
MITAROTONDA If I had to pick one guitar player that I look up to, it'd probably be John Scofield. And there's the lineage: Scofield, Wes Montgomery, Charlie Christian. Scofield grew up listening to Wes Montgomery, and Wes grew up listening to Charlie Christian. Those are three of my favorites.
Trey Anastasio, of course, is an irrefutable, massive influence on me – and all of us – so that informs a lot of what we do. There are other players, like Mike Stern, Pat Metheny and Kurt Rosenwinkel. I've spent a lot of time listening to them at certain points.
Peter, how about you?
PETER ANSPACH A lot of my influences are more contemporary. When I first started playing guitar, John Frusciante of the Chili Peppers was a big one. He's pretty much the reason why I started playing in the first place. A friend of mine played bass, so we tried to be a Flea-and-John thing.
Discovering Trey was big, and from there it went to Kevin Parker from Tame Impala. I love everybody who plays in Vulfpeck. Vampire Weekend is a great indie band. I like their guitar playing a lot.
Rick, how would you say the band changed after Peter joined?
MITAROTONDA Finding the right lineup is the single most important thing in a band. It's all about chemistry and like-mindedness and just "getting it." When Peter joined, he just got it. We clicked in a way that wasn't there with past lineups. We started singing harmonies, and our voices blended really well. I tried teaching harmonies and phrasing to other people, and it just didn't click. Peter latched onto the rhythmic language of the melodies. He got everything all at once. It was easy.
Do you feel that you play solos in a different way when he's playing guitar versus when he's playing keyboards?
MITAROTONDA Yeah, it definitely changes the palette of whatever's going on. As for the jams, the whole thing is a search for something interesting to chase down.
This is the first time you guys worked with an outside producer, D. James Goodwin. Did he kick your asses in a way that you hadn't experienced before?
ANSPACH He didn't really kick our asses; rather, he made things easier for us by being more of the decision maker. We felt better about the takes that we were doing, because we could let him decide which one was the best. It took a lot of stress out of the recording process.
MITAROTONDA The record prior to this one was of my own doing, and it was a tumultuous process. I liked handing the keys to somebody else who could allow me to just focus on the music.
Was there a particular tune on the album that gave you a real fight in the studio? I know "Hot Tea" is quite different on record from how you've played it live.
MITAROTONDA I can't think of one. Adding to the previous question, I think James was pushing us out of our comfort zone. Personally speaking, our comfort zone had gotten uncomfortable.
That's a good line.
MITAROTONDA [laughs] Thanks. We were looking to be pushed. We wanted to subvert as much as we could about what we had already done, so his ideas about reinventing arrangements and the feel of songs was interesting. There were moments when it was like, "I don't know." But for the most part we felt, "Yeah, let's change. Let's flip everything on its head as much as we can."
Live, the band does great versions of cover tunes: Bill Withers' "Use Me," the Who's "My Generation," "Magic Carpet Ride" by Steppenwolf. How do you decide on a cover tune?
MITAROTONDA Humor is part of it. Some songs are just cool and we want to play them; others are just kind of hilarious but in a sweet way. It's like a joke, but an honest one. It's hard to explain. We can play an Elvis song, and to us it's funny, but at the same time, we love Elvis. The song "Escape" – you know, "The Piña Colada Song" – same deal. It's hilarious, but it's a great song.
We like to do fun things. Every once in a while, we'll play a soundtrack to a movie and we'll dress up like people from the film. We did an Austin Powers thing at one point. Other times we'll just learn random songs that we would never otherwise play, and we'll just have a great time. Certain songs just stick, like "Magic Carpet Ride."
Each of you seems to stick to one model of guitar. Rick, you're partial to a PRS Hollowbody.
MITAROTONDA I am. A long time ago, I tried out some PRS guitars, and I really liked them. At the time, Carlos Santana was one of the only guys playing PRS. I thought they looked and sounded great. My dad bought me one, and I loved it. A while later, I was looking through the PRS website and I saw the Hollowbody II. It seemed pretty sweet. I finally got one in 2012, and haven't really played anything else since.
Peter, you play a Suhr Mateus Asato Signature, right?
ANSPACH Yeah. What's funny is, I used to play a PRS Hollowbody II before I joined Goose. I loved it – it had great sustain. Then we started doing rehearsals for the Dripfield record, and I thought I needed something to differentiate my sound from Rick.
Jeff has a Telecaster that I started to experiment with, and then I tried some Strats. I had heard Suhrs were great, so I got one, and I really liked it. It's got a humbucker in the bridge, which is a good balance between what I'm used to and more of a Strat sound. It's kind of a modern Strat build. I started playing it in the spring of 2021, and I haven't stopped.
So much has been changing for the group in recent years. You're already playing big theaters, and soon you could be an arena band. How are you changing or expanding your show and set as the venues increase in size?
ANSPACH Hopefully, we'll just keep writing good songs that speak in those settings. If we play arenas, hopefully it'll sounds like we should be playing there. It's funny – sometimes you play big rooms, and it's as if playing less becomes more important. People need to hear everything you're doing.
So the bigger the places, the fewer the notes?
ANSPACH Definitely.
MITAROTONDA The whole thing is a process. I think our fans know that we need to roll with the punches and do the best we can as the rooms get bigger. It's exciting, but we need to feel comfortable. There was a point when playing to 1,000 people became uncomfortable and scary. Then it became comfortable.
And it's the same thing with 3,000-cap rooms. Now we're getting to a place where arenas feel okay. Last year, we played our first arena in Connecticut, and then we did some dates with Trey. By the end of it, it felt great – super comfortable. It's just a process.
All the latest guitar news, interviews, lessons, reviews, deals and more, direct to your inbox!
Joe is a freelance journalist who has, over the past few decades, interviewed hundreds of guitarists for Guitar World, Guitar Player, MusicRadar and Classic Rock. He is also a former editor of Guitar World, contributing writer for Guitar Aficionado and VP of A&R for Island Records. He's an enthusiastic guitarist, but he's nowhere near the likes of the people he interviews. Surprisingly, his skills are more suited to the drums. If you need a drummer for your Beatles tribute band, look him up.