The John Frusciante Guitar Workout
Get your fingers and brain in sync with the exercises John uses before every gig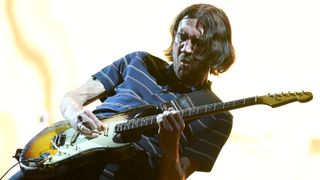 (Image credit: Tim Mosenfelder/FilmMagic)
Every guitarist loves to play. But not every player loves to practice. John Frusciante loves both.
"I love the guitar, and I really love practicing," he says. "I do it just for practicing's sake. I always have. I don't do it because I'm trying to get faster or because I think it's going to make me smarter or anything like that."
For Frusciante, the benefits of practice are considerably bigger-picture.
"It gets my mind straight in the morning," he says. "And it tunes me to myself – my fingers to my body, my body to my mind. A lot of what I do is brain exercises as much as physical exercises."
The only thing he doesn't like about practicing? Not having enough time to do it.
"When I'm at home, I can do it leisurely. But sometimes on tour I get rushed, and it feels like a job. When we're playing shows, I try to spend the maximum amount of time I can practicing, every day."
Frusciante was gracious enough to run through a handful of the exercises that make up his daily practice regimen when he's on the road with the Red Hot Chili Peppers.
So sit back, relax, and carve out some time – two, four…10 hours, perhaps – to try them for yourself…
1. Hit the Scales!
"The very first thing I do is a scale exercise where I play four notes in every permutation of order, using all four fingers.
"It goes like this, where each number represents your first, second, third and fourth finger: 1, 2, 3, 4; 1, 2, 4, 3; 1, 3, 2, 4; 1, 3, 4, 2; 1, 4, 2, 3; 1, 4, 3, 2. Each of those starts with the first finger.
"Then you do all the ones that start with the second finger: 2, 1, 3, 4; 2, 1, 4, 3; 2, 3, 1, 4; 2, 3, 4, 1; 2, 4, 1, 3; 2, 4, 3, 1.
"Then you move on to the ones that start with the third finger, and so on.
"And there are a lot of variations on it. You can divide. You can do the first two digits on one string and do the other two digits on another string. You can do it backward. You can hold any random chord and do every permutation of each finger on every note of that chord as an arpeggio. It's a real interesting exercise.
"Also, with all the initial scale exercises I do, I'm not adding any accents. That's something I picked up from Bill Bruford. He has a practice routine that he does on the drums, and he said he starts out with no accents and gradually brings them in. I find that's a really good approach."
2. Divide and Conquer
"Next I do scales where I don't play the notes in order. I have these ways of dividing up the pitches in groups of different numbers, like seven or five or six, and then doing these jumps. You kind of have to keep active all the time because you're doing them in different ways, like four notes to the string, or three notes to the string, or two notes to the string.
"I can go on for hours with scales, doing a lot of creative things, like accenting in fives but playing notes in groups of, say, seven. That's always fun. You can even just take four notes, play the same four notes over and over, but play accents in three and watch where the accents go.
"It creates all these interesting patterns. Where the accents wind up has a mathematical precision that's pretty illuminating when it comes to just understanding the nature of music."
3. À La Modes
"What I find to be a good exercise is to, say, start with what you think of as A Dorian [A - B - C - D - E - F# - G], starting on the fifth fret, but think of it as E Aeolian [E - F# - G - A - B - C - D]. Think of the Es in that position as being your center, rather than the As. And then stay in the same position, but go to E Phrygian [E - F - G - A - B - C - D], and then E Mixolydian [E - F# - G# - A - B - C# - D].
"Again, stay in the same position. You'll start to see the mode as being whatever you're calling it out as. I think it's a really good exercise for your brain.
"I also bring this Nicolas Slonimsky book, Thesaurus of Scales and Melodic Patterns, on tour with me. I pick up little things from that, and those have been added to my exercises."
4. Play Well With Others
"So that's where I start. And hopefully by the time I get to the gig, about four hours before we play, I'm warmed up enough to start playing along with other people's music. And lately, on days of shows, I'm not learning any new solos or new songs – I'm playing along with songs that I know, where I'm confident I won't make many mistakes, if any at all.
"That's another way of tuning myself to myself. So I play solos that I know all the way through and that aren't too challenging. If I'm feeling really good at the end of the whole thing, I might play along with something that's a little speedier, like [Ozzy Osbourne's] 'Over the Mountain.'
"But in general, what I'm trying to do is get my bends in place and get my vibrato in place and get my rhythm playing in place. I have something like 12 Frank Zappa instrumentals that I play along with, and they go in the order of how difficult they are. They're not the most difficult ones, but they're good because they get my fingers moving in ways that aren't conventional. These are things I played when I was a teenager all the time, but I relearned them just before we went on tour.
"I play certain Jimi Hendrix songs, certain Jeff Beck ones, Mott the Hoople's 'Sucker,' Jethro Tull's 'Aqualung.' Cream covers like 'Sitting on Top of the World' or 'Born Under a Bad Sign' are good to start with, because they have a lot of space. You do a little bending and vibrato and sliding, and all those little techniques that are in there, and you rest your hand while Jack Bruce is singing. Then you come back in and do the next one.
"Those warm you up better than you would think."
5. Punk It Up
"In between the lead stuff, I'll play along with punk, generally because things like the Germs or the Ramones are really good for your rhythm playing. The Ramones songs all use downstrokes. I'll start with one that's a little slower, like 'Beat on the Brat,' and then move on to most of the other songs from the first few albums, where you have to play really fast.
"I just try to stay relaxed and make sure the downstrokes are coming from my wrist and not from my arms or shoulders. If I start to feel myself getting stiff, I don't go any further. I move on to something easier.
"And then the Germs have a lot of upstrokes, but it's fast, so that's good. Depending on what mood I'm in that day, I also might play along with Bow Wow Wow, because Matthew Ashman's rhythm guitar playing is really good."
6. Have a Soak
"I also soak my hands in this thing that's used to cook meat – a sous vide machine, which heats up water to a high temperature. I had heard Allan Holdsworth didn't warm up; he just soaked his hands in what he described as boiling water. I'm sure it wasn't boiling, but it was probably pretty hot.
"But I had mentioned this to Henry, my guitar tech, when we were making the record. I wanted to be able to relax my hands in between takes, because you sit there playing the same thing over and over when you're doing the basic tracks. So we started using the sous vide machine.
"I started with it at 114 degrees Fahrenheit, but now I'm setting it to about 118. If I feel any tension at all, I soak my hands and my forearms for anywhere from 30 seconds to 10 minutes, depending on what I feel I need. I do that over and over for the four hours before we go onstage, at different times during my warm-up."
7. Tap 'n' Trill
"On top of all of this, I do other stuff that oftentimes doesn't even come into play live, but it's really good for me to do. Like, two-handed tapping is really good for warming up my left hand, as well as getting my right hand ready in case I do decide to do it onstage.
"That's something that, if you do it fast enough, you can tense yourself up pretty quickly. If that happens, I'll stop, soak my hands and come back to it again.
"It's the same thing with trilling. I'll do that between two fingers in every position I can think of, anywhere on the fretboard. I find that about five minutes of that really makes a big difference."
8. Take Your Time
"Ideally I'd love to play for 10 hours before I go onstage. But most often, I'm really happy if I get in at least a couple hours of warming up in the morning, doing the exercises and stuff, and then maybe four hours at the gig, which includes eating and getting dressed.
"If I only have two hours total to practice, just due to traveling or whatever, I'm very unhappy with that. I don't like having to jam it all into that short of an amount of time. It feels more like a job at that point.
"But practicing, I like for it to feel like something that I'm leisurely enjoying."
Follow the link on our homepage to order your copy of our latest issue.
All the latest guitar news, interviews, lessons, reviews, deals and more, direct to your inbox!
Rich is the co-author of the best-selling Nöthin' But a Good Time: The Uncensored History of the '80s Hard Rock Explosion. He is also a recording and performing musician, and a former editor of Guitar World magazine and executive editor of Guitar Aficionado magazine. He has authored several additional books, among them Kurt Cobain: Montage of Heck, the companion to the documentary of the same name.