From playing fiddle on street corners during the Great Depression to becoming one of the biggest Telecaster heroes of the 20th century – here's why you should immerse yourself in Jimmy Bryant's Country Cabin Blues…
Jimmy and pedal-steel supremo Speedy West (aka "the country jazz John and Paul") have a swingin' good time on this fun 1960's shredfest which belies his difficult reputation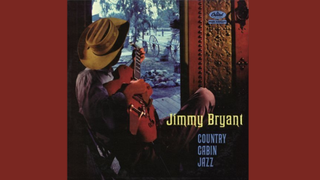 (Image credit: Jimmy Bryant)
Jimmy Bryant was notoriously hard to work with. Which might explain why it's not Jimmy but his rhythm guitarist, Billy Strange, pictured with his face turned away from the camera on the cover of Country Cabin Jazz, Bryant's 1960 Capitol Records release.
Born Ivy John Bryant Jr. in 1925, Jimmy started as a fiddle player and moved on to guitar. Although he was influenced by Django Reinhardt, Chet Atkins and Les Paul, his style was so unique as to be beyond the definitions of any genre, something Country Cabin Jazz makes perfectly clear.
The album is packed with great performances, unique and concise songs, and the phenomenal chemistry of Jimmy Bryant and pedal-steel virtuoso Speedy West. They're given exhilarating support here by Strange, bassist Cliff Stone, drummer Roy Harte and pianist Billy Liebert, with the result that every track on this great LP is compelling.
As for that cover photo, as the story goes Jimmy wanted to sing as well as play instrumentals, but Capitol said no, with the result that he was a no-show at this album's shoot. I think stories like this add to his mystique, and make evident the source of his singular, uncompromising vision.
Whatever history tells us, true or false, Jimmy Bryant was undeniably one of the great Telecaster heroes of the 20th century and remains so to this day.
All this is evident on Country Cabin Jazz. Side one opens with "Frettin' Fingers," an otherworldly, minor-key extravaganza that reinforces Barney Kessel's view that Bryant "is the fastest and cleanest and has more technique than any other."
The classic "Night Rider" shows Jimmy and Speedy at their best, as the former shreds and the latter answers with slower, impactful lines that border on humorous. The lovely "Deep Water" follows, giving us a chance to catch our breath. Jimmy plays a beautiful, unique chord melody while Speedy answers with conversational phrases.
These guys are the country-jazz John and Paul. Then comes "Jammin' With Jimmy," a stellar swing composition that showcases Jimmy and Speedy's playing and chemistry. On the follow-up, the good-natured "Whistle Stop," Jimmy and Speedy sound like one fused entity, while the ensuing instrumental masterpiece, "Stratosphere Boogie," is the end-all Jimmy-and-Speedy performance for the uninitiated.
Jimmy plays a 12-string tuned in thirds, giving his A section performance the sound of a most awesome twin-guitar performance, while the band swings hard, making this an instrumental for the ages.
Side two begins with "Pickin' Peppers," where Jimmy shreds as Speedy runs playfully alongside. "Pushing the Blues" is a doublestop boogie, and the wonderfully paced "Rolling Sky" is a touch of country exotica with a lovely B section that I would offer as evidence in music court to prove these gentlemen were underrated songwriters.
The uptempo "Yodeling Guitar" features jaw-dropping technique and humor, but it's the next track, "Bryant's Bounce," that floors me. It's a tune I've played for more than 20 years, but only occasionally do I feel "inside" of it. Dominant 7 chords fly by with breakneck speed, and the A section is reminiscent of Thelonious Monk. I never tire of playing it.
"Hometown Polka" closes the album, with Jimmy playing a merry melody at top speed, and with a robust, yet unforgiving sound. I encourage you to seek out Country Cabin Jazz. While Jimmy and Speedy's music can be described as complex and even "out," it remains fun and inclusive. Jimmy Bryant's legacy is rich with substance, offering lively and entertaining music to all.
All the latest guitar news, interviews, lessons, reviews, deals and more, direct to your inbox!
Jim Campilongo has 14 critically acclaimed instrumental records available on vinyl, CD and digital download here.