Flat-Top Revelations from 'The Beatles: Get Back'
Some acoustic guitar insights from the 'Let It Be' studio session footage.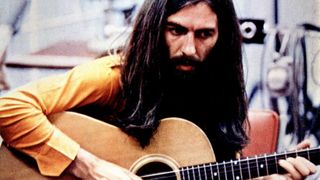 (Image credit: GAB Archive/Redferns)
Like other players from across the musical universe, we've been engrossed in director Peter Jackson's epic documentary culled from the sessions that yielded the Beatles' Let It Be.
Revelations abound, though they are fewer on the acoustic guitar side, as the group's original goal was to create a live rock and roll show.
That wound up being the infamous rooftop concert at Apple Corps headquarters in London.
The mass of material created during the sessions can be divided into two camps: the electric rooftop rockers, and the softer melodic goodness that didn't fit squarely into that box.
There are a lot of lessons to be learned from the film, but perhaps most interesting is how the album's unplugged tunes came to be.
WE CAN WORK IT OUT... OR CAN WE?
The main takeaway may be that, occasionally, things don't work out the way you planned. Sometimes you can find a song on acoustic guitar that you simply can't find on an electric guitar.
The revelation revolves around multiple attempts at "Two of Us," starting on day one of rehearsals at Twickenham Film Studios, with McCartney on acoustic while Lennon and Harrison play electrics.
Paul switches to bass for the next go around when he and Harrison get into the infamous row that led a frustrated George to quip, "Whatever you want me to play, I'll play it. Or I won't play at all."
In the next clip, Lennon and McCartney are rocking out, standing up to share a single vocal mic and having a ball, while Harrison sits on a Fender guitar amp playing his Les Paul.
Yet another stab at "Two of Us" winds up sounding akin to the song "Get Back." But Lennon can't stop fooking around on his Epiphone Casino, McCartney scolds him, and Harrison not only gives up on the tune – he quits the Beatles right then and there.
He's literally "on his way home."
TWO, THREE OR FOUR OF US?
The acoustic epiphany finally occurs after Harrison rejoins the band at Apple Studios and they give "Two of Us" another chance.
They hit another dead end in the electric format, this time with John tossing out different vocal approaches, until he realizes, "Maybe just softer."
He quickly tunes up Harrison's Gibson J-200. Paul picks up his Martin D-28 – a right-handed model strung lefty – while explaining that he doesn't feel quite right playing bass on this one anyway, "because it was written on guitar."
John strums a cowboy G chord with a straight eighth-note feel and declares, "That's it!" McCartney plays the intro with nice vibrato, smiles, and they're off, with Paul essentially playing the lead role on his Martin, and Harrison copping a bass-like line on his Telecaster.
They cut a take and Harrison proclaims, "It sounds lovely, that, now. After all that anguish we went through with it. Put it on the B-side."
They finally get it.
FOR YOU BLUE, OR MAYBE JUST ME?
Harrison first introduces his brand-new skiffle blues "For You Blue" on his J-200 at Twickenham.
"Maybe it's an acoustic song for me," he remarks. "It's great because I don't need any backing, really."
He wants to do his own thing so badly, but the Beatles end up delivering a playful arrangement when they move to Apple, with Lennon slip-sliding away on a Hofner 5140 Hawaiian Standard lap-steel he barres with what appears to be a lighter, as McCartney plays a piano whose strings are threaded with paper to create an old-timey tack-piano sound.
Harrison leads them on acoustic with a capo at the sixth fret, and it remains an anchor in the recording.
NOTHING'S GOING TO CHANGE… OR IS IT?
The other acoustic gem on Let It Be that doesn't quite "come together" in the Get Back documentary is "Across the Universe."
It's a simple song with an epic saga of deep development that dates from February 1968 through attempts at a band arrangement during these rehearsal sessions, and then beyond the breakup of the Beatles as the track receives different production treatments.
We'll delve into that, and what guitar players can learn from the tune itself, next time.
Order The Beatles: Get Back book here.
All the latest guitar news, interviews, lessons, reviews, deals and more, direct to your inbox!
Jimmy Leslie has been Frets editor since 2016. See many Guitar Player- and Frets-related videos on his YouTube channel, and learn about his acoustic/electric rock group at spirithustler.com.