Celisse on Mastering Guitar, Pedalboard Expansion and Why Sister Rosetta Tharpe is Rock & Roll's True Pioneer
Following high-profile stints with Melissa Etheridge and Lizzo, Celisse preps an album of her own.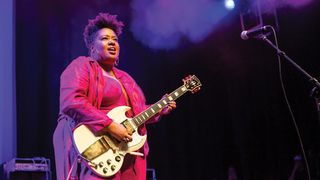 (Image credit: Gibson)
"Guitar is kind of a crazy story for me," says Celisse Henderson, who nowadays performs and records simply as Celisse. "I've only been playing for about six years."
It's what Celisse has done with the guitar in just six years that's so impressive.
In her short career on the fretboard, she has already played lead guitar for Lizzo on Saturday Night Live, toured with Melissa Etheridge, performed with Jon Batiste on NPR's Tiny Desk Concert series and, this past January, shared the bill at Gibson's all-star NAMM concert with such greats as Slash, Billy Gibbons, Jimmy Vivino, Elliot Easton, Lzzy Hale, Don Felder, Rick Nielsen, Richie Faulkner and Jared James Nichols.
Then again, Celisse's accomplishments seem less crazy when you consider she's been performing almost since she could walk.
"My mom was a choir director at a pretty big church in Oakland, California, and she always tells a story about the first time I sang publicly," she says. "While she was directing the choir one Sunday, she saw me suddenly get out of my pew and wander up to the microphone.
"I think I was between one and two years old at the time. The woman who was watching me went up and pulled me back, but I kept getting free and heading back to the microphone. Finally, the preacher just said, 'Let the baby sing!'"
Both her parents have master's degrees in choral conducting and expected she would follow their example. Instead, Celisse set off on her own path.
"Even after I've had a good amount of success, I'm kind of the shame of my family," Celisse says. "My parents are still like, 'Oh, you never got your degree.'" She laughs. "I'm like, 'I am doing okay.'"
Walking by a grand piano at the Gibson Showroom in Los Angeles, she can't resist sitting at it and launching into a beautiful rendition of "I Wanna Be Your Lover" by Prince - a fitting artist for her to cover, because, like Prince, she's an accomplished singer and multi-instrumentalist.
"I started on violin when I was two, but my first real instrument came when I was four and started playing classical piano," she explains. "I have this big classical music background, and I come from a super-conservative family, so electric guitar has never been their bag."
But around the time she was 18, Celisse put down $100 for an Ibanez guitar and enrolled in a guitar class at Los Medanos College in Pittsburg, California. "I learned how to play 'Brown Eyed Girl' and four or five chords."
Ironically, it was Celisse's theater career and stunning, church-bred singing voice that would put a guitar in her hands professionally.
"My first big job was in the ensemble of the Broadway national tour of Wicked when I was 20," says Celisse, who now lives in New York City. "I did a bunch of other shows, too. The last one that I did was a revival of Godspell, on Broadway, and they wanted me to play electric guitar at the end of my song ["Learn Your Lessons Well"].
"Every night, they'd hand me this Fender Strat, and I would chunk along, playing chords, while two other guys in the band were really ripping it. At the end of that contract, I was like, 'I should buy an electric guitar and just learn the basics.'
"So I did that and searched '12-bar blues' on YouTube, and I found some great videos by Marty Schwartz. Suddenly I began hearing all my Hendrix, Chuck Berry and Muddy Waters records differently. I began trying to learn things off them by ear."
From there, it was one small step to performing with multi-Platinum rocker Melissa Etheridge. "I had been hired to run background vocals for her," Celisse continues, "and a couple weeks into the tour, she pulls me aside and says, 'I hear that you play guitar. We should have you play on a couple songs.'
"It was a great opportunity, so I prepared very thoroughly and learned all the parts. At our first show on the next run, she let me use her Bad Cat amp, and as I played, she kept turning around and looking at me like, 'Oh, you really do play!' I just kept going with the guitar from there."
The national spotlight called for Celisse in a big way last December when she received a mysterious query on Instagram.
"It was from someone claiming to be casting for a television opportunity," she says. That "someone" was keyboardist and musical director Devin Johnson. "He got back to me and said, 'The client is Lizzo, and she loves your stuff. She would love for you to play with her on Saturday Night Live.'"
When Celisse arrived at rehearsals, she learned that Lizzo wanted her lead guitar spot to honor the late, great Sister Rosetta Tharpe, one of Celisse's heroes. "They said, 'We're making you this coat like one Sister Rosetta wore.' I don't know if they knew how deep the Sister Rosetta thing was with me. I was like, 'I not only have a tattoo of Sister Rosetta on my arm - I happen to have her guitar!'"
Celisse's cream-colored three-humbucker '63 Gibson SG reissue is like the one Tharpe famously wielded in the '60s, and it's her favorite. But her respect for Tharpe goes beyond the blues woman's guitar playing.
"Sister Rosetta Tharpe is the sole reason we have the genre of rock and roll," Celisse says. "So often, the Stones and other big rock gods credit Chuck Berry and Muddy Waters for being the foundation. But the truth is Chuck and Muddy were all in the clubs and churches listening to Sister Rosetta Tharpe.
"She was playing this rock style in the '30s, '40s and '50s. Her career was quite successful, considering, but I think we sometimes we have a bit of amnesia in music history. Luckily over the last couple of years people have been discovering her videos, and she was inducted into the Rock and Roll Hall of Fame.
"The thing about being a black woman playing rock and roll is, so often it's looked at as a novelty, and people are like, 'Oh wow, it's so crazy to see you do this,'" she continues. "To a certain extent, I understand that, because there just hasn't been very much representation. But there's this other part of me that's like, 'It's actually the most normal thing, because it started with a black woman.'
"We just don't talk about her as much as we do the other players. So I'm here to remind everybody, 'Hey, this genre - it's a black art form. It started with black people, and it started with a really incredible black woman doing this in churches.'"
Celisse is at work on an album of her own. Not surprisingly, the new songs are rife with rock, soul and funk flavors, plus gospel vibes, as can be heard on her version of the classic folk song and civil rights anthem "Keep Your Eyes on the Prize."
"The album should be out this year, but for now I'm taking meetings with people who might partner with me to release it. The musical climate right now is exciting, but if you release your stuff without the right channels, it's kind of like a tree falling in the forest - does anybody hear it?"
One thing you will likely hear on Celisse's new record will be her hand-wired Benson Vincent head, which she shows us with pride.
"The dirty channel on that amp has a nice compression thing that lets it sit in the mix perfectly, because it incorporates a one-watt amp called the Vinny within it," she tells us. "I love that amp, because I can get that deep power-tube saturation at really low volumes - not just at 10 but at 2 as well."
Celisse plays with Dunlop Tortex picks and Gabriel Tenorio strings: "I use .010s, but when I told Billy Gibbons that, he said, 'Ambitious. I use .007s.'" She also employs a Boss ES-5 loop switcher to call in any combination of up to five pedals.
"I love pedals," she says. "That night at the Gibson event I was using a Menatone Thundering Revival that I just love. It gives you a heavy, deep saturated, syrupy drive and also has a trim pot inside so you can adjust the bass response. For moody reverbs and crazy delays, I use Chase Bliss Audio stuff, too, like the Dark World and Tonal Recall. I also have Eventide H9 multi-effectors.
"Why do I have all these pedals?" she asks, with a laugh. "Because I'm still new to all of this. So with each new pedal, I'm like, 'Ooh, I'm so curious what it sounds like!' I am truly excited by everything."
All the latest guitar news, interviews, lessons, reviews, deals and more, direct to your inbox!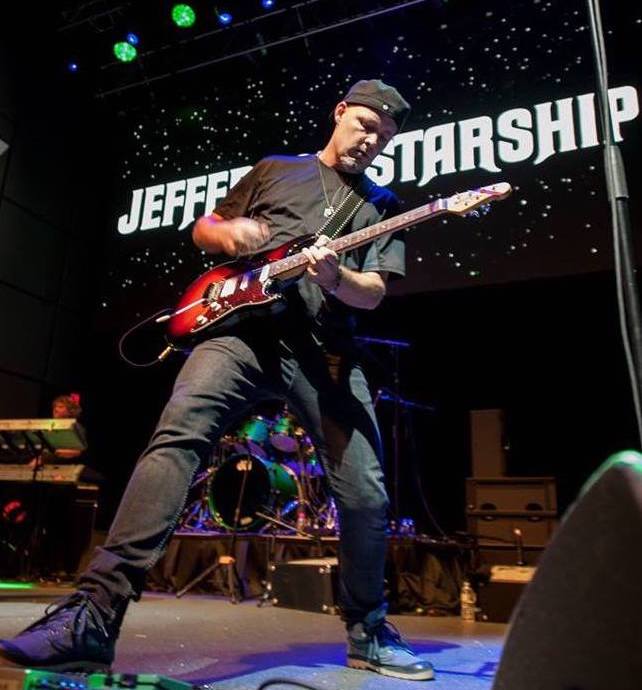 Los Angeles Editor, Guitar Player
Whether he's interviewing great guitarists for Guitar Player magazine or on his respected podcast, No Guitar Is Safe – "The guitar show where guitar heroes plug in" – Jude Gold has been a passionate guitar journalist since 2001, when he became a full-time Guitar Player staff editor. In 2012, Jude became lead guitarist for iconic rock band Jefferson Starship, yet still has, in his role as Los Angeles Editor, continued to contribute regularly to all things Guitar Player.
Watch Jude play guitar here.