Ten Mind-Blowing Rock Guitar Solos Every Player Needs to Know About
From Jimi Hendrix and Jimmy Page to Stevie Ray Vaughan and Slash, here are some of the greatest rock guitar solos ever committed to record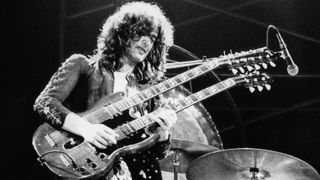 (Image credit: Gijsbert Hanekroot/Redferns)
It's virtually impossible to pare decades of rock and roll down to a top-ten list. There are, however, some guitar solos every player needs to know about.
Here are some of the greatest ever committed to record...
10. "Statesboro Blues" by The Allman Brothers Band from 'At Fillmore East' (1971)
Guitarist: Duane Allman
Although the end of "Layla" may be more memorable to most folks, Allman's Statesboro slide show verifies his title as the undisputed king of bottleneck guitar.
Slick as oil but with the ability to stop on a dime, Allman not only redefined how slide guitar was played but also created a recycling market for empty Coricidin bottles.
9. "Sweet Child O' Mine" by Guns N' Roses from 'Appetite for Destruction' (1987)
Guitarist: Slash
While Axl swayed and sashayed like Steve Wonder around his mic stand, Slash laid back with his Les Paul, patiently waiting for his turn in the spotlight.
Then, with his blistering ascent up the E harmonic minor scale – which kicks the second solo of this tune into high gear – the top-hatted genius single-handedly breathed new life into wah-pedal sales.
8. "Crossroads" by Cream from 'Wheels of Fire' (1968)
Guitarist: Eric Clapton
Slowhand? Not on this track. Clapton pulls out every blues-rock move in his lick-tionary for this roadhouse romper.
The true voodoo of this solo lies at the crossroads where major and minor pentatonic tonalities meet, mingle and blast off from E.C.'s fretboard.
Ol' Scratch surely smiled when he heard this one.
7. "Crazy Train" by Ozzy Osbourne from 'Blizzard of Ozz' (1980)
Guitarist: Randy Rhoads
You almost wonder if Ozzy named this tune after hearing Rhoads' white-knuckled rock and roll ride up and down the F# minor scale.
What more could you want in a metal guitar solo? Tapping, rakes, bends, trills ascending legato runs...
Rhoads set Eighties guitarists on the rails of neoclassical rock with this one. All aboard!
6. "Stairway to Heaven" by Led Zeppelin from 'Led Zeppelin IV' (1971)
Guitarist: Jimmy Page
Jimmy Page's "Stairway" solo is nothing short of divine.
His resolution to the natural F note in the opening minor pentatonic lick of the solo couldn't have been more perfect if the Almighty himself had chosen the note.
5. "Sultans of Swing" by Dire Straits from 'Dire Straits' (1978)
Guitarist: Mark Knopfler
Sultan says, "Spend less time making your harem moan and more time making your guitar cry and sing!"
For those of you who've learned the outro solo the lazy way – playing eighth-note triplets for the daunting Dm, Bb and C arpeggios – get your fingers back to the wood shed.
Those are 16th notes that the "Sultan of Strat" rips off.
Guitarist: Gary Rossington and Allen Collins
To paraphrase Adrian Belew in King Crimson's "Indiscipline," "I repeat my licks, I repeat my licks, I repeat my licks…"
This could go on forever – kinda like the outro solo to "Free Bird," in which guitarists Rossington and Collins double each other for most of this pull-off parade.
It's impressive not because of the degree of difficulty of the licks but because of the sheer volume they need to recall – 27, including variations!
3. "Eruption" by Van Halen from 'Van Halen' (1978)
The Holy Grail for all aspiring rock guitarists. Learn Eddie Van Halen's "Eruption" and you've earned some serious bragging rights.
But if you really want props, you've got to tame the whole volcano, not just the tremolo picking and tapping sections.
2. "All Along the Watchtower" by the Jimi Hendrix Experience from 'Electric Ladyland' (1968)
Jimi Hendrix offers plenty of reason to get excited in his "Watchtower" solo.
Besides his masterful manipulation of the C# minor pentatonic scale, Hendrix's wah-drenched octave climb and the double-stops in the latter half bear out his gift for melodic embellishment.
It's enough to make any cat growl.
1. "Little Wing" by Stevie Ray Vaughan from 'The Sky Is Crying' (1991)
With little bits of Jimi, Wes and Mayfield, and a whole lotta soul, SRV exhibits exceptional dynamic prowess throughout, making this reverent Hendrix cover his own.
A seemingly lost art among modern-day guitarists, Vaughan's R&B-style chord melody is like priceless art. It should be both admired and studied.
All the latest guitar news, interviews, lessons, reviews, deals and more, direct to your inbox!
Guitar Player is the world's most comprehensive, trusted and insightful guitar publication for passionate guitarists and active musicians of all ages. Guitar Player magazine is published 13 times a year in print and digital formats. The magazine was established in 1967 and is the world's oldest guitar magazine.
When "Guitar Player Staff" is credited as the author, it's usually because more than one author on the team has created the story.