"Be a Part of It Instead of Sitting On the Sidelines": George Benson Reveals How He Stays Motivated Decades Down the Line
The smooth jazz pioneer cites daily practice and open-mindedness as key to success.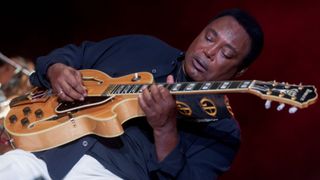 (Image credit: Mimmo Lamacchia/NurPhoto via Getty Images)
In a long and highly successful recording career that began when he was just nine, George Benson has moved smoothly through various genres, initially playing straight jazz, usually in the small-combo format. In 1976, with the album Breezin', he made a surprising switch to smooth jazz, a genre which he could almost be said to have invented, and emerged as a capable vocalist.
Given how successful you've been as an electric guitar player and a singer, if it came down to it and you had to go for one or the other, which would it be?
That would definitely be the guitar. I'm a guitar player before anything else.
What keeps you enthusiastic and drives you forward year after year?
I'm amazed that the ideas don't stop. Sometimes it gives me shivers. I'll think, Why couldn't I think like this 30 years ago? You start applying that to what you already know, or you bring things up to date, and it keeps you on top of it.
And there's so many great writers today. The themes are always the same, of course: how we live, the relationship between a man and a woman, emotional romantic songs or songs to dance to. But each generation has its own way of doing things.
If you keep your ears and your mind open, which is what I do, you can learn some wonderful things and be a part of it instead of sitting on the sidelines.
Do you play a lot at home when you're not working?
Yeah, I play every day. The guitar is like my friend. It gave me the lifestyle that I live, though I do live a pretty modest lifestyle for the position I'm in. The guitar and my voice are what gave that to me.
I always wanted to be like Charlie Christian. I didn't like playing a whole lot of chords. In recent times, I have seen the value of learning those chords and playing harmonic things. I see now how important that is for making the guitar stand out as a frontline instrument, but my first influences were Charlie Christian and Django Reinhardt playing the crap out of those single-note lines!
Do you have specific techniques that you work on? Are you trying out new things or working on your chops?
All of those things. When you do something new and different, people notice it right away. You get the comments, too, that show the truth in that. People will say, "Hey, man, I really like the way you changed such and such. Do more of that!" It keeps you motivated to be ahead of the game.
Explore George Benson's catalog here (opens in new tab).
All the latest guitar news, interviews, lessons, reviews, deals and more, direct to your inbox!
Mark is a freelance writer with particular expertise in the fields of '70s glam, punk, rockabilly and classic '50s rock and roll. He sings and plays guitar in his own musical project, Star Studded Sham, which has been described as sounding like the hits of T. Rex and Slade as played by Johnny Thunders. He had several indie hits with his band, Private Sector and has worked with a host of UK punk luminaries. Mark also presents themed radio shows for Generating Steam Heat. He has just completed his first novel, The Bulletproof Truth, and is currently working on the sequel.