Up to 40% Off Spark Amp Bundles in this Pre-Black Friday Sale
By Rod Brakes published
Massive range of practice amp deals available now over at Positive Grid.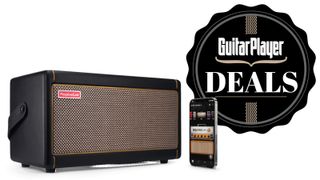 (Image credit: Positive Grid)
Positive Grid have an extremely tempting array of money saving offers on at the moment in their pre-Black Friday sale including several amazing deals on Spark/Spark Pearl practice amp bundles (opens in new tab).
The Spark amp and app (opens in new tab) are now available in this Black Friday deal for only $224 – that's a huge saving of $135 on the regular price of $359. Not only that but the good folks at Positive Grid are throwing in a bespoke-made carry bag into the bargain.
You can also grab the above deal with a set of Sennheiser HD 200 Pro headphones for $264 – that's a whopping $165 off!
Alternatively, you could get the Spark amp, app, free carry bag and Experience Jimi Hendrix expansion pack for just $244 – a fantastic saving of $135.
The Spark Pearl (opens in new tab) is essentially the same thing as the Spark, albeit featuring white rather than black tolex livery. You can grab the above deals with a Spark Pearl for a small upcharge of $15.
Positive Grid Spark Bundles: Up to 40% Off (opens in new tab)
Positive Grid's Spark practice amp/app deals allow you to add some extras to your black Spark (pictured) or white Spark Pearl while saving up to 40%. Along with a free bespoke-made Spark carry bag you can grab a set of Sennheiser HD200 Pro headphones or the Experience Jimi Hendrix expansion pack for an unbeatable price. A bundle deal with Sennheiser IE40 Pro in-ear monitors is also available.
The 40-watt Spark amp (opens in new tab) and app work in tandem to learn your style and feel, and then generate a virtual rhythm section to accompany you.
With intelligent hands-free functionality the Spark app instantly responds to voice commands. For example, you can ask it to follow your playing with a virtual backing band, or stream a certain song or backing track.
Choose any song, and Spark's smart app will automatically display guitar chords in real time as you play. Its intuitive controls allow you to slow the tempo or loop a tricky section of the song until you're comfortable to move on.
A mind-boggling 10,000 different electric guitar, acoustic guitar, and bass amplifier/effects presets are available with the Spark amp (opens in new tab), including specific tones gleaned from some of the world's greatest artists and studio pros.
If you're looking for more great deals like this then check out our Black Friday Guitar Deals page where you can browse hot bargains on all kinds of guitar-related products.
Rod Brakes is a music writer with an expertise in all things guitar-related. Having spent many years at the coalface as a guitar dealer and tech, Rod's more recent work as a journalist covering artists, industry pros and gear includes writing hundreds of articles and features for the likes of Guitarist, Total Guitar, Guitar World, Guitar Player and MusicRadar, as well as contributions for specialist books, blogs and social media. He is also a lifelong musician.
Get the latest news, reviews and product advice straight to your inbox.
Thank you for signing up to The Pick. You will receive a verification email shortly.
There was a problem. Please refresh the page and try again.