This High-Class Axe Is the Handiwork of Banker – the First Boutique Maker Accepted to Gibson's Authorized Partner Program
Founder Matthew Hughes puts his own spin on Gibson's classic creations with the Banker Ironman CT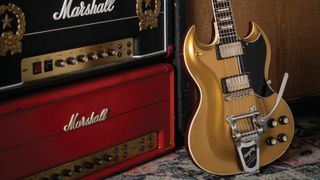 (Image credit: Banker Custom Guitars)
In a world in which mammoth guitar companies take smaller ones to court to clamp down on any perceived infringement of design trademarks, one resolutely small-shop maker is working symbiotically with a legendary brand to make the world a better place, one electric guitar at a time.
Luthier Matthew Hughes founded Banker Custom Guitars in Dawsonville, Georgia, in 2017, and respect for his old-school approach to the craft has grown exponentially in the five years since. The Banker name was chosen because Hughes was a banker before he switched to building on a full-time basis.
The company reached wider attention in 2019 when it became the first boutique maker accepted to Gibson's new Authorized Partner Program, which licenses Banker to employ certain historical headstock and body shapes trademarked by Gibson in its own guitars.
The results were most prominently seen in the Banker V and Excalibur models, all-korina guitars that were not clones or copies but genuinely licensed reproductions of the Gibson Flying V and Explorer, respectively, but with the Banker name on the headstock.
These and other Bankers are played by Mastodon's Brent Hinds and Bill Kelliher; Blackberry Smoke's Charlie Starr, Paul Jackson and Benji Shanks; Clutch's Tim Sult, Rise Against's Zach Blair and several other notable artists.
Yet all Banker guitars are still made from scratch, one at a time, and from start to finish by Hughes himself, with managerial and administrative assistance from his wife, Sarah "Darby" Hughes. In total, Banker produces about 50 guitars a year.
Our featured guitar this issue, the Ironman CT, for Carved Top, is a new design for Banker, so new that we're checking out his prototype of the model, but one that has already inspired considerable demand from waiting customers.
Clearly Gibson inspired, the guitar looks, feels and sounds like it could have been a Kalamazoo creation of the late '50s or early '60s that never made it into the company's catalog.
"My earliest memories of falling in love with electric guitars all involve classic Gibson models," Hughes tells Guitar Player. "As a kid growing up in a rural area, with no access to a guitar shop, much less a Gibson dealer, I think that dream of playing a Les Paul in a hard-rock band was really forged in my mind because it seemed so far out of reach."
Even so, Banker tells us, "I always try to put my own spin on things, despite many of my builds obviously being inspired by some classic Gibson models. Over the years I've found that the guitar-playing community seems to lament the lack of new and different when it comes to guitar designs.
"But when something new and different is introduced, those same folks have trouble breaking away from what they are familiar and comfortable with. It's quite the conundrum."
This guitar clearly takes its cues from the SG in the familiar asymmetrical double-cutaway design with full-access neck joint. Even the Ironman name pays tribute to SG-playing metal icon Tony Iommi. Despite this, plenty of creative thinking has gone into making the guitar just that bit different. The bound top is carved in an emulation of the classic Les Paul "dish," with a pronounced arched belly toward the center of the body and following elegantly up toward the pointed horns.
The goldtop finish on this example plays further toward the Les Paul hybrid angle, as does the upper-horn pickup selector switch. Habitual Les Paul players will be thankful they're not always reaching up to find empty space when switching pickups, but it also makes sense given the obstruction of the Bigsby.
It's worth noting that the B7 vibrato tailpiece is mounted noninvasively with a Vibramate adaptor, allowing an easy swap to a stopbar tailpiece, with the benefit of a String Spoiler for easy stringing up.
The woods used on our test prototype are nothing shy of stellar. The body and neck are carved from solid private-stock flame Honduran mahogany (quarter-sawn in the case of the latter), at a $500 upgrade for each. You rarely see mahogany with this kind of figuring at all, and the flame on both the back and the neck really pops, adding a touch of luxury that is stealthy, considering it's all on the guitar's reverse.
"High-quality, old-growth, properly seasoned lumber is essential to creating an exceptional guitar," Hughes says. "I won't even use mahogany that was harvested within the past 30 years."
The fretboard is genuine Brazilian rosewood (a $750 upgrade), inlaid with '50s celluloid nitrate trapezoids, with single-ply binding to match the body. Complemented by the clever "floating" SG-style five-ply pickguard and '60s-era black reflector knobs, it's a stunning package throughout.
Custom appointments continue with the electronics loaded into this Ironman. The humbuckers are Banker-spec'd Throbak PAFs with aged nickel covers. They're wired to vintage-taper 550k CTS potentiometers with '50s-spec Gavitt cloth push-back wire, 18-gauge bus wire, Orange Drop tone caps and a Puretone output jack.
Up at the other end, aged nickel Grover Rotomatic tuners complete the look while confirming the quality from tip to toe.
As important as any of this is, taking the guitar itself in hand quickly confirms the blend of passion and skill that has gone into pulling it all together. The thing just feels right, like an instrument well-rendered and ready to be played.
The neck on this one is a chunky affair – I like 'em that way personally, and dig this one a lot. It's a full .93 inch deep behind the first fret, tapering only slightly to .95 inches at the 12th fret. It's on the bigger side of a rounded-C '59 carve, for sure, and really contributes to the substantial presence of the guitar as a whole.
SGs have always been prone to some neck dive, of course, and a hefty chunk of mahogany at this end of things does nothing to remediate that, but I find it a non-issue in playing position, either strapped up or on the lap.
Tested through a '66 Fender Princeton combo and a 65amps London head with a 2x12 cab, using a selection of overdrive pedals in the chain, the Ironman CT quickly lived up to its name, proving itself a muscular rocker capable of everything from expressive blues to gained-up retro metal, and with a great blend of power and nuance throughout.
With the London's Marshally side pushed, the Ironman took me straight to a happy marriage of Clapton's Beano- and Cream-era tones, delivering stinging blues-rock with plenty of girth and attitude.
Hit with more sizzle from a Friedman Small Box overdrive pedal and an Origin M-EQ Driver in series, the thing wailed and sang with a throaty, rich depth and enhanced sense of dynamics that made the attack extremely playable.
And yet it sang and chimed sweetly through the Princeton set to about noon on the dial, proving itself an impressively well-rounded ride.
It's a pricey guitar, certainly, but the Banker Ironman CT is a high-class proposition, and one with a lot of attitude to boot. For the expressive rocker seeking Kalamazoo-inspired thrills of the upper echelon, it's definitely one to check out.
Visit the Banker website for more information.
All the latest guitar news, interviews, lessons, reviews, deals and more, direct to your inbox!
Dave Hunter is a writer and consulting editor for Guitar Player magazine. His prolific output as author includes Fender 75 Years, The Guitar Amp Handbook, The British Amp Invasion, Ultimate Star Guitars, Guitar Effects Pedals, The Guitar Pickup Handbook, The Fender Telecaster and several other titles. Hunter is a former editor of The Guitar Magazine (UK), and a contributor to Vintage Guitar, Premier Guitar, The Connoisseur and other publications. A contributing essayist to the United States Library of Congress National Recording Preservation Board's Permanent Archive, he lives in Kittery, ME, with his wife and their two children and fronts the bands A Different Engine and The Stereo Field.