Want to Know the Secret to Peter Green's Guitar Setups?
Restoration expert and 'Famous Frets' author Steve Clarke reveals this surprise from Bonham's Peter Green Collection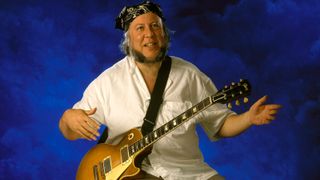 (Image credit: Steve Catlin/Redferns)
Peter Green is most famously associated with the legendary 1959 Gibson Les Paul standard known as 'Greeny' (formerly belonging to Gary Moore and now owned by Metallica guitarist Kirk Hammett).
But the late blues guitar hero owned many other instruments in his lifetime, over 100 of which are featured in Bonhams upcoming Peter Green Collection.
Starting at midday (BST) on June 16 and running until June 28, this historic auction comprises a wide range of models. Some, like this 1931 National Duolian, may be familiar to readers already, while other less recognizable items include Turkish lutes and chain-store electric guitars.
Recently, our sibling magazine in the U.K., Guitarist, was granted access to the Peter Green Collection. Having shot some of these fabled axes up close, editor-in-chief Jamie Dickson spoke to restoration expert and author of Famous Frets, Steve Clarke, about just some of the guitars due to go under the hammer next month.
Along the way, Clarke revealed a surprise about the great British bluesman's preferred setup: "The main thing I'd say on all of the guitars in his collection, which really surprised me, was how high the action was. They were all very high action. He obviously wanted to dig in."
Additionally, Green had setup work carried out in the nut area. "The nuts of some of his guitars were cut to [give a relatively low action] around those first three frets," explains Clarke. "But higher up the fretboard, he didn't want a low action.
"There was a Gibson Firebird I looked at and an Epiphone Explorer that, again, both had really high actions."
Also among the collection is a 1968 Gretsch White Falcon that was "in a poor state," according to Clarke. This axe was displayed at the Birmingham Guitar Show in February this year but was unplayable before he got his hands on it prior to the event.
After working his magic on the grumbly old electrics, this flagship Gretsch soared back into action.
However, with Clarke needing to request permission from the estate in order to do so much as change a string, routine maintenance was a decidedly more complicated affair than usual.
One of the lesser-known guitars in the Peter Green Collection is a Gibson ES-325. Introduced in 1972, this semi-hollow thinline features a pair of mini humbuckers and was discontinued by '78.
"They're unusual," agrees Clarke. "From memory, I think that was a 1972 model. It had the embossed [pickup] covers on it, which I think nails it to around '72. And I remember now the bridge pickup surround was busted, so what had happened is that the adjustment screw on the bass side was tilting and going into the guitar body.
"But yeah, it was a '72 with the Epiphone-type pickups on it. It was a lovely thing, though. I got that working, too. It also had a fault on the volume pot for the bridge pickup, which didn't surprise me, it'd probably been like that for a bit. But yes, got it working again – nice guitar and you'll not see many of those."
See these historic guitars and more in the latest issue of Guitarist (number 499).
Visit the Peter Green Collection at Bonhams here.
All the latest guitar news, interviews, lessons, reviews, deals and more, direct to your inbox!
Rod Brakes is a music journalist with an expertise in guitars. Having spent many years at the coalface as a guitar dealer and tech, Rod's more recent work as a writer covering artists, industry pros and gear includes contributions for leading publications and websites such as Guitarist, Total Guitar, Guitar World, Guitar Player and MusicRadar in addition to specialist music books, blogs and social media. He is also a lifelong musician.