Gibson Creates "Greeny" Replica for Metallica's Kirk Hammett
We'll most certainly keep our eyes out for any wider Custom Shop reissue of the legendary 1959 Les Paul Standard.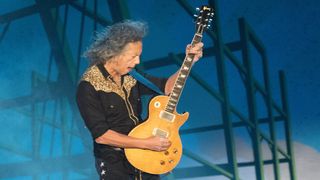 (Image credit: C Flanigan/FilmMagic)
Gibson has given Metallica's Kirk Hammett an official, custom reproduction of "Greeny," his beloved, and legendary, 1959 Gibson Les Paul Standard.
Originally owned by the late blues guitar legend and Fleetwood Mac co-founder Peter Green - and sporting a famously backward neck pickup that gave the guitar its trademark, "out-of-phase" sound - "Greeny" was purchased by Hammett from vintage guitar dealer Richard Henry in 2014.
Hammett has used the guitar - which was later sold onto the equally influential Gary Moore - extensively since, both onstage with Metallica and at the star-studded Peter Green tribute concert that took place at the London Palladium in February.
"Special thanks to Cesar [Gueikian] and Mark [Agnesi] at Gibson for making me a Greenie twin!" Hammett wrote on Instagram.
The elephant in the room, of course, is whether or not this means we'll soon be seeing a Gibson Custom Shop Greeny replica produced on a wider scale.
There have been a number of unofficial replicas - not to mention the countless guitarists who've had the Greeny neck pickup mod applied to their own Les Pauls - but an official Greeny replica run would definitely be timely, given the guitarist's recent passing.
Replica run or not, we'll certainly keep our eyes peeled!
Get the latest news, reviews and product advice straight to your inbox.
Thank you for signing up to The Pick. You will receive a verification email shortly.
There was a problem. Please refresh the page and try again.