Molly Tuttle Wins Grammy for Best Bluegrass Album With 'Crooked Tree'
The bluegrass star's deluxe edition of 'Crooked Tree' drops with Grateful Dead-centric bonus cuts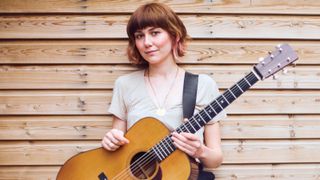 (Image credit: Future/Adam Gasson)
Molly Tuttle appears to be everywhere. She's the toast of her adopted hometown in Nashville, and she's developing a deepening obsession with the most iconic classic rock band from her home ground near San Francisco, the Grateful Dead.
While she's fluent in an array of Americana settings, Tuttle's potent bluegrass chops make her a singular force of nature on six strings.
Her latest album, 2022's Crooked Tree, feels like taking a wild hayride with her blazing band, Golden Highway.
From the high-octane kick-off cut "She'll Change" through the rollicking roll of "Goodbye Girl," her fretboard fireworks create sonic spectacles. Tuttle's crosspicking solos flow as fluently as banjo rolls, and she deftly applies clawhammer banjo technique to her guitar foundation on "The River Knows."
The album even features an array of A-list guests, including contemporaries Billy Strings and mandolin maiden Sierra Hull as well as luminaries Dan Tyminski, Gillian Welch and Dobro icon Jerry Douglas, who produced the whole affair.
New Tuttle goodness continued to roll out at the close of her banner year. A deluxe version of Crooked Tree features four choice bonus cuts, including a cover of the Grateful Dead's "Dire Wolf" and "Cold Rain and Snow," a traditional folk song that they popularized.
The others are live versions of album tracks "Dooley's Farm" and the upbeat minor swing of "Castilleja" recorded at Nashville's historic Station Inn.
Fiddle player Ketch Secor is one of Tuttle's primary songwriting collaborators, and Golden Highway has been tearing up the road with his group Old Crow Medicine Show.
Just before we spoke, Tuttle joined Bob Weir and Eric Krasno on stage at the Guild Theater on her home stomping ground in Menlo Park, California, for a Thanksgiving Eve celebration of the Dead's music with the Terrapin Family Band.
In addition to all that, Tuttle has just won a Grammy Award for Best Bluegrass Album while receiving a nomination for Best New Artist, the latter being significantly mainstream for a guitar player, and also kind of funny for insiders.
"It's been a long time in the making," she says with a chuckle.
While the world at large slowly turns on to Tuttle, we at GP have been singing her praises since we spotlighted her as a fresh talent in the Youthquake issue of September 2017.
And in our most recent interview, the bluegrass star reveals how returning to deep roots led to a career blossom...
How did you wind up hopping back on the bluegrass wagon after a few years onboard a singer-songwriter train?
During COVID lockdown I wrote a ton of songs trying to figure out what direction I was heading in next, and all of a sudden I couldn't stop writing these bluegrass tunes. I eventually felt like I had a collection that pointed to what I wanted to express and also went back to my roots growing up playing bluegrass.
You and Billy Strings seem to be everywhere collaborating with everyone. How did you settle on doing "Dooley's Farm"?
I instantly thought of Billy because I heard his voice on it. He's everywhere, as you say, so we had to find a day that he could pop by the studio briefly between tour dates. It was a lot of fun because he was one of my first friends when I moved to Nashville. He was my friend's roommate, and we lived in a house together for a while on a street with tons of musicians in East Nashville.
It's always great to reunite. Billy has a very different picking attack than mine, and I appreciate the clarity and definition in his notes. That always reminds me of Doc Watson, and then there's the fact that he infuses a lot of metal guitar licks and scales. That's cool to me because it's super different from how I play.
I played the guitar solo on "Dooley's Farm" because he couldn't come in to track live with us, and I had already done overdubs by the time he arrived. He was mainly there to sing, and we did have him do a few passes on guitar. He mostly filled in textural elements here and there, and did some cross picking on the last verse.
What's the tuning, and how did you play the main verse part?
I'm in drop D tuning. I start the main riff with an open-position D minor and then use my third and fourth fingers to play double-stops on the bottom two strings at the third and then fifth frets, with the other strings all open to get those deep, suspended F and G chords.
Jerry Douglas provides a signature Dobro solo on "Dooley's Farm" right after your guitar solo. What do you appreciate most about his playing?
He's super tasteful. His playing is so iconic, and his tone is so distinct. I'll hear a song come on the radio and recognize his Dobro right away. He always picks the right spots to play. I try to emulate his musicality and his ability to perfectly accompany a vocal.
What was it like to have Douglas produce the record as well?
It's my first album where most of the tracking was done live, and in a matter of only four or five days altogether, in the studio. I learned about how fun it can be to make a record where it felt sort of like a jam session, just running through the songs and keeping things spontaneous.
Everyone but the fiddle player and me stood in a circle in the main room. I was in a booth with a mic on my guitar and another one for my voice so that we could capture keeper vocal tracks as well.
Is your primary guitar the same Pre-War dreadnought that you started favoring during …But I'd Rather Be With You?
Yes. It has a spruce top with a sunburst finish and Brazilian rosewood back and sides. It's become my favorite to play live as well because the sound is super clear and resonant.
I've been playing it all year and have definitely beaten it up a bit. I cracked the top in two different places, but the people at Pre-War are so sweet. They fixed the guitar right up and put a positive spin on it like, "The cracks open up the tone a little bit."
I do feel like the guitar is sounding better and better from playing it so much. I actually visited the Pre-War shop back when they were building it. Before they put the back and sides together, they asked, "Do you want to write a secret note inside?" I took a line from one of my favorite Grateful Dead songs that I had just learned how to play, "Standing on the Moon." I wrote, "A lovely view of heaven, but I'd rather be with you." I think I drew a little moon too.
Little did I know I'd be recording that song after the pandemic hit and everything got locked down. All of a sudden it felt a lot more relevant, and I had a special little connection to that guitar. It kind of predicted my next album in a way, and I ended up naming the album …But I'd Rather Be with You.
How did it feel to play "Standing on the Moon" with Jerry Garcia's 1943 Martin Herringbone D-28 at the Guild Theater?
It was amazing, and I got to meet Andy Logan, who told me that he's kind of like the steward of the guitar. [Logan owns a vast collection of Dead-centric instruments including "Jerry's Herringbone."]
Andy said, "It'll always belong to Jerry, but I want people to play it, so I keep it very well set up." The setup was awesome and it sounded so good. A lot of guitars with Brazilian rosewood back and sides have a piano-like tone, and Jerry's Martin definitely had some of that going on.
It seems like you're digging deeper and deeper into the Grateful Dead.
I have gradually gotten more and more into their music. I learned "Cold Rain and Snow," which they kind of made popular, when I was about 13 years old. I grew up in the area on the San Francisco peninsula where the Grateful Dead got started.
Bob Weir grew up right nearby where I did, in Menlo Park. So many of the songs I learned when I was a kid were in a roundabout way through the Dead. Diving deeper into their music feels like home to me. It is so ingrained; I just love it. And it's so cool they have that bluegrass connection, which has played a huge part in my life.
My dad grew up on a farm in Illinois and would hear the Grand Ole Opry. My grandfather played the banjo. But then my dad started listening to Old and In the Way tapes with Jerry Garcia on banjo, David Grisman on mandolin and Peter Rowan on guitar. He felt compelled to move to the Bay Area, which he eventually did in the '80s.
I feel a special connection to the Grateful Dead's music, especially the more rootsy stuff, like the Workingman's Dead album with "Dire Wolf" on it. My mom loves that album and she gave it to me when I was a kid. I kept my version pretty close to the original arrangement, although mine is all-acoustic and theirs features Jerry Garcia playing pedal steel.
To get a chance to play with Bob Weir was such a full-circle moment, and it was especially cool because I didn't know he was going to be there until like an hour before I went to the show.
I remember a GP interview with him where he talked about using hand signals to lead the band. What was it like from your perspective?
The first thing that struck me when I was watching the show was that the band sounded so tight, and I knew that they had only started rehearsing the songs at soundcheck. Then I get up there and, yeah, he was doing things to signal them.
It was very cool to be standing right next to him and see how he does that, because I didn't notice it when I was watching from the audience.
What's your current stage signal chain?
I have switched to a dual-channel Grace Design Felix2 preamp direct box because I'm using two pickups in my guitar now: a K&K Pure Mini piezo pickup under the saddle and a K&K Double Helix magnetic pickup in the sound hole.
A stereo cord feeds both signals into the Felix, which has extensive EQ options to dial in the tone for each. Dual outputs go to our sound guy, who blends them according to the venue. By blending the two pickups, I feel that I get a fuller, more natural sound.
Do you use any other pedals or an amp?
No, but two players in my band Golden Highway have pedalboards onstage now, and I'm kind of curious to try out some pedals on my guitar. There are a couple of tunes in the set where I feel it would be cool to have a different tone.
Your friend Billy Strings is the king of the acoustic guitar pedalboard.
[laughs] I want to start small with just a couple. I actually have a lot, but I'm afraid to use them. I'm horrible with gear, so I have all of these pedals sitting around. I don't think…well, maybe someday I could use as many as him.
You've risen through the ranks of Music City onto the international landscape. Who have you seen lately that deserves wider recognition?
There are a lot of great roots musicians coming up that I think of as peers. Christina Vane is a great blues picker that I just saw at Dee's Country Cocktail Lounge in East Nashville.
I was watching videos of Amythyst Kiah the other night. She's awesome and is already making a pretty big splash.
Jake Blount [who primarily plays banjo and fiddle] is a friend whose music I like, and his new album, The New Faith, is very cool. I believe he's going to have a big year next year.
All the latest guitar news, interviews, lessons, reviews, deals and more, direct to your inbox!
Jimmy Leslie has been Frets editor since 2016. See many Guitar Player- and Frets-related videos on his YouTube channel, and learn about his acoustic/electric rock group at spirithustler.com.