"The Guitar Saved Me": Rising Star Amythyst Kiah Talks Finding Solace in Music
The Gibson Generation artist and Our Native Daughters member delivers powerful acoustic soul on new album 'Wary + Strange.'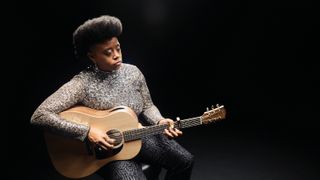 (Image credit: Gibson)
Amythyst Kiah's moment is happening right now. The fantastic fingerpicker, dynamo singer and profound songwriter defies all sorts of stereotypes, and after playing straightforward folk and rock for a number of years, she has successfully combined them into a singular original style on her Rounder Records debut, Wary + Strange
Kiah's credits are mounting fast, and she has the skills to back up the buzz. Her composition "Black Myself" won Song of the Year at the Folk Alliance International Awards and was Grammy-nominated for Best American Roots Song in 2019, when she rose to prominence as a member of Our Native Daughters, the African Americana project conceived by new roots music star Rhiannon Giddens.
Kiah subsequently signed with Rounder, connected with producer Tony Berg (Squeeze, Andrew Bird, Phoebe Bridgers) and, on the third try at capturing her signature sound in the studio, absolutely nailed it. She uses her considerable fingerstyle chops to deliver heartfelt tunes that demand repeated listens, and her talents have led Gibson to enlist her as an ambassador in its new Generation program of up-and-coming guitar talents.
Wary + Strange is solid from start to finish, and its lead single is an impactful new version of "Black Myself." Kiah explains that she actually used an acoustic guitar to render the tune for the banjo-centric Native Daughters project, and it's fascinating to hear the difference between the more traditional take on the original iteration compared to the heavier southern rock and soul sound of the new interpretation.
Kiah's cultural presence is currently reaching into the popular mainstream via work with Moby. His club staple "Natural Blues" famously contained a sample of Vera Hall's "Trouble So Hard," and Kiah and Gregory Porter provided vocals for a new version that appears on Reprise, Moby's album of fresh acoustic and orchestral takes on past tracks. Right now, the video has well over a million views on YouTube, and a stomping Moby remix of "Black Myself" appeared as well.
Kiah's backstory is compelling. At the heart of her musical upbringing is the ever-important issue of music in schools. At both the high school and college levels, she benefited from programs that are consistently on the verge of being defunded.
Hers is a shining example of how all manners of music education can have life-defining results when an eager, curious student discovers an appropriate opportunity. GP called the rising star for this feature just after she'd played the Gorge Amphitheatre with Sheryl Crow and Brandi Carlile.
What led you down the acoustic trail?
I started playing when I was 13 years old and my parents bought me an acoustic. I taught myself by watching instructional videos, reading copies of Guitar Player, tablature and basically whatever I could get my hands on.
I got an electric guitar as well and listened to lots of rock music, so I was messing around with both, but I wound up leaning mostly acoustic because I took a classical guitar class and got a classical guitar when I was a senior in high school.
I fell in love with playing fingerstyle because you can use your right hand to create a little orchestra. That's what drew me to explore classical guitar. You can create an entire dynamic musical moment with your hands.
I was still listening to bands like Radiohead, but I ended up going further away from rock and getting into Tori Amos. My goal was to be like the guitar-playing version of Tori Amos. I wasn't really a performer; I mostly played guitar in my room.
In a lot of ways, the guitar saved me, as I was dealing with a lot of social anxiety, low self-esteem, and lots of feelings and emotions I wasn't sure how to process or explain. I would internalize things, so playing guitar and singing songs was a way to express myself freely without judgment, boundaries or limits. Acoustic guitar was my solace and my therapy for about a decade.
What was your introduction to the Americana scene?
When I started college, I had no idea what I wanted to do. I decided not to pursue classical guitar because I didn't understand why I couldn't just learn by ear like I'd been doing. I came across a bluegrass group guitar class, and I talked to the teacher, Jack Tottle, who founded the Bluegrass Old-Time and Country Music Studies at East Tennessee State.
He told me I could learn the material without sheet music. I didn't really know anything about bluegrass, folk or old-time music, but I was curious. Once I started to get into the history, I was captivated. I enjoyed discovering the foundation of all the American music that I loved. It was like going to the source, or ground zero. I always need a deeper underlying meaning or connection to a mission in order to truly commit myself to it. I'd found that very thing and was able to explore it.
Is that when you started playing banjo?
Yes, and I was particularly drawn to the clawhammer style, because you can play melody and rhythm at the same time. I'm very much a rhythmic player. Rhythm is where I live and what I love to do. I play to support my singing, so that was a fun instrument to pick up along the way.
I'd developed my plucking-hand skills by learning classical guitar, and learning clawhammer was a totally different approach to fingerstyle, because it's all downstrokes. There's also the drone from the high-pitched fifth string on the banjo that kind of stays in the background. I emulate that on guitar. Rather than alternating bass notes, I'll stay focused on the root note of a particular chord, which adds a driving element and also implies the sound of being in an alternate tuning. I use that approach on "Hangover Blues" and "Firewater."
What's your take on alternate tunings?
I'm just starting to investigate alternate tunings. Mostly, I use my voice to figure out the best key for a song and use a capo to try out different ways to support it in standard tuning. I prefer a Kyser capo. It lets me quickly change positions while searching for the best chord voicings and fingerpicking patterns.
What are some of your other fingerpicking influences?
I also learned alternate picking in the Travis style. Leo Kottke and Nick Drake are two of my favorite fingerstyle players. I mostly play with my thumb, index and middle fingers. I'll add in a fourth finger to play chords or patterns that require it.
I eventually became a fan of some percussive players as well. Most of them lose me because there isn't enough melody, but Mike Dawes has the ability to play very melodically while he's being percussive, so he's my favorite in that style. I mostly just use my palm to hit either the bridge or the base of the strings to add more rhythmic definition.
Would you agree the descending intro motif on "Firewater" is a good example of your fingerpicking style?
The funny thing about that is I had the song written and my producer Tony Berg, who is also a session guitar player, came up with that descending line, but it's completely within my realm. The song is in the key of C# minor, and I play based out of an A minor chord shape, with a capo at the fourth fret. The pattern starts up several frets, and I descend until I land there.
How did you come to be a Gibson Generation artist?
The first guitar I ever bought for myself was a Martin D Mahogany 09, which is like a D-18 made from sustainable sources. It's surprisingly deep and resonant for a guitar made with mahogany back and sides, and you need a big dreadnought sound for the string ensembles I was playing with at the time, around 2013.
I wrote "Black Myself" and lots of other songs on that guitar, but I'd always been curious about Gibson guitars and I had a pretty special experience with one in the studio. I recorded at Sound City Studios, where they had Glen Campbell's J-45, and I played it on "Firewater" and "Ballad of Lost." It was the first time I'd ever had a chance to use various guitars for different songs and realize what a difference the guitar can make. That particular guitar had an amazing energy in it, and the nearly dead strings made it sound even older and warmer.
When Gibson first reached out to me, I asked for a J-45 because of how much I enjoyed playing one in the studio. I use mine a lot for live performances because it has an L.R. Baggs pickup that sounds great through my Fender Blues Junior. Other acoustic guitars with piezo pickups can have a metallic quacking sound on the higher strings that grates on my nerves, but this one sounds great through the amp.
When it came to the Generation Collection, I asked for a G-45 because of how much I enjoyed playing the J-45. Having the port on the sidewall of the G-45 makes it great for songwriting at home, because unless you're plugged in and monitoring yourself, the player doesn't normally get to hear all the detailed intricacies of the tone coming from the sound hole like the audience does. The Player Port truly alters the unplugged experience.
What's the rest of your gig arsenal?
I've got an Eastman Sidejack baritone [electric] that I use to play one song, "Opaque." I've been experimenting with several different electric guitars, but I'm excited about the one I just got. It's a reissue of a 1961 Gibson Les Paul SG Custom celebrating Sister Rosetta Tharpe and her legacy. It's going to be released this fall. They sent me one, and I'm going to be a part of the ad campaign. It's definitely the heaviest guitar I've ever owned, because of the extra pickup and all the hardware, but I'm kind of obsessed with it right now. The other guitarist in the campaign is Celisse [Henderson]. I've been getting to know her, and you all ought to know about her too. Her guitar playing is amazing!
Are you going to reconnect with Our Native Daughters?
We've been keeping in touch. We were supposed to play on the West Coast in October of 2020 and the East Coast earlier this year, but those dates didn't happen because of the pandemic. Three of us have released solo albums this year, so the challenge has been finding the right span of time to work on material, and then another span to record. It's been a moving target, but we are going to do something again in the future.
Buy Wary + Strange by Amythyst Kiah here.
All the latest guitar news, interviews, lessons, reviews, deals and more, direct to your inbox!
Jimmy Leslie has been Frets editor since 2016. See many Guitar Player- and Frets-related videos on his YouTube channel, and learn about his acoustic/electric rock group at spirithustler.com.