How Molly Tuttle Found Her Mojo with Pre-War Guitars, a Set of Cover Songs and a DIY Studio Setup
The acoustic phenom on turning lockdown loneliness into a rewarding home-recording experience.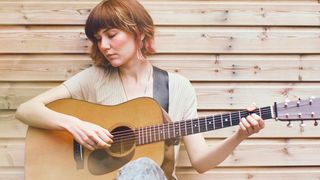 (Image credit: Adam Gasson)
While lockdown has prevented many of us from doing some of our favorite things, ruby-crowned bluegrass superstar Molly Tuttle used the time to select an eclectic batch of covers, learn how to use Pro Tools and track her new album, …But I'd Rather Be With You (Compass).
She worked remotely with Los Angeles–based producer Tony Berg, whose session-guitar, arrangement and production credits include Peter Gabriel, Eric Johnson and Charlie Sexton. Tuttle lifted the poignant album title from a lyric in "Standing on the Moon," from the Grateful Dead's final studio album, 1989s Built to Last.
It's a nod to her roots in the San Francisco Bay Area, but Tuttle adopted Nashville as her home many moons ago, and in March the combination of a devastating tornado tearing through Music City and the global pandemic created the perfect storm that led her to seek solace in familiar tunes, while sheltering in place.
It's always interesting to see what a true triple threat like Tuttle chooses to do with cover tunes, both in terms of her selections and the degree of liberty she takes with them. For …But I'd Rather Be With You, she plucked tunes from seemingly every genre and era, sticking to the charts in some cases and cutting loose in others.
Fans of Tuttle's Rise EP – which brought her not only recognition but also Instrumentalist of the Year honors at the 2018 Americana Music Awards, and a pair of trophies for the International Bluegrass Music Association's Guitar Player of the Year award in 2017 and 2018 – will be happy to hear the champion flatpicker rip bluegrass licks to shreds within the context of Yeah Yeah Yeah's dance-floor anthem "Zero" and Rancid's punk rocker "Olympia, WA."
Those who dug the singer-songwriter aesthetic Tuttle displayed on her 2019 debut LP, When You're Ready, will like the way she serves the National's salty slice of Americana, "Fake Empire," and the aforementioned Dead missive with stellar sensitivity. And everyone should appreciate her crosspicking prowess on her adventurous adaptation of the Rolling Stones' psychedelic ditty "She's a Rainbow." We got Tuttle on the phone to talk us through her process.
Why did you choose to record covers rather than originals during such a trying time?
I was struggling creatively and having a hard time finding my own words to express my feelings. So the idea for this record was about going back to special songs that have helped me through times in my life and inspired me through the years. It meant a lot to me to put my own voice on them, and hopefully they will help other people.
Which of these tunes got you going on the right track?
The song I wanted to learn first was "Fake Empire." The National's version has a beautiful piano part with a three-over-four polyrhythm, where one hand is playing in three and the other is playing in four.
I wanted to figure out if I could make it work on guitar. I did that by going fingerstyle, with my thumb playing in three on the lower strings while working the treble strings with my fingers over the top in four.
It doesn't sound complex at all when you hear it, but it was a challenge. I use a capo at the third fret and play in the key of Eb. The tuning is standard, except for the first string, which is tuned up a step, so I have an open string when I go to the IV chord.
It sounds as if the time signature is 3/4 with a dotted eighth-note feel to the four guitar plucks over the top.
I saw an interview with the National where they called it "four over three." When I hear that rhythm, I remember learning about it in school, where it was called "Pass the goddamn butter," because saying those words has that rhythm.
That was always referred to as "three over four," so I think of it that way, but actually everyone is playing in three except for that syncopated guitar rhythm on top in four, so maybe it is four over three. Maybe they are interchangeable, but mostly it's in three, with that bit in four sprinkled over the top of it.
Can you describe another guitar challenge that inspired you to cover a particular tune?
"She's a Rainbow" comes to mind as one of the more guitar-driven songs. Again, I was very drawn to the piano part, so I learned the piano arrangement and put my own voice to it on guitar. I struggled to find the right key for my vocal range.
The original is in Bb, so I started out learning to play it from a G shape using a capo, but it didn't work for me to sing it in that key because some of the notes were too low. I ended up doing it in the key E out of a C chord shape with a capo at the fourth fret. I actually used a program called Transcribe! [from Seventh String Software].
I put the Rolling Stones' version in and had it transcribed to E so I could hear how the vocals would sit a little better, and I played along with that for a while. I tried strumming the rhythm for the chorus like I might normally do on a guitar, but it didn't feel light enough.
The song is so playful that I wound up adapting the entire piano part into a guitar part that I play with a pick the whole way through. There's a lot of cross picking, where I'm jumping from lower strings to higher strings in order to cover all the pieces of a two-hand piano part.
It's especially challenging to do while singing. I've worked it up to the point where I can do it now, but I recorded my parts separately, and "She's a Rainbow" was one of the few songs I did without a click track because it breaks time at certain points in the song, and that would have been a nightmare for me to manage.
I played the main track without a click, and the engineer was able to create a click track based on my performance so we could then overdub all the subsequent parts to that.
Do you still favor the Dunlop JazzTone 207 pick?
That's still my main one, but for this record I recorded some stuff with a Wegen pick. I can't remember the model or thickness, but I liked how it sounded brighter and had a more audible attack than the JazzTone, which is such a heavy-duty pick with a round sound. I think I might be transitioning to the Wegen, but I don't know right now. I go back and forth.
How about the guitar? Did you play the same Pre-War dreadnought featured on When You're Ready?
I played a new Pre-War for all of the acoustic guitar parts. I played a hollowbody Collings electric guitar on "Something on Your Mind." I got this Pre-War about a year ago, but I didn't start playing it until a few months ago, and it's my current favorite.
I always do that with a new guitar. It takes a while for me to settle in, and then I start playing it all the time. When You're Ready mostly features a Pre-War with mahogany back and sides.
The Pre-War on the new record has a spruce top with a sunburst finish and Brazilian rosewood back and sides. I've been enjoying the Brazilian one because it feels more resonant.
I've heard people describe Brazilian rosewood as sounding like a grand piano, because you can hear so many overtones, and that may be why it seemed to work so well for the songs on this album. It's become my favorite to play live as well, because the sound is super clear, but I still love the sound of mahogany. I switch back and forth, depending on the tone that best suits a particular song.
Can you detail some of the challenges about learning how to record at home?
I'm not much of a gear person, and I didn't have a studio setup at my home, so I borrowed some nice stuff, and there was a bit of a learning curve.
It felt like I had to troubleshoot something every day for the first few days, but it was usually something like a buzz or RF interference. It didn't take too long to get the hang of setting up a session and learning to record tracks, which is all I had to do on my own. I'd settle on a tempo and get a click track going.
Then I'd play through the song maybe four times using a Shure SM57 to capture the main acoustic track. I'd position it around the 15th fret and slant it toward the sound hole. I'd send those main tracks to my producer, Tony Berg.
He'd choose one as the primary take and then maybe use a section of one of the other takes if he felt it was necessary. Then he'd send me back that comp track, and I'd add another acoustic using a Shure SM7B pointed a little more directly at the sound hole for a different tone. I was going to use that as my vocal mic.
I decided to go another direction, but I liked the sound of the two different Shure mics in combination for multitracking acoustic guitar, which I'd never really done before. From the microphone, the signal went into an old preamp that I borrowed from Ryan Hewitt, who produced When You're Ready, then into a little [Roland] Quad-Capture interface and, finally, into my laptop.
Got any tips for live streaming an acoustic guitar–and-vocal performance?
I'm still figuring that out, but I'll generally use a single condenser microphone to capture both. I've mostly been using an Audio Technica 4033a, which is what I used to record all the vocals for this record. Sometimes I'll use my USB mic for live streams if the internet connection is too slow to handle a nice mic sound.
Has your muse started to come through your instrument again now that you've hit your groove?
Yes. I've been writing a lot, both on my own as well as co-writing over Zoom. I'm finding it fun to finish a song and then bring someone else in at the last minute to act as a song doctor, because it's hard to remain objective sometimes. I have a batch of new songs, but I don't know which ones will end up on a record. I'm just trying to write as much as I can.
Thanks for being a judge at the U.K. Guitar Show in London last September, and for being a judge in our new Guitarist of the Year contest. This year it's all video submissions, of course, but you do us the honor of lending your ears and eyes remotely, which is clearly the way of the world for the foreseeable future.
That was fun last year. I'm looking forward to it this year as well.
Molly Tuttle's new album, ...But I'd Rather Be With You is out now via Compass Records.
All the latest guitar news, interviews, lessons, reviews, deals and more, direct to your inbox!
Jimmy Leslie has been Frets editor since 2016. See many Guitar Player- and Frets-related videos on his YouTube channel, and learn about his acoustic/electric rock group at spirithustler.com.