How Pre-War Guitars Are Recreating Acoustic Guitar History, One Lovingly Aged Instrument at a Time
North Carolina luthiers Wes Lambe and Ben Maschal on a special Dreadnought inspired by a 1937 design.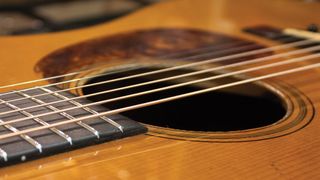 (Image credit: Pre-War Guitars)
When the Fender Custom Shop unveiled the first two guitars in its Relic series at the 1995 winter NAMM convention, it pioneered an aesthetic that thoroughly permeated the high-end electric guitar-building world.
Today, you almost have to specify that you would prefer the finish and hardware not to be distressed when you order a boutique axe.
Yet, when North Carolina luthiers Wes Lambe and Ben Maschal decided to launch Pre-War Guitars in 2014, nearly 20 years after Fender's first steps, no one had introduced aging into the acoustic guitar-building space.
"We'd never really seen anyone do it," Maschal says. "So we decided, 'Let's do a traditional, vintage-style handmade acoustic guitar with a dovetail neck joint, hot hide glue — all the things that people want — add a few modern features like an adjustable truss rod, and then do a distressed finish."
Using the revered 1930s designs of a certain storied Nazareth, Pennsylvania, guitar manufacturer as the template for most of their models, Lambe and Maschal — who cap Pre-War's current annual production at 150 instruments — do their best to capture not only the sound but also the original spirit of the instruments to which they pay homage.
"I believe wholeheartedly that if you fuss over a guitar too much, it sounds as uptight as you were when you made it," Maschal offers. "Back in Nazareth in the '30s, these were instruments made by highly skilled people working fast — German carpenters who were working through the Great Depression and who had to get X number done that week or they were going back to the coal mine."
Lambe spent much of his time before Pre-War crafting elaborate fan-fret guitars; in addition to Pre-War, he also co-owns the Hybrid Guitars company with fan-fret hybrid jazz guitar legend Charlie Hunter. He acknowledges that embracing this blue-collar aesthetic required something of an attitude adjustment for both him and Maschal.
"So much of what the acoustic world is about these days is luthiers building guitars to impress other luthiers," he says. "But with Pre-War, this whole enterprise is about shedding your ego as a luthier at the door. It ain't about my aesthetic; it's about making a guitar that people want to pick up and rip on. The guitar you want to display on your wall is not necessarily the guitar you want to play."
For both builders, the distressing of the Pre-War guitars is an important part of what makes them so attractive to a coterie of players that includes such acoustic luminaries as Tommy Emmanuel, David Grier and Molly Tuttle.
"People aren't afraid to ding these guitars up," Lambe explains. "It's like we're saying, 'We want you to pick it up and enjoy it.' That's the psychology of having it be approachable."
The aging process is available in four levels, from mild lacquer checking to full-on played-within- an-inch-of-its-life abuse. The two luthiers feel that the procedure not only improves the feel and mojo of their instruments but also the tone.
Lambe points out that when he's in the spray booth, he's able to shoot a much thinner layer of finish than he would were he ultimately aiming for a pristine, high-gloss end product, thus allowing the instrument to remain more resonant and lively.
And while Maschal is quick to note that he has no hard data to substantiate this claim, he believes that the lacquer checking that's performed on the tops of all Pre-War instruments also improves their responsiveness.
"When you spray lacquer and it cures, it shrinks and there is some sort of surface tension on the wood," he says. "I think that cracking the lacquer actually releases some of that tension."
All of the company's Adirondack spruce guitar tops and bracing undergo a drying process called torrefaction to replicate the years of moisture loss that reduces the weight and increases the liveliness of the soundboards on many older acoustics.
"The wood is torrefied after it's cut but before it's made into anything or sanded," Maschal explains. "It goes into a kiln, where it's under vacuum in a low-oxygen environment that has nitrogen injected into it, and they heat it up to 400 degrees, just below the combustion point, for a prescribed amount of time."
"That's a characteristic that's part of the bigger picture of the kind of sound we're after," Lambe interjects, lest we become completely enthralled by the technical intricacy of the procedure. "But it's just one ingredient of the formula. I've played plenty of torrefied instruments that sound underwhelming. Or downright terrible."
Thankfully, the Dreadnought model that Pre-War sent for evaluation was anything but underwhelming. Largely fashioned after a 1937 guitar that Lambe had dismantled in his shop for repair, it is downright inspiring.
Featuring the aforementioned Adirondack spruce for the top, Honduran mahogany for the back, sides and neck, and an ebony fretboard and bridge, this particular instrument comes with the company's Level 2 aging, which includes finish checking, assorted dings and some apparent "pick marks," with none of the more pronounced road rash that characterizes the higher levels of distressing.
To this reviewer's eyes, it hits a sweet spot both in terms of appearance and verisimilitude. Upon removing the instrument from its rock-solid Harptone case, one is struck immediately by its feather weight, which, along with the worn finish, gives the Dreadnought the feel of an instrument that has been settling into its own for the better part of a century.
With the strings brought up to pitch — the Pre-War factory setup features a beefy set of phosphor-bronze D'Addario .013 EJ17s — the Dreadnought immediately reveals how rowdy, resonant, powerful and dynamic it can be. Play it hard as you want and the sound will not fold, compress or collapse.
Back off and enjoy wonderfully woody clarity and definition, with the full knowledge that you have massive headroom to spare. It is also with sheer glee that one can peel off single-note runs that are so percussive, clear and simply commanding that they will elicit a grin from all but the most blasé of players, and maybe even from them too.
I've played my fair share of Nazareth-built pre-war acoustics (I might even own one), and this one truly satisfied, at a fraction of the price and with modern adjustability. Turnaround time on new orders from Pre-War is currently 24 months, but this is an instrument that's well worth the wait!
The Pre-War Dreadnought retails for $4,995, and comes with a Harptone case.
All the latest guitar news, interviews, lessons, reviews, deals and more, direct to your inbox!