'GP' Presents Tab Benoit August 20 in San Francisco, CA – Win Tickets!
The Louisiana bluesman points west at the majestic Great American Music Hall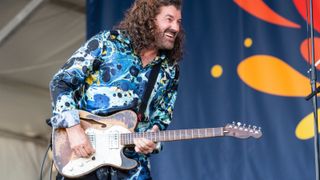 (Image credit: Erika Goldring/Getty Images)
Get ready for a stormy Sunday! Tab Benoit's bayou blues whirlwind is headed towards the San Francisco Bay where Guitar Player is happy to help him blow back into his old haunt at the Great American Music Hall.
Easily one of the most energetic electric guitar players ripping up the road, Benoit's ferocious dedication to each note in every set is always an intense experience. Benoit brings gutsy rhythms, searing leads, gravel vocals, and total command to every stage. He's earned five Blues Music Awards, including a pair of crowns for B.B. King Entertainer of the Year.
Benoit conjures a hellacious howl via a vintage Telecaster Thinline through signature Cat 5 amplification. He's also got the savvy to dial it way down every now and again so the audience can hear every nuance of wood and wire. And in-between the whispers and the screams his earthy grooves are low down and dirty.
Watch Benoit dig deep into some "Muddy Bottom Blues" from Greeley, Colorado, June 3, 2023:
Benoit is a premier conduit for bayou culture and he's bringing the Rumble with him as the opening act. The Rumble is a modern representation of historic Mardi Gras Indian music, featuring Second Chief Joseph Boudreaux Jr. of the Golden Eagles.
Benoit is the driving force powering Voice of the Wetlands aiming to preserve the coastal waters of his homeland. Benoit received the Governor's Award for Conservationist of the Year from the Louisiana Wildlife Federation in 2010. The charismatic performer also starred in the iMax documentary Hurricane on the Bayou.
Experience Tab Benoit plus the Rumble at the legendary Great American Music Hall this Sunday in San Francisco where GP Presents will have a table with free magazines and Martin strings.
WIN TICKETS!
For a chance to win a pair of tickets to see GP Presents Tab Benoit, email gp@jimmyleslie.com and put "Benoit" in the subject of your email. Include a sentence about yourself and why you want to go. Phone contact greatly appreciated for confirmation. Winner must provide his or her own transportation to the Great American Music Hall in San Francisco, California, on Sunday, August 20, and have his or her own accommodations in the Bay Area.
Best of luck!
EVENT DETAILS
GP Presents Tab Benoit
Sunday, August 20
Great American Music Hall
859 O'Farrell
San Francisco, CA, 94109
7pm doors: 8pm show
Free GP magazines, Martin strings
All the latest guitar news, interviews, lessons, reviews, deals and more, direct to your inbox!
Jimmy Leslie has been Frets editor since 2016. See many Guitar Player- and Frets-related videos on his YouTube channel, and learn about his acoustic/electric rock group at spirithustler.com.