Gibson Reveals the Inside Story of Epiphone Slash Collection "Clones"
Read the official interview here and find out what went on behind the scenes.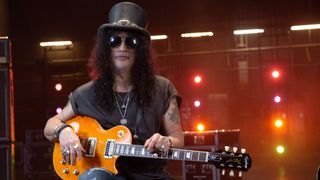 (Image credit: Gibson)
Following last year's launch of the Gibson Slash Collection signature guitars, sibling brand Epiphone has recently unveiled their own equivalent models as part of their Inspired by Gibson line-up. Sporting the same finish and model names as the Gibsons these new Epiphone Les Pauls are are effectively clones. But how do they measure up? According to Gibson Brands' Senior Product Development Engineer, Richard Akers, and Product Manager, Aljon Go, they are virtually identical.
How have the Epiphone Slash models been able to achieve such a close likeness to the Gibson equivalents?
Aljon Go: Product Development now services every brand together. So, we have people from the Gibson side and the Custom Shop side and the acoustic side, and the Epiphone side (myself and Richard Akers). We're a big think tank. Richard is like the Swiss Army knife of the team. He's a rare breed because he's got so much knowledge of how things have been done over time. He's worked at Gibson for many years.
Richard Akers: I'm trying to bring the technical side to the table, but with the love and passion of being a player. Marrying those two together is what's been very helpful for me over the years. My background is electrical engineering, so I've got that piece. But it all started from a love of playing guitar as a kid. That's what drove me to it. I've been with Gibson now for 28 years.
Aljon and I focus on Epiphone, but at this point in the game it's a team effort. In the past, things have been siloed, where each division – each business unit – was sort of held in isolation. But now it's a complete team effort between all of the business units within the Gibson brands. So, we work very closely together with Gibson USA and Gibson Custom Shop
How did you manage to get the Gibson and Epiphone Slash finishes to look so similar?
Go: We worked really hard with Gibson and Slash to make sure that those finishes were replicated as authentically as possible. We just wanted to clone them. So, you'll notice they have a very similar look. The looks are the same and our factory has done an amazing job of our Inspired by Gibson range thus far. The fans have been very happy about that. We just want to continue to grow that level of authenticity.
Akers: We're in much closer alignment than we've ever been companywide. Particularly the models based on Gibsons that are made by Epiphone. We're the closest we've been in my history with the company.
Why do you think that is exactly?
Akers: I think it's been a combination of a couple of things. Our factory in China has really come of age and is hitting on all cylinders. We've got people over there that I've worked with for decades now. The people on the ground really know what they're doing. We have our American management team there on the ground. So, we can really elevate what we're doing from a production standpoint. That's one aspect of it. But that's been in process for many years.
The other thing is our new leadership team that took over Gibson has been very, very supportive of letting Epiphone become what we're capable of becoming. We're working very closely with the other divisions to really fine tune details. We're in this very close alignment, and that's been the biggest part of the equation of the last two or three years.
Go: Even though Epiphone is older than Gibson, we've always been treated like a little brother. And now, because our factory has been executing so well, we've proven we make amazing guitars. We listen to our fans because we're all players. I've been playing Epiphone guitars all my life just like Richard. And we're bringing Epiphone back – the way it was meant to be. Our founders at the 'house of Stathopoulo' would have had it no different. They wanted quality in their little shop in New York, and we're delivering it now. It feels great to be able to do that.
The Slash Collection are guitars we would be proud to play on any stage. That's the whole game. That's why we say, "Epiphone: for every stage." You can pick it up and play it in an arena, and you can pick it up and play it in your garage. It doesn't matter. These are quality instruments, so we're very proud of that.
How similar are the Slash Gibson and Epiphone pickups?
Akers: These Alnico II ProBucker pickups being used in the Epiphone Slash guitars are identical in construction to the Alnico II BurstBuckers being used in the Gibson Slash models. The neck and bridge pickups are different as the bridge pickup is slightly hotter – like an overwound BurstBucker 3 in the bridge and an overwound BurstBucker 2 in the neck.
Go: We wanted to be authentic to the Gibson version, and that also included using orange drop caps and CTS pots in the circuit… People need to know: if you're a fan of the Gibson Slash Les Pauls you can get that experience with a very accessible Epiphone which uses the same type of pickups. We were able to make a clone of that very same guitar in our overseas crafteries. And it's very, very close. It is the Boba Fett of Jango Fetts!
How do you think the Epiphone and Gibson Slash guitars compare overall?
Akers: Gibson is still the aspirational brand. If you can afford it, go for it. They're great guitars. With the highest quality materials. There are slight differences, and someone with a very refined ear can perhaps tell them apart. But for the majority of players, an Epiphone will serve their needs very well. You could buy an Epiphone and take it to the biggest stages in the world and feel comfortable that you're going to have a professional quality instrument that will perform and be able to get your musical inspiration across. As Aljon said: these Epiphones are "for every stage".
What was the process like in terms of working with Slash on the custom pickups?
Akers: Gibson worked directly with Slash on developing these pickups to his exact specifications and needs. They worked very closely and got the frequency response to where Slash needed it. There was a lot of back and forth and discussions on what he needed tonally. [Gibson Master Luthier] Jim DeCola sent out sample sets until they found the golden version. And we followed suit by cloning them. Epiphone makes exactly what was developed with Gibson and Slash. It's just a different point of manufacture.
Are these Epiphone Les Pauls reminiscent of Slash's tone?
Go: Slash seems to think so. Ultimately, he's the guy that says, 'Does this work for me? Thumbs up, or thumbs down?' And he gave it a resounding thumbs up for Gibson and for Epiphone. He was very pleased. The moment he received the prototypes he posted about it on Instagram, which we were very excited about. It was just one of those resounding 'you've nailed it' situations. Richard has worked with Slash for many years. The relationship between Gibson and Epiphone and Slash goes back a long way. We're very excited to just keep it rolling. I love the guitars we make, but regardless of what we think, the ultimate test is for the artist. And we can't ask for much more than their stamp of approval.
To what extent has Epiphone also been listening to customers?
Go: That's the great thing about Epiphone's Inspired by Gibson line – we had an opportunity to really give players what they wanted. In other words, a guitar they didn't have to mod. And we had that same approach with the Slash guitars: you've got great pickups, great hardware, a Graph Tech nut, and CTS pots. Also, Slash requested the binding look like his Gibson USA guitars.
Akers: We increased the binding width slightly. This is another one of these nuances when you get to Asian manufacturing versus US manufacturing; there's sometimes a difference between [metric] and imperial units with respect to the standard off-the-shelf part. It's ever so slightly different, but Slash noticed it straight away. This is why working with artists who are really in tune with their instruments is so great. He brought it up and said, "Man, why is that binding narrower?" I mean it was a miniscule amount smaller. But we said, "Yeah, you're right! Let's improve that." So, we made that change. It's a cosmetic thing, but it's important to the overall appearance of an instrument. The way someone feels about the instrument influences the way they feel about it when they're playing it.
It's like the color of food…
Akers: It matters. I was fortunate enough to have a conversation with Les Paul before he passed. When he was developing the log, he said, "People hear with their eyes." That's why he put the two wings on the 'log'. He said he went out with the log and played it and people were like, "What the hell are you doing? That thing sounds terrible!" But after he went to the Epiphone factory and stuck the archtop wings on it, people heard it differently. And it's the same with all of these finely nuanced details. The binding was a small feature that has nothing to do with tone. But Slash noticed it. And now when you see it, and you hold the guitar, you just feel like you have something of quality. It makes a difference.
One thing that always rang true with me and has always been my driving principle to some degree is that that good design doesn't necessarily cost more. You can do things to improve an instrument that doesn't cost more. So, with that in mind, we've got free reign to go in and make the changes. I mean, it didn't cost us any more to change that binding, but the overall impression of the guitar is better.
The Les Paul Standard seems to be a timeless design…
Akers: When its right, it's right. It's the essential tool for the style of music that evolved around the tool. It's a chicken and egg thing. The guitars themselves influenced the direction of where music went. I mean, if you look at a Stradivarius violin: hundreds of years after its creation, it's still unmatched. When you get it right – when you get all those elements working together – it's timeless.
Slash really helped bring the Les Paul Standard back in the late '80s…
Akers: He put them back on the map in a big way. Around the time, there was a reversion back to more of a blues-based rock – straight forward rock 'n' roll – and the Les Paul was right there at the heart of it. If you listen to Appetite for Destruction, it still sounds great today. It doesn't sound dated. It just sounds like great rock 'n' roll.
Go: I think a hundred years from now, people will look back on the Les Paul and the humbucking pickup and go, "Damn! That's some good shit!" It's the heart of rock and roll.
Check out more from Epiphone's Inspired by Gibson range, including the November Burst and Vermillion Burst Slash J-45 flat-top acoustics, here.
All the latest guitar news, interviews, lessons, reviews, deals and more, direct to your inbox!
Rod Brakes is a music journalist with an expertise in guitars. Having spent many years at the coalface as a guitar dealer and tech, Rod's more recent work as a writer covering artists, industry pros and gear includes contributions for leading publications and websites such as Guitarist, Total Guitar, Guitar World, Guitar Player and MusicRadar in addition to specialist music books, blogs and social media. He is also a lifelong musician.