9 Pro Guitar Tech Tips You Need To Know
These simple secrets of the pros will make your guitar and gear sounds its best (and several of them won't cost you a penny!)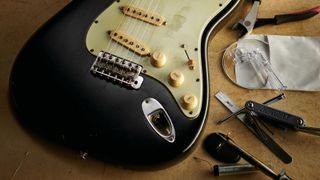 (Image credit: Future)
Below you'll find nine great ways to help you make your gear sound great and perform at its best.
Some of these are simple secrets of the pros that you may not have thought about.
Better still, several of them won't cost you a penny.
1. Try the Low Gain Input
Many tube amps have two inputs: one for high gain and one for low.
As the pros know, plugging into the low-gain input can clean up those fat-sounding humbuckers and can even sweeten your tone.
2. Adjust Your Pickup Height
It's amazing how many guitarists never adjust their pickup height. Admittedly, it's something that you may need to learn how to do for the pickups on your guitar.
Search on YouTube for a video that demonstrates how (like this one from StewMac) or go to a guitar store and talk to someone who knows. And then start tweaking.
The thing about pickup height adjustment is that you have to do it for yourself. No guitar tech can possibly do it for you and get it right. You have to play, adjust, play again, and keep doing it until you hit the sweet spot. But when you do, you'll be glad for the effort.
3. Take Your Pick
We've said it before, and we'll say it again: don't underestimate the humble guitar pick.
The pick you use, and the material it's made of and thickness, have a tremendous impact on your tone. Get a handful of different picks and find the one that works best for you.
It's one of the least expensive ways to tweak your tone.
4. Know Your Wood
One thing you should ask yourself is whether it's even possible to get the tone you want from the wood used in your guitar's manufacture.
It pays to know the characteristics of common guitar tone woods.
5. Change Your Pickups
The market for replacement pickups has never been larger. When choosing pickups, some things to keep in mind include:
Different magnet structures (or magnet-and-pole piece structures in many designs) will respond differently, because they are creating different types and shapes of magnetic fields.
Different-sized or differently structured pickups will present different magnetic fields, and will therefore present different readings of the strings' vibrations to the coil.
Different types of coils will translate the disrupted magnetic field differently, and therefore send a differently shaped signal down the wire to the amp. And, of course, differing numbers of turns of wire in an otherwise similar coil will also lead two pickups nominally of the same "type" to produce slightly different signals.
Different string types will affect the magnetic field differently, according to the type of steel they are made from, their condition, their gauge, and other factors. Although these conditions are not part of the pickup itself, it's worth remembering that their interaction with the magnetic field is where it all begins.
6. Get Set
If your guitar isn't set up right, there's no way it's ever going to play to your satisfaction.
Check out this guide to setting up your own guitar, or take your ax to someone who can give it a complete checkup and adjust anything that's out of sorts.
7. Use Your Volume Knob
It's strange, but many guitarists never touch their guitar's volume knob. They just keep it parked at 10 and play on.
Experienced tonehounds know that a little volume knob action can be useful for making your guitar and amp work in tandem to produce just the sound you're looking for.
8. Check Your Cord
How much thought have you give to your instrument cable? Even if you're using a quality cable, it's good to know what else is on the market and to sample different varieties.
You might not want to use the best cable when playing out, due to the wear and tear it can suffer, but for woodshedding and definitely for recording, you want the best you can afford – or at least the one that sounds best to your ears.
9. Check Your Cable, Too
Speaker cable, that is. They look just like guitar cords, but speaker cables are very different.
Guitar cables introduce capacitance to the connection, which can create an impedance mismatch between amp and speaker. This can diminish your tone and put a strain on your amp's output tubes.
If the cable shorts out, you could blow your amp's output transformer, necessitating a repair that's much more expensive than if you'd just purchased a proper speaker cable in the first place.
All the latest guitar news, interviews, lessons, reviews, deals and more, direct to your inbox!
Dave Hunter is a writer and consulting editor for Guitar Player magazine. His prolific output as author includes Fender 75 Years, The Guitar Amp Handbook, The British Amp Invasion, Ultimate Star Guitars, Guitar Effects Pedals, The Guitar Pickup Handbook, The Fender Telecaster and several other titles. Hunter is a former editor of The Guitar Magazine (UK), and a contributor to Vintage Guitar, Premier Guitar, The Connoisseur and other publications. A contributing essayist to the United States Library of Congress National Recording Preservation Board's Permanent Archive, he lives in Kittery, ME, with his wife and their two children and fronts the bands A Different Engine and The Stereo Field.