Patch Rubin Coaxes a Dimensional Acoustic Voice From His Superbly Crafted Wide Sky Guitars P125C
Excelling at anything from gnarly rock and roll to expressive electric indie-folk, this inspiring axe is a beauty to behold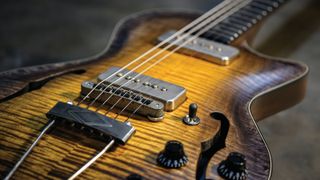 (Image credit: Wide Sky Guitars )
Patch Rubin launched Wide Sky Guitars in the mid 2010s with several acoustic guitar models. He branched into building electric guitars a couple of years ago with the P125, a non-cutaway semi-hollow design with a 16th-fret neck joint, and it quickly became a main squeeze for Gary Clark Jr.
Now comes the P125C, a cutaway version of that model, which I'm looking at here.
Rubin's bio reads like the perfect backstory for a guy destined to build artfully functional guitars. Born in Albuquerque, raised in New York, Rubin trained at the Guitar Institute of Technology in L.A. in his youth before working as a tech for two years at Andy Brauer's legendary Studio Rentals business, servicing the instruments of countless big-name pros.
Some 10 years on the road as a touring musician followed, peppered by side gigs as a jeweler, carpenter and custom furniture maker, before he established Wide Sky Guitars in Taos, New Mexico. Then, around the middle of 2021, Rubin and his wife moved the business to Hawaii's Big Island, where they now run a 100 percent off-grid, solar-powered shop and catch all their own water.
The P125C is the sweet new creation from that shop.
A relatively small-bodied guitar, it puts me in mind of the Gibson ES-125TDC of the 1960s, although its dimensions are considerably more bijou than that, with a lower-bout width of just 12 7/8 inches and a depth of 1 3/8 inches.
It's also made from entirely solid woods, rather than laminates. The bulk of the body is constructed from a chunk of mahogany, routed out to create substantial chambers, while the top is carved from solid curly maple. Explains Rubin, "It's really important to me that an electric guitar sounds great unplugged."
The glued-in neck is carved from mahogany, and has an ebony fingerboard with a 12-inch radius. Fretboard aside, the entire piece is finished in hand-rubbed Osmo PolyX, a type of oil/wax hybrid treatment that results in a rich, three-dimensional glowing finish. It not only feels great, with a tactile, open-pore surface, but even smells great.
The guitar tops out at only around six and a half pounds. The neck is an interesting creation, built to a scale length of 24.562 inches and carved to a medium-full "C" profile that feels sublime in the hand.
It plays faultlessly from bone nut to body joint, strings bending smoothly over the relatively narrow and immaculately well-dressed frets. A proprietary volute behind the nut adds strength to that traditionally weak part of the build without getting in the way of your lower-fret chording, and feels surprisingly comfortable against the edge of the hand in first position.
The rear of the back-angled headstock sports its own thin mahogany facing, while around the front, a diminutive truss-rod cover hides the access point in the ebony-faced headstock.
The engine room features a pair of P-90 single-coil pickups custom-made by highly respected small-shop winder Curtis Novak, and wired through a traditional four-knob control complement with a three-way toggle switch.
Of the pickup selection, Rubin tells GP, "Until I started building the P125 in 2018, I only had two electric guitars, both with humbuckers. I was listening to Gary Clark Jr. nonstop while designing the P125, so I put P-90s in the first one. I'd been missing out! The P-90 sound is all I want to play now.
"I'm a big believer in sourcing components from smaller manufacturers," he adds. They include Gabriel Tenorio, who hand winds each set of strings; pickup maker Curtis Novak; Jason and Elizabeth Schroeder, who make the bridge hardware; and Mitch Emerson, who provides the Bumblebee caps. "Their love for their craft really helps bring up the level of the build," Rubin says.
Interestingly, Rubin uses a trapeze bridge to send the strings over the Schroeder Tune-o-matic–style bridge, which he tells us is as much an aesthetic choice as anything, since the solid central core of the P125C could take a stoptail with no problem. A set of Golden Age Restoration open-gear tuners rounds out the aged-nickel hardware.
Played unplugged, the P125C has a depth and richness of tone that I don't hear in many solidbodies or laminated semis, along with an appealing compression to the response when you hit it hard. I tried out the P125C with a 1966 Fender Princeton combo and a 65amps London tube amp head and 2x12 cab. In each instance, the guitar's acoustic voice played through beautifully into the amplified tone.
It sounds much as it looks: rich, warm and luxuriant, but with even greater depth and dimension. In broad strokes, the P125C has the feel and response of a thinline semi-hollow, but with somewhat more woodiness and roundness in the core tone, and more smoothness amid the classic P-90 grit and granularity.
There's good thickness, body and sonic girth overall, with plenty of detail and clarity, the latter easily emphasized by rolling down the volume controls on the Novak P-90s.
It's easy to see how Gary Clark Jr. took to the model, and it's certainly an expressive nouveau blues machine, but I can also see it excelling at anything from gnarly rock and roll, to expressive electric indie-folk, to ballsier roots-rock and beyond.
The Wide Sky P125C delivers cool stuff from a creative and inspiring maker, and it's a beauty to behold.
Visit Wide Sky Guitars for more information.
All the latest guitar news, interviews, lessons, reviews, deals and more, direct to your inbox!
Dave Hunter is a writer and consulting editor for Guitar Player magazine. His prolific output as author includes Fender 75 Years, The Guitar Amp Handbook, The British Amp Invasion, Ultimate Star Guitars, Guitar Effects Pedals, The Guitar Pickup Handbook, The Fender Telecaster and several other titles. Hunter is a former editor of The Guitar Magazine (UK), and a contributor to Vintage Guitar, Premier Guitar, The Connoisseur and other publications. A contributing essayist to the United States Library of Congress National Recording Preservation Board's Permanent Archive, he lives in Kittery, ME, with his wife and their two children and fronts the bands A Different Engine and The Stereo Field.