"We Wanted to Put Everything Into a New Design That Is Our Own": Introducing the Juliet – Eastman's First Original Solidbody
Part Firebird, part SG and part offset, the Juliet is something truly different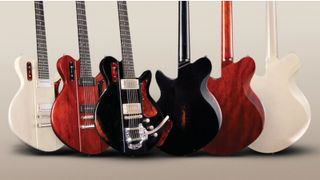 (Image credit: Eastman Guitars)
With a name like Romeo, it was only appropriate that Eastman's first original guitar design was a head turner.
Introduced in 2020, the semi-hollow model was a milestone for a company that has had its share of noteworthy achievements in its short history.
Established by Chinese flutist and Boston University music graduate Quian Ni in 1992, Eastman Guitars has continually defied preconceptions, while it has consistently garnered respect from players.
The company forged its reputation with clever, well-made semi-reproductions of classic models. While they weren't straight-out copies, guitars like the SB59, SB55 and T64 clearly echo Gibson's '59 Les Paul Standard, Les Paul Junior and ES-330, respectively.
But with Romeo, Eastman began branching into entirely original designs from the imagination of the company's Pomona, California–based master luthier, Otto D'Ambrosio.
Now Romeo and its followup, Romeo LA, are joined by Eastman's first original solidbody electric guitar design, a partner aptly named Juliet.
A collaboration between D'Ambrosio and Eastman's Netherlands-based product development manager, Pepijn 't Hart, Juliet comes in three different appointments, all featuring the same basic design, construction and Romeo-inspired body styling.
There's the standard Juliet with humbuckers, and the Juliet P-90, both offered in Truetone Gloss finishes.
Striding above them is the top-of-the-line Juliet/v Bigsby, on the table with this writer. The /v in the name stands for Antique Varnish, the top coat which is applied to this model, and Eastman's most exclusive finishing option.
In addition to that upgrade, the guitar includes a slew of high-end, name-maker parts (albeit many of which are included on the other Juliet models), along with a certain air of style and quality that slots it in comfortably with much of the American-and European-made "boutique" crowd.
All that, and an enticing origin story.
"I was always the commercial guy, and I looked at the classic models we could improve," 't Hart says. "But there is a point after you've done a Junior like our SB55 that the road stops.
"And the SG – you can't improve that. Plus, it's got the two horns, so there's no way you can alter it. You're only gonna make it look ugly! So Otto and I love SGs, and we love Firebirds…"
"But I think the issue is that we love everything!" D'Ambrosio interjects. "So we wanted to put everything into a new design that is our own.
"We worked for two years on this project. Juliet has an elevated centerpiece, like a Firebird has, but it has the specs of an SG: double humbuckers, a mahogany body – in this case it's an Okoume body. And then we wanted to have a six-on-a-side headstock, because we have to think ahead – there will be bolt-on instruments eventually."
So, part Firebird, part SG and part offset, given the asymmetrical waist and horns. Yet Juliet is also something very different, both in looks and specs.
In addition to the iconic raised center section, the bass-side body wing is perhaps slightly Tele-derived, but with contours for ribcage comfort at the back and forearm at the front, while the treble side leans a little single-cut Les Paul.
Differentiating it from its stated roots, the Juliet is tailored to a 25 ½–inch scale length, adding a little extra chime and low-end tightness to the otherwise classic-inspired formula.
The neck is also made from solid Okoume, glued-in with a long tenon rather than part of a through-neck construction like the original reverse-body Firebird. It has 22 medium-jumbo frets on an ebony fingerboard that has a 12-inch radius.
Together with the curvaceous rounded-C neck profile, it's full in the hand without being clubby, and feels comfortable and easily to play, right up to the joint.
The bone nut spans a 1 11/16–inch width, with a gently back-angled, six-a-side headstock that's carved in two tiers, hinting at the Firebird headstock, though not reversed like the most iconic of those guitars.
The entire neck-and-body construction has an appealingly tactile hand-rubbed look and feel to it, thanks in part to the varnish top coat.
Tastefully minimal aging has been applied so that, for example, a few "rubbed" spots of brownish-red wood show through the black finish, complementing both the bare wood revealed on the headstock's lower tier and the inlaid tortoise pickguard and switch plate.
Regarding Eastman's appealing finishing technique, 't Hart tells us it was a natural extension of the company's 30-year history as a maker of fine violins.
As he explained in Guitar Player's April 2022 Meet Your Maker feature, the company's Antique Varnish series got its start when he and D'Ambrosio spied an unfinished archtop in the factory.
"I asked the ladies in the workshop, 'Hey, can you finish these like you do the violins?'" he told us.
"Because the violins look like they're from the 1800s or something. Suddenly, we attracted a whole different audience."
But the quest for quality goes beyond the designs, woods and finishes. Makers inevitably need some off-the-shelf parts, and Eastman strives to go for the good stuff, eschewing the generics and base-level in-house hardware used by many offshore guitar companies.
The Tune-o-matic-style bridge and control knobs are from German maker Goeldo, while the tuners are Gotoh's version of the old Kluson "Safety Post" units used primarily by Fender in the 1950s and '60s, with slots for securing the otherwise finger-puncturing string ends.
It's a nifty design that originated in the '40s, and which also provides a form of simple "locking" as you wind on the strings.
Appointments remain high-end with a pair of U.K.-made Bare Knuckle Old Guard humbuckers.
Constructed along the lines of the classic PAFs, they offer a little more output from both positions, wound to around 9k ohms in the bridge and 7.9k ohms in the neck, with Alnico II magnets in both.
These are wired to a three-way blade switch on the upper horn, with individual volume controls and a shared tone.
The Bigsby that helps to give this model its full name isn't the cheaper licensed version but a proper U.S.-made B-5 "horseshoe" vibrato, with a smooth action and good tuning stability in partnership with the sturdy bridge and well-cut nut.
The only notes I might have are that the Bigsby somewhat gets in the way of on-the-fly access to the control knobs, but such is often the way with that vibrato unit. That, and the "sideways" blade selector switch takes a little getting used to. Otherwise, it's all smooth sailing and an easy ride.
Tested through a Carr Skylark 1x12 combo, a Friedman Dirty Shirley Mini head with 2x12 cab, and a Neural DSP Quad Cortex into headphones, the Juliet/v Bigsby revealed a chameleonic versatility that confidently tackles a wide range of playing styles, all slathered in a delectably PAF-based sonic richness, with loads of harmonic sparkle and great, edgy bite when I hit it hard.
Given the combination of features, it's a natural roots-rocker, with a big, warm voice that's laced with good clarity and just a little grit. These characteristics enable it to clean up well when you need something a bit twangier – a "Tele on steroids" voicing further enabled by the 25 ½–inch scale length.
But, going the other way, it's a trenchant heavy rocker, with a lot of snarl in the bridge position and a throaty, singing tone from the neck.
The Juliet/v Bigsby plays great, too, and considering the quality of the design and construction, it strikes me as good value in today's market, considering the escalating prices of upper-tier instruments.
Tone-wise, it's bold and characterful with a personality all its own – neither SG nor Firebird as such, but something truly quite different, which I expect will appeal to a lot of players seeking fun and inspiring alternatives.
For more information visit Eastman Guitars.
All the latest guitar news, interviews, lessons, reviews, deals and more, direct to your inbox!
Dave Hunter is a writer and consulting editor for Guitar Player magazine. His prolific output as author includes Fender 75 Years, The Guitar Amp Handbook, The British Amp Invasion, Ultimate Star Guitars, Guitar Effects Pedals, The Guitar Pickup Handbook, The Fender Telecaster and several other titles. Hunter is a former editor of The Guitar Magazine (UK), and a contributor to Vintage Guitar, Premier Guitar, The Connoisseur and other publications. A contributing essayist to the United States Library of Congress National Recording Preservation Board's Permanent Archive, he lives in Kittery, ME, with his wife and their two children and fronts the bands A Different Engine and The Stereo Field.