Classic Gear: 'Non-Reverse' Gibson Firebird III
Rising from the ashes of its 'reverse' predecessor Gibson's new 'Bird takes flight in 1965.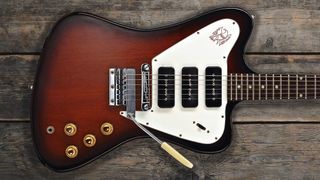 (Image credit: Future)
It's an odd twist of the space-time continuum when the "non-reversed" creation comes after the "reversed" original. But such was the case with Gibson's iconic Firebird electric guitar line-up. The company tore up the world of guitar design in 1963 with Ray Dietrich's automotive-inspired blueprint for the "reverse-bodied" Firebird, so-called because its body and headstock resembled those of a Fender Jazzmaster or Jaguar turned upside-down.
In early 1965, Gibson settled back into the reality that guitarists were actually fairly conservative and unveiled the "non-reverse" Firebird. The Firebird III model from that debut year has more conventional body lines in terms of its offsets and horn proportions. That said, it's still an unusual 'Bird, and another vintage Gibson possessed of its own unbridled sense of cool.
Like the first Firebird series, this one came in several configurations, ranged as the odd-numbered I, III, V and VII (apparently, even numbers just aren't hip). The I and III had two and three P-90 pickups, respectively, while the V and VII had two and three Firebird mini-humbuckers, plus fancier Lyre tailpiece covers. The VII was adorned with gold-plated hardware. Otherwise, all of the new non-reverse Firebirds had simpler construction and were likely less expensive for Gibson to manufacture.
Notable changes included:
• A traditional glued-in neck joint rather than the neck-through-body construction of the previous reverse-body Firebirds, where the neck blank extended all the way through the body's central core
• An upward-facing, six-in-line headstock instead of the reversed headstock
• Traditional nickel-button Kluson tuners in place of the deluxe "banjo" tuners found on the reversed-headstock 'Birds
• P-90 pickups on the more common models as opposed to the mini-humbuckers on all reverse-body Firebirds
• Simple dot fretboard inlays on all models versus the trapezoid and block inlays of the reverse V and VII, respectively
For all that, though, the non-reverse Firebirds of 1965–'69 are undeniably groovy instruments. While they don't have quite the same radical chic of the earlier reverse-bodied models, they possess their own appealing style and are preferred by some players.
They have also been less expensive on the vintage market, although that is rapidly changing. You could essentially consider the two-pickup Firebird I an SG Special twisted into a different and arguably more interesting shape, given the hardware and pickup complement it shares with that model. The Firebird III is much the same, with the bonus of a third P-90 in the middle position.
For many, the third pickup, as originally wired by Gibson, is less of a bonus than its potential implies, as you still only get three switch selections: neck, bridge and middle together, and bridge. It might look cool, but some players will miss the "both-on" middle position of a two-pickup guitar. Others have modified these 'Birds with five-way switches for latter-day Strat-like combinations.
More noteworthy guitarists played the reverse-bodied Firebird, but the non-reverse version was popular with several important blues and rock players. The great Gatemouth Brown almost invariably created his blend of swing and jump blues on a self-modded non-reverse Firebird, while Brian Jones of the Rolling Stones played both varieties. Warren Haynes, Paul McCartney and Noel Gallagher have also been caught strapping on NR 'Birds, and the model has even occasionally been found in the hands of Johnny Winter, who was perhaps the ultimate ambassador of the earlier reverse-bodied 'Bird.
Essential Ingredients
"Non-reverse" Firebird body styling
Solid mahogany body
Glued-in mahogany neck with rosewood fretboard
Six-in-line Kluson tuners on bird-beak headstock
Three single-coil P-90 pickups
Maestro Vibrola tailpiece
Phoenix-graphic on pickguard
Head over to Gibson's website for a look at their current non-reverse model, the 1965 Non-Reverse Firebird V w/ Vibrola.
All the latest guitar news, interviews, lessons, reviews, deals and more, direct to your inbox!
Dave Hunter is a writer and consulting editor for Guitar Player magazine. His prolific output as author includes Fender 75 Years, The Guitar Amp Handbook, The British Amp Invasion, Ultimate Star Guitars, Guitar Effects Pedals, The Guitar Pickup Handbook, The Fender Telecaster and several other titles. Hunter is a former editor of The Guitar Magazine (UK), and a contributor to Vintage Guitar, Premier Guitar, The Connoisseur and other publications. A contributing essayist to the United States Library of Congress National Recording Preservation Board's Permanent Archive, he lives in Kittery, ME, with his wife and their two children and fronts the bands A Different Engine and The Stereo Field.