How Does Noel Gallagher's New Signature J-150 Compare to Gibson's Original Top-Of-The-Line Flat-Tops?
We take a close look at the king of Britpop's 'King of the Flat-Tops'.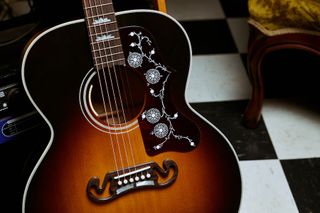 (Image credit: Gibson)
Rumours of Noel Gallagher's signature Gibson J-150 model have been circulating for a few years and now it's finally arrived the Oasis man promises "it sounds exactly like mine." Here we examine the guitar's specs in detail and compare it with those superlative J-200s of yesteryear to find out what all the buzz is about.
But first a bit of background…
Beginning life as a custom order instrument, the guitar that later became known as the Gibson J-200 was born into the Hollywood limelight in 1937 against a backdrop of Western films and country music. An icon of Gibson's status and heritage for over 80 years, its flamboyant, larger-than-life design also made it the ultimate statement guitar for those icons of the silver screen whose hands it originally appeared in – notably the 'singing cowboy' movie star Ray Whitley who is often credited as being the first to own a J-200.
Gibson revamped their 'King of the Flat-Tops' J-200 line-up in 1999, offering the "world's most famous acoustic guitar" in six different guises, including a Custom Shop replica of Ray Whitley's sunburst model from 1937 known as the Western Classic J-200. The '99 catalog's Super Jumbo Line also displays the high-end SJ-200 Custom Vine and SJ-200 Elite Custom guitars, along with the best-selling SJ-200 Reissue, and the lower-end J-100Xtra and J-150 models. This was the debut year for the J-150 and it is this guitar – touted by Gibson as being a "more affordable J-200" – that Noel Gallagher's signature model is based on.
So, why did Noel instantly fall in love with his J-150 the moment he picked it out of the stand and strummed an open E chord? It may not be the top-of-the-range model, but he didn't let that put him off writing and performing international-selling hits with it.
Gibson Noel Gallagher J-150 Tech Specs
Body
With a Sitka spruce top and AA-grade flamed maple back and rim this J-150 immediately suggests quality. As Noel recently commented: "The back of this looks better than the back of mine!"
Due to material shortages, J-200s switched from a rosewood back and sides to maple in 1947 and are thus regarded as being relatively bright-sounding instruments with a larger body size that accentuates a full, clear range of tone. Consequently, they are known to be a favorite among singer-songwriters (including George Harrison and Bob Dylan) – many of whom enjoy the more strident tones maple can bring. The Noel Gallagher J-150 also features vintage-style hand-scalloped X-bracing and a thin nitrocellulose finish, all of which helps balance a guitar's tone and create open, airy sustain.
Neck
As per the earliest Gibson J-200 models, the Noel Gallagher J-150 features a maple neck (in this case a two-piece maple neck with a walnut center strip). Its longer 25½-inch scale length further contributes to the guitar's tight, percussive feel and sound. In 1941, the J-200's standard fretboard material switched from ebony to rosewood, and this signature guitar boasts a 12-inch radius 20-fret fingerboard made from fine Indian rosewood with quality mother-of-pearl inlays. The neck is attached using vintage-style hot hide glue, arguably improving the acoustic coupling of the instrument's neck-to-body joint.
Hardware & Electronics
Lloyd Baggs considers his LR Baggs Anthem acoustic pickup to be "the best combination of stability and fidelity we've ever been able to engineer" and the Noel Gallagher J-150 has been fitted with this top-of-the-line pickup system.
In 1961, the original 'open moustache' bridge and regular saddle was superseded by a 'closed moustache' design with a gold-plated Tune-o-matic bridge bolted through the guitar on either side. Although many people enjoyed this feature it fundamentally altered the instrument's sound and character, and the Noel Gallagher J-150 has been fitted with the original-style rosewood 'open moustache' bridge and bone saddle. Along with its gold-plated Gotoh tuners, multiple-ply binding and fancy pickguard we think it's a real highflyer.
Get your hands on one of these 200 limited-edition pieces here
All the latest guitar news, interviews, lessons, reviews, deals and more, direct to your inbox!
Guitar Player is the world's most comprehensive, trusted and insightful guitar publication for passionate guitarists and active musicians of all ages. Guitar Player magazine is published 13 times a year in print and digital formats. The magazine was established in 1967 and is the world's oldest guitar magazine.
When "Guitar Player Staff" is credited as the author, it's usually because more than one author on the team has created the story.