These Elegant Archtops Are Among the Rarest of Gibson's Flagship Guitars
The search for the perfect guitar led Bill Pearlstein to six rare Gibson L-5 electric archtops with uncommon body depths and features.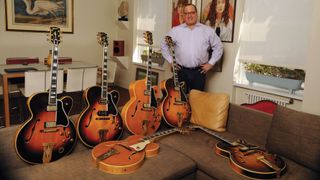 (Image credit: Eddie Malluk/Atlas Icons)
There's no better locale for the warm, smoky elegance of a vintage archtop-electric than the basement jazz clubs and high-rise apartments of Manhattan. And, arguably, there's no classier jazz box than a Gibson L-5 CES from the late 1950s and early 1960s.
A self-defined "city kid" born and bred, Manhattan resident William Pearlstein found that the more his musical stars conspired to steer him toward jazz, the more the L-5 CES was the guitar. Ah, but which L-5 CES?
While the fullbodied original worked for a big guy like Wes Montgomery, Pearlstein's own quest for the perfect instrument revealed other, more comfortable options. In the process of discovering them, he built an enviable collection of rare L-5s.
After first dabbling with a Gibson L-4, then an '80s Fender D'Aquisto and finally a real D'Aquisto New Yorker, Pearlstein discovered vintage Gibson archtop-electrics, and the hook was set. "That established a pattern of testing my inadequacies against guitars that were capable of much more than I was capable of giving them," he says.
Pearlstein found the best of both worlds in some of the rare, thin-bodied L-5 CES models Gibson made in the '50s and early '60s, which married the comfortably thin body, the roomier neck dimensions and the full, rich tone of the bigger archtop-electrics.
Asked about the variety within the selection of guitars he showed us, he muses, "They're all a little different. Nobody tells you that, and there's no place to learn about it other than by handling a lot of instruments. You don't know what you prefer in terms of necks, body shapes and cutaways until you've played a bunch of 'em. It became a very big focus in the off hours of my life.
1960 Gibson L-5 CESN
Records indicate that Gibson made just 17 L-5 CES guitars in blonde in 1960 (the N in the model name stands for Natural). That makes this full-bodied L-5 even more of a hen's-teeth acquisition than the rarity already afforded by its rounded Venetian cutaway and dual PAF humbuckers.
The guitar originally had a Bigsby vibrato tailpiece, which Pearlstein replaced with a period-correct trapeze tailpiece from an L-5 CN. It's also one of several electric L-5s made in that era with a one-piece laminated back, rather than a two-piece carved back, to further suppress feedback.
"It has two double-black PAFs and a rich humbucker sound," Pearlstein says. "With the Varitone in the passthrough position, the guitar sings. The acoustic tone is exceptionally pure, focused, round and punchy, and the low notes sound deep and throaty. Sometime between 1955 and '65, Gibson figured out how to take an archtop and preserve all the wonderful tone, and yet amplify it through built-in pickups so you had this wonderful marriage of an acoustic instrument with these great vintage pickups. It hasn't been replicated since."
For many jazz aficionados, the guitar's round cutaway, blonde finish and dual humbuckers will connect it to the iconic front cover of Wes Montgomery's Full House album, making it a "Holy Grail" L-5 CES of sorts.
1955 Gibson L-5 CES Special Thin
Technically a Byrdland, this is the fourth of four prototypes of the artist model designed for session aces Billy Byrd and Hank Garland. It was entered into Gibson's log as "L-5 CES Special Thin" before the Byrdland name had been settled upon. The final production examples were the result of Garland's request that Gibson take an L-5 neck and make it faster and more comfortable, so this prototype constitutes a link between that inspiration and the final results that hit the Gibson catalog.
It's a thin-bodied guitar, though it's a fraction of an inch deeper than the Byrdlands that followed. The neck dimensions are also a little more capacious than those of a standard Byrdland, at a scale length of 24 1/2 inches and a nut width of 1 5/8 inches. However, readers are more likely to notice the unusual Charlie Christian pickup in the neck position, something not found on production Byrdlands.
"I had to heavily restore this one because someone just played it to death," Pearlstein explains. "But now it's back to factory spec, fully restored by Cris Mirabella at Mirabella Guitars and Restorations on Long Island. The main attraction is the Charlie Christian pickup in the neck position. It's bright, airy, and a little glassy and sweet, with bite. And if you want to do the Hank Garland thing or the Charlie Christian thing, that's a cool guitar. It's one of a kind, and it's an important guitar from a particular high-water mark in Gibson history."
1960 Gibson L-5 CEST
The T in this model name stands for Thin and indicates the guitar's extreme rarity. This might very well be the only round-cutaway, dual-PAF L-5 CES made with a thin body. Measuring 2 3/16 inches deep at the lower bout, it's a full inch shallower than a standard L-5 but still a little thicker than a Byrdland. It also has the L-5's full-sized neck and 25 ½-inch scale length, with a nut width of 1 11/16 inches.
Pearlstein purchased this guitar some 20 years ago from noted French collector J.P. Lamarque, but upon its arrival in New York City he was dismayed to find that, despite possessing features that should have added up to an absolute tone monster, "it sounded like a thin Mexican-made Strat," he says. Thankfully, Cris Mirabella discovered a poor replacement circuit board in the Varitone and fully restored the guitar to its original specifications.
"All of a sudden, the thing just opened up and roared," Pearlstein exclaims. "It was a transformative moment. I was like, 'Now I get it!' You've got this big, warm, rich colorful sound, and at the same time it's got this airy quality that's sort of the miracle of the early PAF and Patent Number pickups. You can play sax lines with a big volume and a big note, or you can play block chord solos and octaves like Wes and compete with a big band. There's nothing like those guitars!"
This L-5 CEST is noted in Gibson lore by historian A.R. Duchossoir and described in his book Gibson Electrics: The Classic Years as "a so-called electric Gobel" for its resemblance to the thin-bodied acoustic L-5s made for comedian George Gobel. It has been recorded by noted Croatian-born jazz guitarist Ratko Zjaka, a protégé of Joe Pass.
1962 Gibson Crest
The original Crests of this era – only six of which have been identified by Pearlstein – were designed and built as custom presentation-grade instruments to showcase the most elegant features and appointments Gibson's archtop luthiers could achieve. As such, each was unique, making this 1962 example not only a rare model but also a one-off. This guitar has a thinline L-5 body with sharp Florentine cutaway married to a Super 400-style neck with a 24 ¾-inch scale length. The neck is adorned with split-block fingerboard inlays, while the enlarged headstock features an elaborate "knight and shield" crest inlay in abalone and mother-of-pearl.
"Definitely not art deco, but totally opulent," Pearlstein offers. "They cost $2,000 at the time: half down on order, half on delivery. And that was serious money in 1961!" From what Pearlstein has gathered, all Crests were sold by noted Gibson demonstrator and innovator Andy Nelson. His clients included legendary Motown studio guitarist Joe Podorsek, who owned this example and wrote his signature on the underside of the pickguard. Undoubtedly, this Crest has been widely recorded. (Fun fact: The Detroit-based Podorsek was also Ted Nugent's guitar teacher for a time. Might this be where the Motor City Madman got his first taste of a thinline Gibson archtop, leading him eventually to choose the Byrdland model?)
"This is the one I play right now," Pearlstein says. "I'm five-foot-nine, and with the 3 3/8-inch depth of a full archtop, your right arm just gets tired propped up there at 90 degrees. The L-5 suited Wes because he was taller. Kenney Burrell loved the Super 400 because he was a big guy. So these days I have a monthly gig, I sit in front of a music stand for an hour and a half, and the thin body is very comfortable. The sharp-cut works. I'm a convert, because it makes life very comfortable around the octave, and you do get more extension."
1961 Gibson L-5 CES
According to Pearlstein, Gibson made 22 sunburst L-5 CES guitars in 1961, and this is one of the rare examples with a sharp cutaway in that transitional period between the Venetian and Florentine styles. It follows the standard full-size L-5 dimensions, with a 25 ½-inch scale length, a 1 11/16-inch nut width and a full-depth body. Otherwise, all the classic cosmetic appointments are there, evidenced in a rich sunburst finish that has faded somewhere between tobacco and iced tea, pearl blocks in an ebony fingerboard, multi-ply binding on the body, neck, and headstock, and a beautiful book-matched herringbone flame on the back of the neck.
More important to sonic connoisseurs might be the dual double-black PAF humbucking pickups and the "Stereo Varitone" wiring, which remains surprisingly intact and sounds superb. "This guitar has a rich humbucker sound," Pearlstein says. "The Varitone works as intended. In open position, the guitar roars. The acoustic tone is clear, round and warm. It sings around the octave and has a great electric tone overall."
1962 Gibson L-5 CT
Both as a collector and player, Pearlstein is more about the fully electric archtops with pickups mounted directly into the top. That makes this thinline acoustic archtop with floating "Johnny Smith" pickup something of an anomaly in his collection. That said, it's another rare and desirable guitar that also marks an interesting point in Gibson history.
Gibson's Andy Nelson designed the L-5 CT for television comedian George Gobel and owned this particular example, although it differs from the usual run in several ways. "First," Pearlstein notes, "it's blonde. I know of two or three other blonde Gobels, but the rest of them were cherry red so that they would stand out on black-and-white TV. Second, most of them were straight braced, but this one is X-braced, a feature Gibson re-introduced on the Johnny Smith model in '61–'62 [and which is purported to improve acoustic tone]. Third, though some of the Gobels had Charlie Christian or Johnny Smith pickups, this one was originally equipped with a D'Armond, as indicated by two filled screw holes under the bass side of the fretboard, although it came to me with the Johnny Smith pickup attached to the end of the fretboard extension."
The L-5 CT is an inch thinner than a full-bodied L-5, with a 24 ¾-inch scale length and a 1 11/16-inch width at the nut. The neck profile is the slim and fast shape many jazz players preferred, with a shallow medium-C carve. "This is really a great guitar," Pearlstein says, "but it's acoustic, so it responds differently from an electric archtop. Despite the thin body, it's an excellent-sounding guitar – very warm, very precise. Ratko Zjaka calls it an '11' in terms of tone."
All the latest guitar news, interviews, lessons, reviews, deals and more, direct to your inbox!
Dave Hunter is a writer and consulting editor for Guitar Player magazine. His prolific output as author includes Fender 75 Years, The Guitar Amp Handbook, The British Amp Invasion, Ultimate Star Guitars, Guitar Effects Pedals, The Guitar Pickup Handbook, The Fender Telecaster and several other titles. Hunter is a former editor of The Guitar Magazine (UK), and a contributor to Vintage Guitar, Premier Guitar, The Connoisseur and other publications. A contributing essayist to the United States Library of Congress National Recording Preservation Board's Permanent Archive, he lives in Kittery, ME, with his wife and their two children and fronts the bands A Different Engine and The Stereo Field.