The Incredible Story of Mick Ronson's 'Ziggy Stardust'-Era 1968 Gibson Les Paul Custom
How Rick Tedesco found and lost his dream guitar.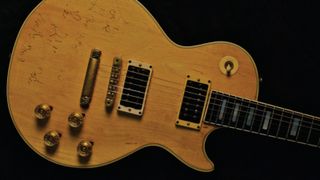 (Image credit: Lisa S. Johnson)
For years after Mick Ronson's death, the where-abouts of his stripped 1968 Gibson Les Paul Custom – the Ziggy Stardust guitar – were a mystery even to those who had been closest to him.
When Rick Tedesco asked Ronson's friend and fellow performer Ian Hunter about it, the former Mott the Hoople frontman shrugged.
"God only knows where that went," he replied. "Mick probably gave it to some guy walking across the street. He didn't care about gear. It was just a tool to him."
For Tedesco, finding the guitar became a mission.
A guitarist, producer and engineer whose credits include work with Hunter, Alice Cooper and former Cooper band members Dennis Dunaway and Neal Smith, Tedesco had become a Bowie fanatic through the artist's 1974 album, Diamond Dogs.
"I was a 13-year-old kid who was just obsessed with horror movies," he recalls. "And then I saw that album cover. I just absolutely loved that album. I was like, 'I'm done. That's what I want to do.'"
Working his way backward through Bowie's catalog, he soon discovered Ronson's signature performances on the albums Hunky Dory, Ziggy Stardust, Aladdin Sane and Pin Ups.
Eventually he caught D.A. Pennebaker's 1973 Ziggy Stardust concert film on television. "There was Mick," he recalls. "And that's what I wanted to be – David Bowie's guitarist."
Tedesco was particularly drawn to Ronson's Les Paul Custom. Originally a Black Beauty, the guitar was stripped in 1970 after Ronson heard that removing the finish could improve resonance and high-frequency tone.
He subsequently used it on his first record with Bowie, The Man Who Sold the World, right through Hunky Dory, Ziggy Stardust, Aladdin Sane and Pin Ups, making it the vehicle for each album's searing power chords, singing leads and lyrical solos.
For Tedesco, a hardcore Bowie and Ronson fan, the guitar was an indelible part of his own identity as a guitarist.
By the 1990s, he was working at a music store in Danbury, Connecticut, when one day Hunter strolled in.
"Ian happened to live about 45 minutes away at the time," he says. "I was like, Holy shit, it's Ian Hunter! I even had posters of him and Mick on my wall."
Hunter made repeat visits, and a friendship developed after Tedesco helped him refurbish his studio with an ADAT system.
"Mick had passed, and Ian didn't really know what the hell to do," Tedesco says. "He didn't have his right-hand man anymore. So he started asking me, 'Do you want to put some stuff down on this song?'"
Before he knew it, Tedesco was working with Hunter, who also introduced him to some members of Alice Cooper's camp.
Hunter still had several of Ronson's guitars, which he was holding onto for Suzi, Mick's wife, but the stripped Les Paul Custom wasn't among them.
"Nobody knew where it was," Tedesco says. "I did some research and talked to one guy who thought he remembered an interview where Mick said he'd given it to the Hard Rock Cafe."
Tedesco began calling Hard Rock locations, asking if they had the guitar, but a sweep of the company's database came up empty.
"They had nothing of his at all," he says.
Afterward, Tedesco's source confirmed that the guitar had gone to the Hard Rock, adding that the restaurant was located in Australia. Because that facility is licensed from, but not owned by, the Hard Rock, its holdings weren't listed in the company's records.
Tedesco felt a glimmer of hope.
One call to the restaurant was all it took. "I asked a guy there if they had Mick's guitar, and he said, 'Yeah, I'm standing right next to it,'" Tedesco says. "They had it hanging on the wall. I went through the roof."
As it happened, the Hard Rock was open to a trade if Tedesco could give them a guitar to replace it.
"A lot of people like myself are huge fans of Mick's, but he wasn't a giant marquee name, so they didn't really care about the guitar," he explains.
He offered them a small collection that included some guitars signed by Hunter as well as some bearing Gene Simmons' signature, and the deal was done.
It wasn't without complications, though. In his excitement, Tedesco accidentally addressed his package to Newcastle, rather than Castle Hill, Australia. His guitars spent six weeks lost in a UPS lockup until the error was discovered.
Soon after, Ronson's electric guitar showed up at his house.
"I had been out running some errands and got home to find this box leaning against my garage door," Tedesco recalls. "I was so excited. And then I opened it up and saw a headstock. There was no case. The guitar came all the way from Australia covered in bubble wrap."
To his relief, it made the trip unscathed, and with a bit of cleaning of its electronics, it was back in action.
For Tedesco, who'd purchased his childhood home after his parents retired, the coolest part of the experience was playing Ronson's Les Paul in the very room where he'd first discovered the guitarist in the Ziggy Stardust film.
"It was such a weird cosmic circle," he says.
Over the years, he put the guitar to good use. In addition to the Les Paul Custom, he's owned Ronson's Marshall Major tube amp head, among other gear, and two-inch tapes from the guitarist's studio.
He made a video of his collection, allowing fans to see and hear these instruments for the first time in years.
He also loaned the guitar to the Rock and Roll Hall of Fame and shared it with fans who stopped by the Guitar Hangar, the musical instrument shop he opened in 1999.
Eventually, he offered a limited-edition Mick Ronson Tribute Guitar based on the Les Paul Custom. "I did all this with no intention of doing anything but sharing what I had with the Mick-loving world," he says.
But eventually, Tedesco began receiving offers to buy the guitar. In 2014, he rejected one for $50,000 from producer Bob Rock, funneled to him by Suzi Ronson.
Soon after, a fan from England – Simon Dolan, the multimillionaire entrepreneur and race car driver – asked about buying both the guitar and Ronson's Marshall Major head.
"'It would have to be for stupid money, and I'm not looking to sell,'" Tedesco recalls telling him. "I said it would take at least 200 thousand, just for the guitar alone. And he goes, 'Done!'
"And I thought, Oh god. Did I just sell my Mick Ronson guitar?"
Two days later, the wire transfer came through his bank.
"I cried," Tedesco says. "I'd never been so sad and sick over selling something.
"I called Ian up, crying, and he started laughing at me," he says, cracking up at the memory. "He said, 'You silly bastard! Mick would tell you you're a fucking wanker. That's why you buy something like that. It's an investment. And it paid off!'
"But I felt like I had sold my soul. It took me several months to get over that."
In the end, the money went to good use. At the time, Tedesco was getting ready for the grand opening of a new and larger Guitar Hangar in Brookfield, Connecticut, the store's current location.
"It allowed me to open in style, with tons of gear and without going into massive debt," he says.
"But owning that guitar was never ever about money. I knew it was worth a lot, but I never envisioned parting with it. It was where I was forged. It put all of my parts together and made me go, Ah, there's a place for me on planet Earth!
"And then it was gone."
Order Lisa S. Johnson's 108 Rock Star Guitars here and Immortal Axes: Guitars That Rock here.
All the latest guitar news, interviews, lessons, reviews, deals and more, direct to your inbox!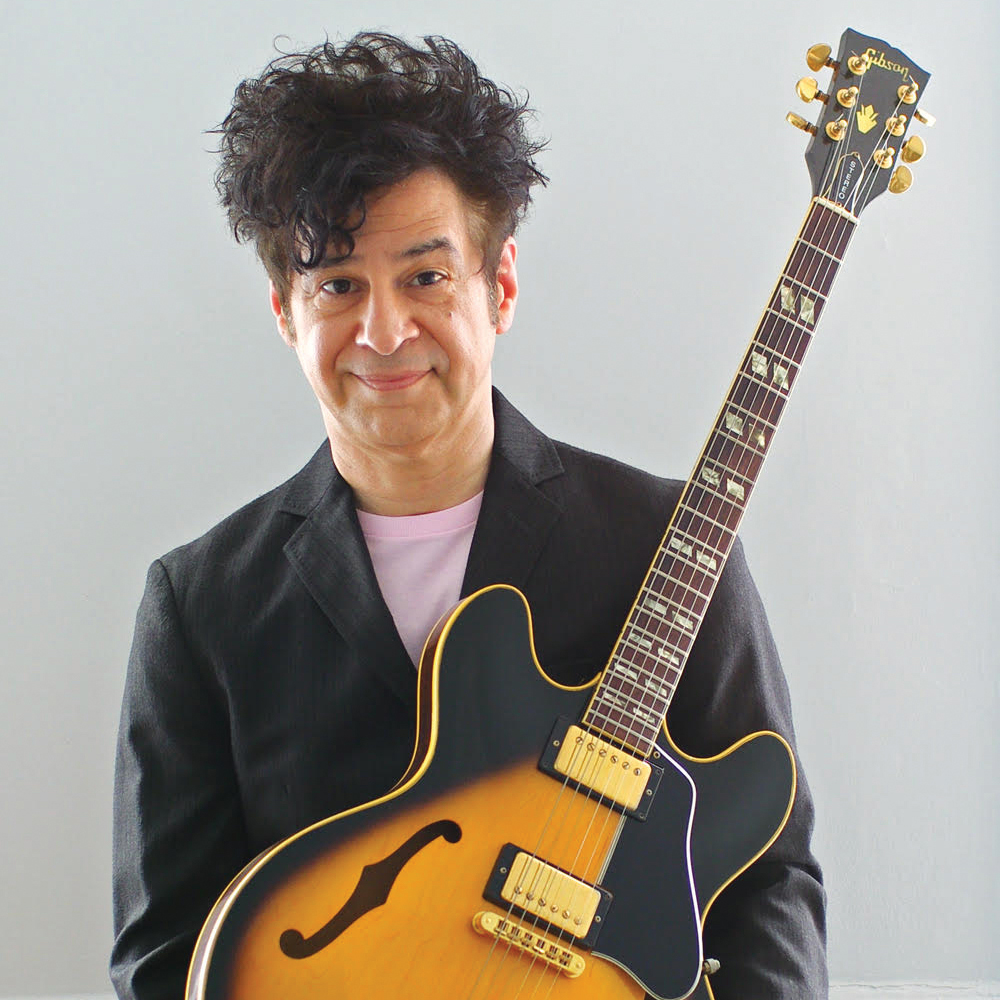 Guitar Player editor-in-chief
Christopher Scapelliti is editor-in-chief of Guitar Player magazine, the world's longest-running guitar magazine, founded in 1967. In his extensive career, he has authored in-depth interviews with such guitarists as Pete Townshend, Slash, Billy Corgan, Jack White, Elvis Costello and Todd Rundgren, and audio professionals including Beatles engineers Geoff Emerick and Ken Scott. He is the co-author of Guitar Aficionado: The Collections: The Most Famous, Rare, and Valuable Guitars in the World, a founding editor of Guitar Aficionado magazine, and a former editor with Guitar World, Guitar for the Practicing Musician and Maximum Guitar. Apart from guitars, he maintains a collection of more than 30 vintage analog synthesizers.